WGC-Cadillac Championship: Tiger Woods pleased with spectacular third round
Tiger Woods says that more manageable conditions on the Blue Monster course helped him get back in Doral.
Last Updated: 09/03/14 9:49am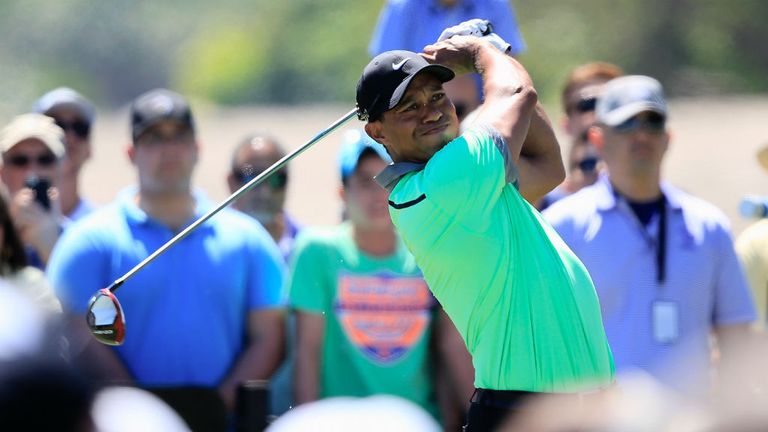 The world No 1 carded a superb round of 66 - the best any player has signed for during the week - to move within three shots of leader Patrick Reed heading into the final round.
High winds on Friday saw the field struggle to match par let alone go under it, but stiller conditions on Saturday allowed Woods to start his bid for victory.
"Now it's playing more like a normal course," Woods said of the Blue Monster.
He added: "It was nice to get back in the tournament again. I held it together yesterday, a long day, a long, tough day and that gave me a chance today.
"I figured, 'hey, I'm only six back, that's definitely do-able, especially with the conditions and how difficult this golf course is playing. If I just get back to even par for the tournament, I'll be right there', and I did one better."
Preparation
Reed, sitting on four-under par, leads Jason Dufner and Hunter Mahan by two shots with Woods one further back and the 23-year-old revealed that he has benefitted from a back-to-basics approach in his preparation.
While big names such as Woods and Rory McIlroy have taken on intensive fitness regimes, Reed believes there is no substitute for getting out on the course.
"I feel like that every time I have worked out in the past, I've gotten real tight and kind of bulked up even more and I'm unable to really be consistent and make the correct golf swings I need to," the American said
"It comes down to what we do at home, it's more on a Shots To Hole, which is a program that Stuart Long made. It gets way more in depth and it's one of those things that it shows every putt, if you missed it short, past, left, right.
"That really is key to what I feel like is being successful and more consistent, because a guy who hits their line and hits their distances are the ones that are going to be playing well."
Reed added: "(I'm) not a workout junkie at all. I'd rather lay in bed and watch TV than get in the gym.
"Don't really watch what I eat. Just kind of live life and feel like if I work hard at the golf course, that's just what worked for me."