Masters winner Bubba Watson climbed eight places to fourth in the world ranking.
Bubba Watson's second Masters title in three years saw him climb eight places to fourth in the world ranking.
Last Updated: 14/04/14 4:34pm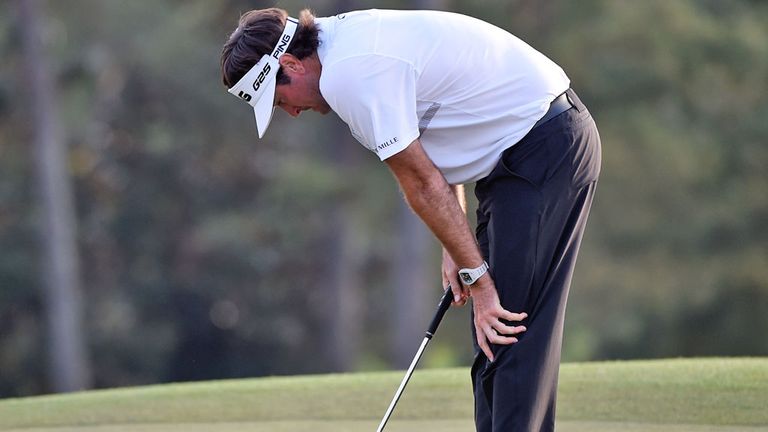 The American left-hander carded a final round of 69 at Augusta National to beat compatriot Jordan Spieth and Sweden's Jonas Blixt by three shots.
Spieth moved to a career-high ninth in the rankings as a result, with Blixt up from 56th to 33rd. Both players were making their Masters debut.
Tiger Woods missed his first ever Masters after undergoing back surgery, but remains top of the rankings after Adam Scott, Henrik Stenson and Jason Day failed to achieved the high finishes needed to overtake the 14-time major winner.
Watson won the Masters for the first time in 2012 when he beat Louis Oosthuizen in a play-off.
His second victory in the year's first major means that after 66 years without a left-handed winner, six of the last 12 Masters tournaments have gone to lefties.
Canada's Mike Weir broke the duck in 2003, before Phil Mickelson's hat-trick (2004, 2006, 2010) and Watson (2012, 2014).
And Watson is hoping he will deal better with being Masters champion this time around, saying: "I didn't know how to handle it the best way and so I didn't play my best golf last year.
"But the team I have around me, we have always thought that I've had the talent.
"We always felt like I could play golf at a high level but then to actually do it is the hard part.
"After getting the green jacket the first time it's overwhelming, a guy named Bubba from a small town, born in Pensacola, Florida, raised in Bagdad. It's crazy to think that you've won.
"Adopting my son the week before threw a wrench in there as well. Learning to be a dad and then learning to have a Green Jacket with you is two big things to adjust to.
"The first time I had to be there for my son and so golf was the farthest thing from my mind.
"So I took off some tournaments. Trying to be a good husband, a good dad at that moment was the most important thing.
"This one is a little bit different. My schedule is probably not going to change. Everything's a go. We are trying to make the Ryder Cup team. We are trying to win the next tournament, trying to make the next cut. So it's a lot different situation now than it was back then."