Luke on the radar
Sky Sports on-course commentator Wayne Riley looks ahead to this week's Players Championship.
By Dave Tindall
Last Updated: 06/05/14 11:00pm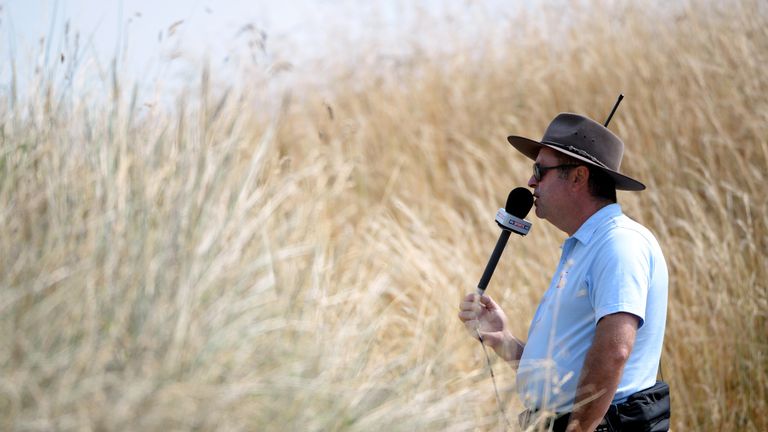 Sky Sports: Hi Wayne. When did you arrive at Sawgrass?
Wayne Riley: I've been here a couple of days. I got here Sunday night and we worked yesterday (Monday) and today (Tuesday) and everything's going well. We've got some great interviews coming to Sky Sports fans and it's going to be a great championship. I'm looking forward to it.
Sky Sports: Ernie Els has said it's been a harsh winter over there in Florida and some of the greens have been affected. Have you heard anything about that, Wayne?
WR: Yes, we have. Two or three greens have not been played on yet and I don't think they're playing on them tomorrow (Wednesday) as they have them roped off. I think a lot of emphasis has been put on that but I think they will be fine. Okay, those few greens will not be as good as previous years but it's not a big negative. This golf course is playing well, it's perfect weather, there's a little bit of wind about, and it's going to be a fine championship. The little bit of negative stuff that's been coming out and the harsh winter they had is all a storm in a teacup.
Sky Sports: Obviously the par three 17th is the big talking point for a lot of the week and much depends on the weather as to how tough it will play and how many balls will end in the water. You said the wind currently isn't a big factor but is that the forecast for the rest of the tournament?
WR: There's going to be a bit of wind about but not that much. They say the weather's going to be good until Sunday when they say we might get some storms but let's hope those predictions are wrong. The 17th is a hole that every fan looks forward to. It was the first time I've seen the green when I arrived here yesterday and it's so small it's like a pimple on an elephant's backside. It's only a wedge shot but it's like a bullring and thousands are around it even in practice. It's something special to see, you'll see it in high definition on Sky and it's just amazing. It's inspirational.
Sky Sports: The 17th is part of a three-hole play-off which the tournament has introduced for the first time this year (if it goes to extra time, they'll play 16, 17 and 18 to decide the winner). That sounds great for the fans and viewers.
WR: Doesn't it just! The fans sit around there, they can get drinks and they can get food and a lot of them come just to celebrate the tournament around that 16th and 17th and around the 18th and it's a real party atmosphere. It's very special.
Sky Sports: There's no defending champion this year with 2013 winner Tiger Woods out injured so do you think this is a good chance for the Europeans to step up as they've had good success in the past with Sergio Garcia winning in 2008 and Henrik Stenson in 2009?
WR: I really do. Sergio loves the place, he's won before and was very close again last year. But my pick for this tournament is Luke Donald. I think Luke is suited to this golf course and I think he has a wonderful chance to shine around here. That's my sneaky little tip.
Sky Sports: Unlike some courses, Sawgrass is a venue which can't be overpowered so probably suits a plotter like Luke. Could someone like Jim Furyk also prosper as he lives nearby?
WR: Yes, he lives just around the corner and I was speaking to Jim yesterday. It's a long golf course and a lot of the fairways sit across you. It looks quite claustrophobic off the tee, quite narrow but I think you need to be a little longer than Jim Furyk to prevail on the par fives. It's a real driver's golf course. If you can find the fairways the shorter the iron you go in with the better and that's why I like Donald. He drives the ball very well, he's a had a few swing changes, he's fresh off a second place at Harbour Town so he's confident.
Sky Sports: What about Henrik Stenson? When he won here in 2009 he just took out his 3-wood all week. He's been slow to come to the boil in 2014 after his brilliant second half of 2013 but he now appears to be finding his best stuff again.
WR: Yes, when you come to a golf course that you've prevailed on before and you've held the trophy aloft, you become inspired once more and there's a little twinkle in your eye so we might expect great things from Henrik this week. It's about time he kicked his season into gear.
Sky Sports: Do any dark horses take your eye this week Wayne?
WR: None really stick out. I've been on the range and I've been watching a lot of them swinging and the one that really was looking good was Luke. I just fancy his chances around here this week. They are all good players, let's face it, and to pick the winner in a golf tournament with 144 horses in it, you're a genius to get it right once a year, let alone a one-off, so it's very difficult mate. I'd be picking the lottery numbers if I could.
Sky Sports: And what about Bubba Watson, who is making his first appearance since his brilliant win at Augusta?
WR: I don't think this golf course suits Bubba Watson's eye, I don't think he will feature. That's a brave call after he's just won The Masters but I'll go with it!
Sky Sports: Thanks Wayne and have a great week.