Players Championship: Adam Scott chasing first triumph of 2014
Adam Scott is hoping he can secure his first victory of 2014 when he tees-up at this week's Players Championship.
Last Updated: 08/05/14 7:37am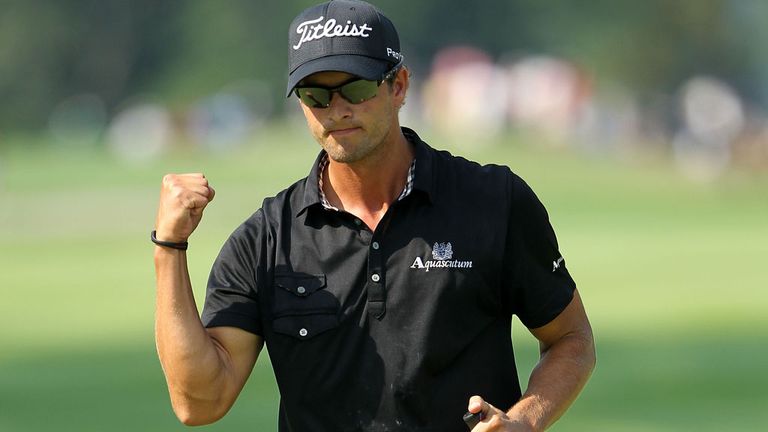 The 33-year-old Australian is without a win since November of last year but could secure top spot in the World Ranking with a good performance over the famed TPC Sawgrass layout this weekend.
Scott's most recent success on American soil came nine months ago but he remains upbeat going into a tournament dubbed 'The Fifth Major.'
Scott, the current world No 2, won here 10 years ago and along with Henrik Stenson, Bubba Watson and Matt Kuchar are in contention to overtake Tiger Woods who is still recovering from a long term injury.
With regards to taking over from Woods as golf's No 1, Scott said: "I haven't been thinking about that much.
"I'm here to win golf tournaments. That's been the goal and from that you can get to No 1 in the world if you win enough, often enough.
"I've had a couple of good chances this year already and haven't been able to pull it off, not because it's been weighing on my mind but I just wasn't sharp enough playing the last couple of rounds at a few events."
Hard system
As for his thoughts about the official world ranking system, he added: "It's a very hard system to perfect.
"With tours all around the world, people playing everywhere and awarding fair points for everything, I think they have come up with the best system they possibly can and they have been fairly accurate over the years.
"Of course there's always the odd one that doesn't quite make sense, and potentially this week, if I sit at home and watch everyone, I might end up No 1 That's a bit odd but it's a complicated system."
And looking forward to the Players Championship, he went on: "I love coming back here. I was just a kid when I won in 2004 and I didn't know how hard the game was.
"I've been playing some good golf and not getting the results I wanted, so here's a great chance for me to get back up in contention again and hopefully pull off a win."
Watch the first round of the Players Championship LIVE on Sky Sports 4 HD from 6pm on Thursday