Players Championship: Sergio Garcia reflects on infamous row with Tiger Woods
Sergio Garcia has moved on from the turbulent events of last year as he made a fine start to the Players Championship.
Last Updated: 09/05/14 9:22am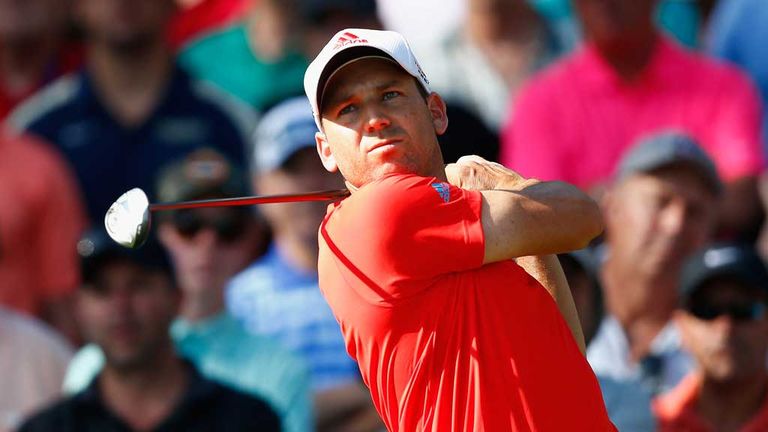 The Spaniard became embroiled in a war of words with Tiger Woods at Sawgrass last season following a flashpoint early in the third round.
Garcia claimed he was distracted by Woods and the gallery following the 14-time major champion as he played his second shot to the par-five second.
The verbal jousting continued for two days, and Garcia gifted the title to Woods when he dumped two balls in the water at the 17th in the final round before pulling another shot into the lake at the last.
Garcia was four under par when he arrived at the infamous short 17th in his opening round this year, and he admitted he could not avoid painful reminders of last season's meltdown.
"It did cross my mind. I'm not going to lie to you," said Garcia, who found the green with his tee shot and two-putted for a solid par before rounding off a five-under 67 with another par at the tough 18th.
"I was trying to be positive. 'It's a new year, let's improve on it.' I pulled it a little bit there, but it was an OK shot. I was able to do much better there, and much better on 18, so I was very happy to see that."
On his bust-up with Woods, which Garcia followed with an ill-advised slur a fortnight afterwards at Wentworth, the Spaniard added: "I think it's over. I think it's passed.
Looking forward
"I didn't think I was a villain, but I think that we've all moved ahead of that. I certainly have. I'm just looking forward to now and hopefully what's coming soon.
"You go through ups and downs in your life, in your career. And I've had really, really good times; really, really happy times.
"And then I've had times that were a little bit more down. I think it happens to all of us.
"You've got to try to enjoy those good times as much as possible and learn from the tough ones and hopefully make them as short as possible. I think at the end of the day, that's all you can really do.
"I don't know, probably (what) comes to mind maybe last year is when everything went on with the little problem with Tiger. I think that was tough."
The 34-year-old remains confident he can end his long quest for a maiden major title after numerous near-misses.
"I think that when I'm on, I can definitely win anywhere," Garcia said. "I think I've proven that.
"It's just a matter of getting that week where you feel good, where you feel comfortable, where things go your way, where everything feels relaxed, everything feels at ease and you manage to do things the way you know how to do them.
"I'm still waiting for that particular week. I've had, I would say, probably four really good chances and I'm hoping that I can get many more until I quit playing."