Players Championship: Adam Scott stays in hunt to become world No 1 at Sawgrass
Adam Scott still hopes he can claim the world No 1 berth on Sunday after a third-round 69 at the Players' Championship.
Last Updated: 10/05/14 10:40pm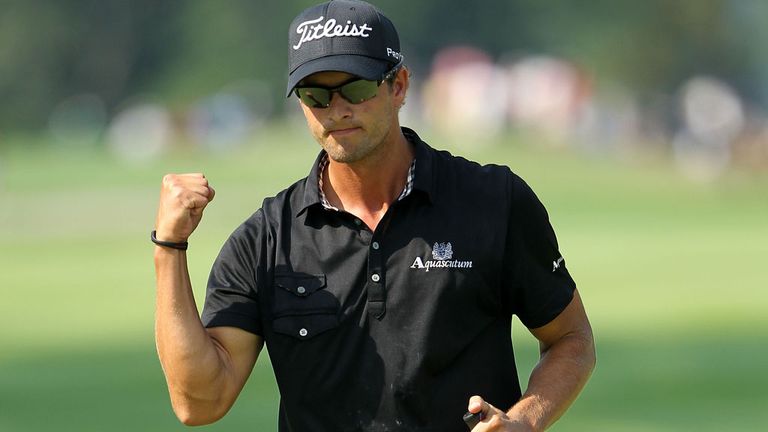 Scott needs to finish in the top 16 at Sawgrass to dislodge Tiger Woods, who is absent at the moment after back surgery, from the top of the world rankings.
The Australian climbed into the top 30 on Saturday but admitted that he was delighted even to have the chance after an opening round 77 left him needing a superb round on Friday even to make the weekend.
"If I can put a good round on it tomorrow and post something good, I think I can have a high finish," said Scott, who revealed on Friday he had married long-time girlfriend Marie Kojzar in secret last month.
"I don't know, it depends on other guys, too. It's just not set in stone.
"So the goal tomorrow has got to be, depending upon conditions, to try and get to double digits (under par). It's possible.
"I'll be off fairly early probably again, and I'll try and sneak up there as high as I possibly can. You never know what's going to happen out here."
Secret
Scott also gave more details about his secret wedding, which took place in the Bahamas last month.
"It was a week where we knew some people would be around that we wanted and we kept it a secret for a couple of months and then surprised them on the day," he added.
"We just said we were having a party, so come on over. So then they had no idea that it was going to happen.
"So that was the fun little game for me and Marie to play for a while, planning it and stuff.
"We haven't told anyone to keep it a secret since, but I think people didn't want to do the wrong thing by me. So I've got them right where I want them!"