Players Championship: Justin Rose has two-stroke penalty rescinded
Justin Rose's hopes of a charge at the Players Championship were improved by the rescinding of his two-shot penalty.
Last Updated: 11/05/14 10:59pm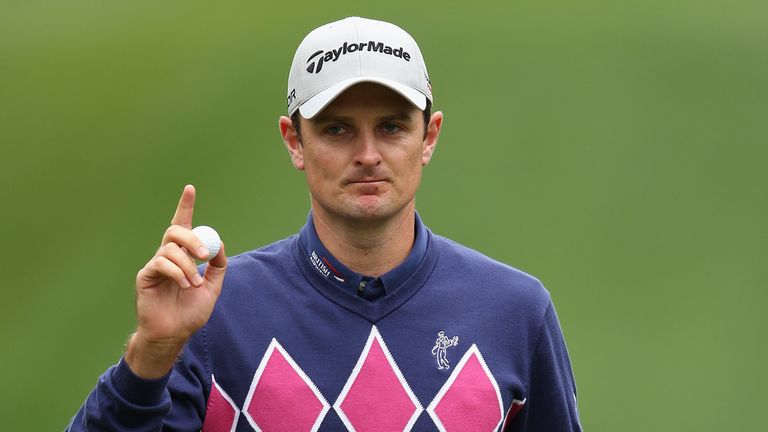 The US Open champion was penalised on Saturday after his ball was revealed to have moved very slightly just off the back of the 18th green after he had placed his wedge behind it.
His one-under 71 was changed to a 73 and he was preparing to go into Sunday's final round seven strokes behind joint-leaders Jordan Spieth and Martin Kaymer.
However, a new rule states a penalty can be waived if a ball movement was not "reasonably discernible to the naked eye at the time" and was identified only through enhanced technology, as it was in this case.
"It was determined that without the use of sophisticated technology, it was not reasonably discernible to the naked eye that the ball had left its original position and had come to rest in its original place," the PGA Tour said in a statement.
"Thus, the player's determination that the ball had not moved was deemed to be conclusive and the penalty does not apply in this situation.
"Having reached this decision, the committee immediately notified Rose and rescinded the two-stroke penalty."
'Fortunate'
Rose finished his tournament off with a three-under par 69, but at 10-under he was some way off the pace of the leading pair.
However he admitted his surprise at Saturday's penalty being rescinded, saying: "I consider myself very fortunate because it's very rare that a rule gets changed.
"All in all I don't really know what to think about it all. I just try to play with the most integrity I can, I always have done and always will do so it's been a very interesting 24 hours being on the wrong side of it, the right side of it and trying to play golf in the middle.
"You know when your ball has moved an inch out of its original position but when we are talking about miniscule amounts it's very tough to make that call."