Experts' picks of 2011
Sky Sports' experts select their stand-out performers in 2011
Last Updated: 27/12/11 1:07pm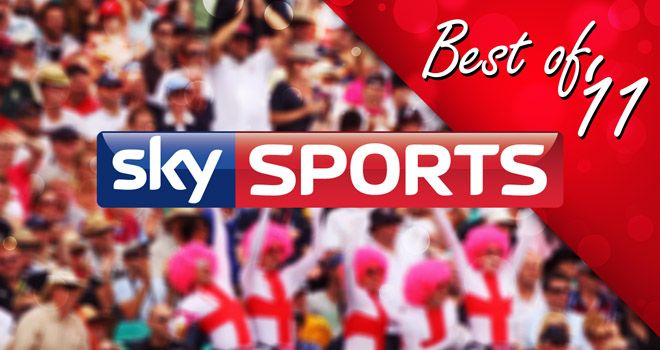 As we head towards the end of 2011 it is time for us all to look back and reflect on the year that has been...
The sporting world is no different, and we asked our regular skysports.com columnists to look back and pick the outstanding performances of the year.
What do you think? Let us know using the feedback box below...
MARTIN TYLER (Football): Lionel Messi

I've enjoyed the challenge of trying to find superlatives for Lionel Messi this year. My own personal focus was the Champions League Final and players with big reputations often fail to match high expectations in big games - but he was everything we hoped for (unless you were a Manchester Unites supporter). He is playing in a great team, but would Barcelona be such a great team without him? I doubt it. He has the x-factor that turns the extremely good into great. And he finished the year off with those wonderful goals in the Club World Cup Final, sealing Barcelona's fifth trophy of the year.
PAUL MERSON (Football): Robin van Persie

I've got to go for Robin van Persie because of the amount of goals he's scored in the calendar year, it's just a no-brainer. It's always been the case that if you can get him on the pitch then he's top, top, top drawer and he has done that this year. To score as many goals as he has in 2011 is phenomenal; I wouldn't like to think what would have happened to Arsenal without him.
CHRIS KAMARA (Football): Robin van Persie

David Silva has been the star performer so far this season, while Samir Nasri and Scott Parker were the top performers last season, but for the calendar year you've got to look at the record of Robin van Persie. They give out awards at this time of year and you look at Lionel Messi and Cristiano Ronaldo, who perform consistently, but I don't think Van Persie has been given the credit for what he's done.
JEFF STELLING (Football): Peter Reid

For all his efforts at Plymouth, it has to be Peter Reid. He did all he could to keep the club afloat - even paying the heating bills - but he didn't make one heck of a fuss when he was disgracefully sacked. I thought his reaction showed he is a proper man - a proper footballing man - and I hope he gets back in the game at some stage.
MIKE ATHERTON (Cricket): Jimmy Anderson

This was the year that Jimmy Anderson came of age. The seamer led England's attack superbly in Australia and at home, becoming in the process a complete bowler at the top of his game.
NASSER HUSSAIN (Cricket): Alastair Cook

I could name one of 10 cricketers this year, which is phenomenal and tells its own story, but it has to be Alastair Cook MBE. He seems to have won every single award around - Player of the Ashes, Look East's Sports Personality of the Year and he's up for Sports Personality of the Year too. It's thoroughly deserved because he has been a run-machine, following up his 766 runs in the Ashes series with that 294 against India at Edgbaston. Even when he came into the one-day team and took over as captain he performed.
BOB WILLIS (Cricket): Andrew Strauss

Andrew Strauss is my pick for leading England to the top of the Test charts. Time and again he has proven to be a brilliant commander of his troops, none more so than the final Ashes Test in Sydney which started the year off in such great style. Although the series against Sri Lanka was blighted by the weather, England turned in a powerful performance against India under Strauss' leadership. Although his batting wasn't up to the standards of some of his colleagues - Ian Bell, Alastair Cook and Jonathan Trott in particular - Strauss' captaincy was outstanding and his partnership with Andy Flower has put England in territory they've never reached before.
STUART BARNES (Rugby Union): Richie McCaw

My Man of 2011 has to be Richie McCaw; not for the quality of how he played but the fact that he played through clear injury and remained as the focal point for New Zealand when they wobbled at times. The hero open side we all knew about, the hero in adversity, well it makes McCaw quite some bloke.
MILES HARRISON (Rugby Union): Richie McCaw

I am convinced this would have been Dan Carter, had fate not intervened, because New Zealand's task of winning the Rugby World Cup would have been, shall we say, 'smoothed', had Carter been fit. But, I'll stay with New Zealand for my Man of 2011 and give it to Richie McCaw. OK, he gets away with 'murder' at the breakdown but that's almost the point. He has been brave, fearless, the ultimate competitor and warrior for so long now - no other player in my working memory has deserved his 'moment' more, in the hottest of suns, than this man did in 2011.
STEVO (Rugby League): Sam Tomkins

A highlight of the year was the talented Sam Tomkins being selected for the Barbarians at Union! Why you may ask? After 80 minutes young Sam would have been convinced League's the better game by a country mile!
BRIAN CARNEY (Rugby League): David Hughes

David Hughes, if and when he decides enough is enough league will realise he has single handedly flown the flag in London with what would appear to be limited assistance. Spent full salary cap for 2012 and has committed to league in London for another three years. His Broncos need to reward him
ROB LEE (Golf): Luke Donald

You'd have to say that Luke Donald was the Player of the Year, even though he didn't win a major. He topped the money lists on both sides of the Atlantic and I didn't think I'd see anyone, aside from Tiger Woods, able to do that. The world number one should be the best player in the world - and that is what Donald has been in 2011, just ahead of Rory McIlroy.
EWEN MURRAY (Golf): Luke Donald

Luke Donald has been simply superb. During his last 30 tournaments, he has won four and finished in the top ten in no fewer than 80 per cent of them. His consistency has been admirable and he finishes the year as the undisputed world number one. In a world where long hitting and power has been the focus of too many, the impressive Englishman has gone about his business using his natural skills to conquer not just the best players, but the long tough courses, many of which host the top events of today.
BARRY COWAN (Tennis): Novak Djokovic

Novak Djokovic dominated men's tennis in spectacular style, compiling a phenomenal 43-match winning streak before losing to Roger Federer in the French Open semi-finals. He had to dig deep on numerous occasions but showed huge courage. That, when combined with his sublime movement, ensured that Djokovic raised the bar in terms of quality in 2011.ROD HARRINGTON (Darts): Phil Taylor

I would have to go with Phil Taylor. Adrian Lewis may have won the World Championship, but you can't look outside Phil as the best player of the year. He just keeps going. It's hard to say he is playing the best darts of his life because he's been brilliant for so many years, but his performances have been up there with the best of his career.
GLENN McCRORY (Boxing): Andre Ward

It has to be Andre Ward. It was fantastic to end the year with the discovery of a new superstar. He is a phenomenal talent and I cannot wait to see him in action again.
JOHNNY NELSON (Boxing): Carl Froch

It has got to be Carl Froch. He met someone very special last weekend but he has been in against the best in his last six fights and, with his desire and passion, has elevated his status to world level. He might not ever beat Ward but he'll bounce back next year.
KELVIN TATUM (Speedway): Greg Hancock

Greg Hancock is my man of the year. He picked up his second world title 14 years after he won his first which is a remarkable achievement. He rode supremely well in 2011 and fully deserves all his accolades.
RICHARD MOORE (Cycling): Philippe Gilbert

What a season. As I said in an earlier blog, some sports people become less popular when they win with such regularity that it becomes predictable. But Gilbert never became boring. He won 18 races, each one thanks to his attacking instincts and with his trademark panache. The highlight was eleven days in April, when he won four times: Brabantsje Pijl, Amstel Gold Race, Flèche Wallonne and Liège-Bastogne-Liège. But Gilbert enjoyed a season-long sweet spot, combining outstanding form with ebullient confidence.
KEVIN CADLE (NFL): Drew Brees

My man of 2011 has to be Drew Brees. Everyone has been talking about Green Bay's Aaron Rodgers but the New Orleans quarterback has been stellar in his approach and he also became the first quarterback in NFL history to pass 4,000 passing yards in the first 12 games of the season.