Tiger Woods showed he is a contender again with his Farmers Insurance Open win, says Denis Pugh
Tiger Woods' Farmers Insurance win shows he can challenge for Majors again, says Denis Pugh.
Last Updated: 29/01/13 12:16pm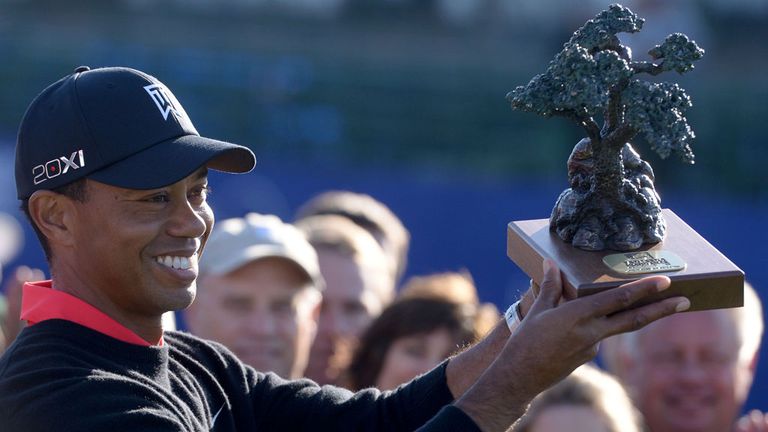 Woods returned to winning ways with a four-shot victory at Torrey Pines on Monday, claiming his 75th PGA Tour title.
The former world number one has not tasted Major success since the 2008 US Open but, despite a scrappy final round, Pugh told Sky Sports Woods is now once again a serious contender for the sport's biggest titles.
"Tiger has got his game in playable shape now and he looks ready to challenge whenever he's around," Pugh said after watching Woods move to within seven wins of Sam Snead's record of 82 PGA Tour victories.
"Tiger just needs to polish the driver and he'll be ready to challenge McIlroy for the Majors, which is what everybody wants to see.
"It was a great performance and showed how to win a golf tournament when you're not 100 per cemt on your game."
Oliver Wilson conceded Woods was not at his best in the final stages of the tournament but pointed out his fine form in the first three rounds demonstrated improvement in his game - which is an ominous sign for his rivals.
"He did what he needed to do in the end," said Wilson.
"He didn't do it how he wanted to but the result is the only thing that matters. He's going to have some work to do and has some things to improve on but he'll be happy.
"He wasn't anywhere near the level we saw on Friday and Saturday but it's all good for him; it's all going in the right direction.
"His short game is better than it was last year and he's putting well, so the year's going to be a good one for him and hopefully he can knock off some Majors."
Slow play
After his victory Woods blamed his disappointing final day display on the slow pace of play.
The 11 holes he had to play on Monday - following a fog delay on Sunday - took four hours to complete, and Pugh was critical of the PGA for not speeding things up.
"The PGA Tour have to do something about the slow play," he said. "They've overrun by 30 minutes or so which, on American TV, is a crime beyond belief. There are going to be all sorts of repercussions.
"It was bad to watch. Tiger's mentioned it and you know he's going to go behind the scenes and have a dig about that."