Mark Roe hails 'world class' Graeme McDowell after win in France
Mark Roe says Graeme McDowell needed major form to win the Alstom Open de France.
Last Updated: 08/07/13 12:44pm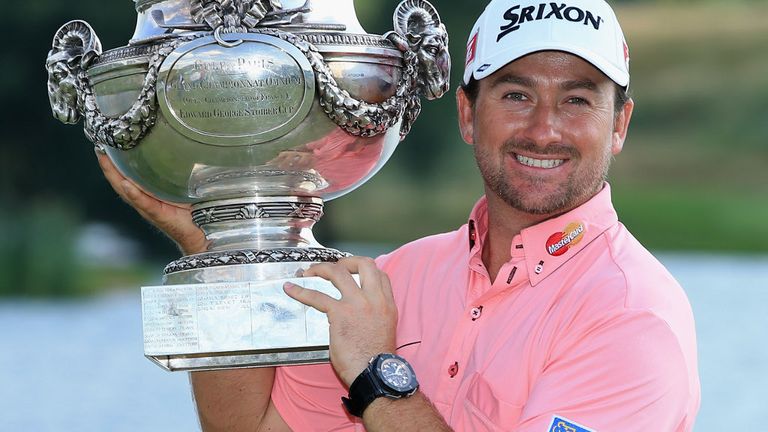 The Sky Sports pundit believes Le Golf National was set up to play as difficult as any course he has seen on the European Tour and as a consequence the overnight leader needed a world-class effort to produce a closing 67 to take the famous old trophy.
The 2010 US Open winner finished four shots clear of Richard Sterne and Roe says that while McDowell has struggled for consistency this year, he is irrepressible when on top of his game.
He said: "This was one of the most challenging and tough golf courses he'll ever face on the European Tour.
"He was so wonderfully assured and he showed his world class. We know he's a major champion and this played like a major championship golf course.
"You can see what it meant to him. It's a huge title and he so richly deserves this. If he hadn't won this week there would have been something amiss given the golf he played.
"I'm a fan of watching quality golf and of watching somebody control their emotions under extreme pressure. To go out and win on this golf course with the wind at its strongest of the week and shoot a round of 67 is like shooting 63 on most golf courses.
"He's number nine in the world already, he's got a major championship but it's been an inconsistent season. He's missed cuts and then won in America at Hilton Head and then followed that with a win in the World Matchplay in Bulgaria, all big tournaments.
"This is another big championship in Europe that he would want on his CV and he's performed admirably this week.
"When he finds his swing, finds his form and finds his putting touch - a feel for pace on the greens is crucial here because they've been running fast all week - then he can get the job done as well as anybody in the game."
Tussle
McDowell trailed Sterne by one at the turn after going three-under over the front nine, but he edged in front at the 12th and never looked back.
And while Roe enjoyed their tussle, he said the class of McDowell was always likely to come through.
He added: "Richard Sterne was flawless on the front nine and they were hanging on to each other's coat tails.
"But unfortunately when you turn onto the back nine there is such a differential in how hard it plays compared to the front nine.
"Sterne capitulated to that, but Graeme McDowell had the class, experience and mental strength not to make a mistake on that back nine."