Jamie Spence says Fernandez-Castano looks good for Ryder Cup spot
Fernandez-Castano boosts his Ryder Cup hopes after winning in Shanghai, says Jamie Spence.
Last Updated: 28/10/13 12:01pm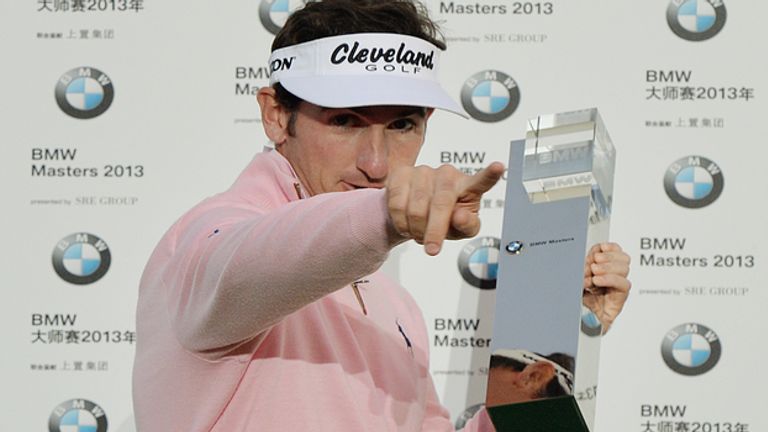 The Spaniard survived a nervy finale on Sunday to finish with a double bogey and triumph in the BMW Masters one shot ahead of Francesco Molinari and Thongchai Jaidee.
Molinari carded a 64 and may feel a little aggrieved at missing out on the big purse following the late drama and Sky Sports golf expert Spence said: "Fernandez-Castano was very edgy on the last and he had a nice chip on the 17th but he had sealed the deal in his mind and he played cautiously.
"He must have been nervous and his putt made me nervous! He's known to miss a few of those. But overall, he played the best golf over the weekend.
"He was flawless on Saturday and he still made six birdies in his final round. He just did what he had to do. I'm sure that when Molinari holed out for a 64 he thought he had a good chance but in the end, the birdies for Fernandez-Castano on the par fives sealed the deal.
"It shows you how important it is to get a birdie when you're in front to give you some daylight. The last hole showed how much he needed it!"
With Ryder Cup selection nearing a conclusion, Spence feels Fernandez-Castano has put himself in a strong position to sneak into Paul McGinley's team for next year but added a note of caution for pushing too hard for qualification.
"If you want to make that team then winning 850,000 Euros is a huge boost towards getting into that team," he added.
"It's something he hasn't done before and I think it's something he'd be very pleased about getting to Gleneagles. He's now going to live in Miami and be looking for more world ranking points by playing on both tours.
"There will be plenty of opportunities to get into the team. You just have to embrace life in America. These guys are used to playing around the world but it's the schedule you've got to be careful with. You don't want to push yourself too much. There are tournaments in the middle east and the far east and he'll just have to look at his schedule very carefully.
"I think the Americans have been surprised by him though. He's played well over there and with the WGCs coming up they'll be seeing a lot more of him. Like all Spaniards he's good in the bunkers and chipping around the green. He's known as a ball striker and that's the strength of his game.
"That's his third BMW title after winning in Italy and the Asian title in 2006. He seems to have played a lot with Tiger Woods in the second and third rounds and that has given him a lot of confidence.
"Many of these players will be trying to cement their Ryder Cup place - especially with the HSBC next week. These are big opportunities for lots of players."