View from America: Simon Veness enjoys the Masters final round
Simon Veness gets a unique view of the Masters - from Graeme McDowell's restaurant in Orlando.
Last Updated: 15/04/13 11:33am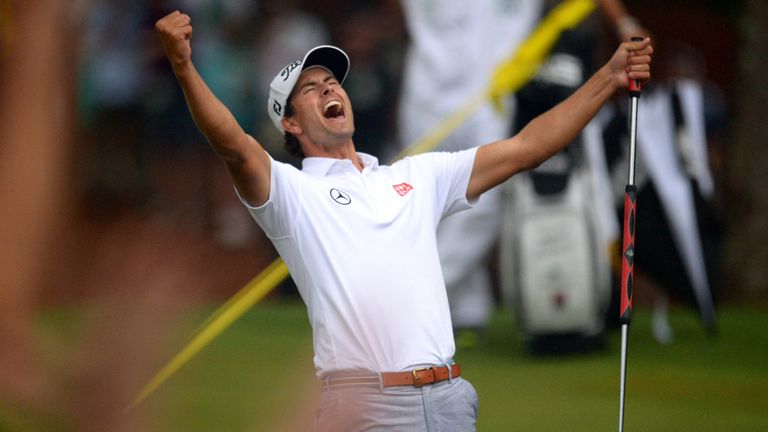 It's an intense but knowledgeable crowd; there's a partisan nature to the cheering, but it's not hostile; and there's good-natured banter, but it's not rowdy. Oh, and the food and drink are top notch.
Just like a Callaway Razr X, it's a hybrid American-British invention, and, as a litmus test of the golfing fraternity here in Central Florida, it is absolutely priceless (not to mention delicious).
Of course, it helps when you have knife-edge, final-hole drama and a play-off (for the second year in succession). But you would have thought, in the absence of anyone in the winner's enclosure called Woods (for which, I refer readers to my preview column last week!), things might have been just a bit flat in the final analysis.
An Argentine and an Aussie going head-to-head over the green acres of Georgia, as observed from the Sunshine State, probably shouldn't register on the Richter Scale of sporting seismic activity.
But that's without the peculiar dynamic of this corner of Orange County, home to Mickey Mouse and Co but also a brand new venture from 2010 US Open champion Graeme McDowell and a handful of business partners, who are keen to create their own little piece of golfing restaurantism, or sports dining, if you prefer.
I had spoken to Graeme about it shortly after the grand opening a month ago during the Arnold Palmer Invitational just a few miles away (one that Tiger DID win). "Not too Irish and not too golfy," he had assured me. "Just a nice place to go for an upscale meal."
So I squirrelled away the info for future reference and, when Sky Sports asked me to provide a different perspective on Sunday's events from Augusta, it seemed like the obvious place to pull up a bar-stool and make like a local in best View From America fashion.
It certainly has all the requisite essentials for sports-lovers who enjoy some of the finer gastronomic things in life. There are parking spots for golf carts (the swish Lake Nona Club is little more than a good two wood away); it boasts 20 high-def flatscreen TVs; there's a bar, a restaurant and an outdoor patio; and the TV commentary is piped in to the loos (sorry, restrooms!).
And, with McDowell's name proudly over the door, it attracts a unique clientele, too, a mix of well-heeled locals, British and Irish ex-pats, and curious tourists, all keen to soak up the Nona Blue vibe, along with one of the 16 draft and 16 bottled beers that make up the impressive array of libations. There's a pretty decent menu, too, highlighted by the likes of Filet Mignon and Ahi Tuna, as well as good ol' fish 'n chips and an all-day breakfast fry-up.
But I was here for the golf, right?
European retreat
For European - and especially British - fans, there was precious little to cheer. Saturday had been a case of watching Lee, Justin, Luke, Rory, Sergio, Gonzalo and David Lynn go into reverse. While the Australian, American and Argentinean forces massed for a charge 'over the top', the European assault resembled a fragile plant caught in a sudden drought. It wilted, fast.
Of the ten players from our side of the Atlantic who were poised to mount a challenge after the second round, veteran soldier Bernhard Langer was the only one who even avoided going into the red while the likes of Snedeker, Kuchar, Clark, Scott, Fowler and Watney galloped past in the opposite direction.
We may have the Ryder Cup securely in our possession, but, with the exception of McIlroy's two diamond moments, the past seven Majors have now been a washout for the rest of Europe and, on this evidence, it will be a while before there is any reason to pour a celebratory pint or two.
Westwood and Langer did provide a brief frisson of excitement in the final round's early going, and Donald's dramatic reversing bunker shot at 16 brought the first real murmur of approval from the local crowd, but that was about as exciting as it got for Euro watchers.
But, with the unusual international make-up of the restaurant's patrons, that didn't matter a jot. Sure, a Woods charge would have generated a bigger buzz, and probably a lot sooner. But, seeing as most of Tiger's infamous extra-marital episodes happened in this area, he is not universally popular, and you might find as many people rooting against him as cheering for that elusive Major title number 15 (now five years, and counting).
Instead, local golf celebrities like McDowell, Nick Faldo, Justin Rose, Bubba Watson, Ian Poulter, Retief Goosen, Ernie Els, Sergio Garcia and Stuart Appleby all call Orlando home for at least part of the year, while Lake Nona boasts no less than FOUR of the 2012 European Ryder Cup team, McDowell, Rose, Poulter and Peter Hanson.
Hence the lack of a real local challenge on the final day was keenly felt - not least by G-Mac's business partners, who were at a loss to explain their man's failure to make the cut.
Search for a hero
Early on, the most we could manage was a polite buzz about the bar; no 'local favourite' had emerged to capture anyone's attention. Angel Cabrera, looking more and more like Tony Hancock (younger readers, look him up - and not in the golf annals!), rumbled along smoothly to virtually no comment, while there were bare murmurs of approval for Snedeker's birdie at the eighth to get him back to seven under.
As the leaders passed the half-way mark, the restaurant atmosphere started to heat up, with the general buzz increasing noticeably (cocktail shakers to the fore!) and seats filling up around the central bar, but still an air of waiting for something to happen.
"He's coming from behind, baby!" was the slightly less than appropriate cry as Tiger birdied the 13th to go four under (his brief rally fizzled out shortly after), and there were cheers as Cabrera's second shot at 13 ended in the Creek. Then notable applause for Scott's second at 15, which he would go on to birdie, moving to eight under and a tie for first.
OK, so now we had a clear favourite. "He's a nice guy, and he plays a lot in America," offered one punter. "Well, we're not gonna cheer for an Argie, are we?" insisted another.
Cabrera was suddenly spraying the ball all over the place and Nona Blue was now a real hubbub of noise and excitement as things began to boil up nicely. There were whoops of delight when Snedeker DIDN'T go into the water at 15 and virtual silence as poor old Angel holed his birdie at 16.
Instead, it was "Roll! Roll! Roll!" as Scott's second at 18 hit the green and moved slowly towards the hole. Next moment, huge cheers broke out as his 25-footer rattled the bottom of the cup. Then it was another ominous silence as Cabrera settled over his birdie putt at 18...and it was on to the play-off.
With the whole restaurant now totally invested in the outcome, there were desperate shouts of "Get up!" at Scott's second to the first play-off hole - and one distinct "Oh ****!" as it fell short. Only for Cabrera to end up in an identical spot and spark a new round of cheers (and beers!).
Then there was a collective indrawing of breath at Cabrera's desperate near-miss on the second play-off green - followed by immense whoops and hollers as the Aussie's putt disappeared into the hole. Antipodean sporting history had been made, the old adage of Nice Guys Finish Last had been well and truly laid to rest - and Nona Blue's patrons were truly, deeply thrilled.
It was time for dessert, and an impressive slab of Carrot Cake to salute the new Masters champ. In truth, Scott's victory was probably only slightly sweeter!