Simon Veness previews this week's truly unique US Open
Simon Veness previews this week's truly unique US Open and says it could suit the British contenders
Last Updated: 11/06/13 11:22am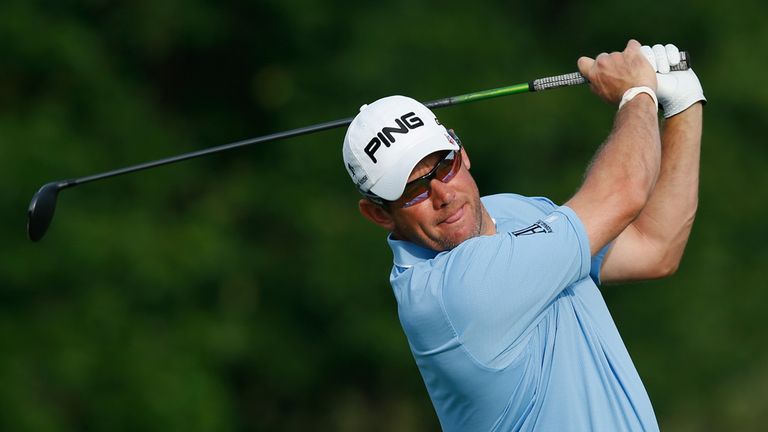 Provided this tiny (by Open standards) course isn't drowned before we tee off on Thursday morning, conditions could not be more in favour of Lee, Rory, Justin, Luke, Ian and others with the Union Jack on their bag.
Just to start with, there is that weather. Wet and woolly would be an understatement at the moment, albeit about 10 degrees warmer than those familiar with the likes of Muirfield, St Andrews or even Hoylake would deem 'normal' for this time of year.
Waterproofs, umbrellas and snorkel gear could all be needed by the time we get to Sunday night, especially on the par-four 11th that was all but under water at the weekend when the remnants of Tropical Storm Andrea dropped about four inches of rain in the space of a few hours.
Ever since Soggy Saturday, the sodden acres of Merion Golf Club's East Course have been alternately doused in showers or sweltered under a humid overcast, providing little chance for A) the USGA to prepare the course to their desired level of Infernal, and B) players to actually get a look at this historic location.
Even worse, the forecast has more thunderstorms and showers in the offing for Thursday and Friday, while Sunday may be dodgy, too.
All of which should have those used to typical British 'summer' conditions rubbing their hands with glee while Tiger Woods and Co are still working out which way round their waterproof trousers go.
And then there is that course. If you were trying to find a layout about as far from the usual American 18 holes as possible, you would pick Merion, which was actually designated as an official National Historic Landmark in 1992.
Quirky
In fact, if you looked up 'quirky' in the dictionary, it would probably say, "See, Golf Club, Merion; Ardmore, Pennsylvania."
The lack of flags on the pins is the first clue to the local idiosyncrasies that lurk within, but designer Hugh Wilson's preference for wicker-basket pin-toppers is only the most obvious Signpost of the Unusual. Merion, you see, is about as British as anything could be in this former colonial rural idyll.
Its roots go back almost 150 years when the then Merion Cricket Club (founded 1865) decided, after some 30 years of cricketing obscurity, that they'd much rather be playing golf and opened their own course. Dissatisfied with their initial course-building efforts, they recruited club member and Scottish immigrant Wilson to do better.
Wilson, being a diligent sort, took a seven-month 'field trip' back to his native Highlands and returned with a notebook full of design features that wouldn't look out of place at Troon or Turnberry. So, if the bunkers seem to have been borrowed lock, stock and sand barrel from the traditional home of golf, it all dates back to Our Man Hugh in 1912.
Merion's 100-acre extent was ideal for the early 20th century and subsequently played host to the US Open and US Amateur Championships at regular intervals, plus the Curtis Cup and Eisenhower Trophy.
Tradition
More USGA events were held here than any other course in America, while the likes of Bobby Jones, Ben Hogan and a young Jack Nicklaus all made a name for themselves on the East Course. It positively reeked of tradition and boasted the kind of challenging test of all facets of golf that the USGA loves.
Until players started pounding the ball 400 yards off the tee and hitting wedges almost 200.
And then poor old Merion was seemingly consigned to the dusty annals of golf's past. Its last Open was in 1981 when Australian David Graham cantered to his second Major title with a distinctly un-Open-like seven-under-par total.
The words "under par" and "US Open' are usually mutually exclusive, at least in the minds of the venerable USGA, and, with no real way to add any length to its V-shaped layout, there seemed no way back for this heritage-laden Club.
Happily, neither the club itself nor the USGA were ready to give up on the idea of Merion hosting the big-hitters of today and, with a few judicious tweaks and enhancements (if, by enhancement, you mean adding rough that resembles the Matto Grosso in places!), the East Course was proudly proclaimed Open-worthy once more.
The fact few current players will have even heard of it prior to this year, let alone played it, means no-one can claim an advantage of any kind prior to Thursday's big tee-off - unless they are already familiar with St Andrews and Co. Which is where that big British advantage should kick in. Throw in a few gorse bushes and any visiting Scotsmen will feel right at home.
Domestic golfers have also got used to stonking great long courses in recent years, like the monstrous 7,574-yard Congressional (2011), 7,468-yard Bethpage Black (2009) and 7,255 Oakmont (2007). They may well be thrown, therefore, by one that measures a mere 6,846.
Other idiosyncrasies abound: the par-three 13th that measures just 115 yards; and the par-three third at 256. Hole 4's par-five challenge at 628 yards (one of only two par-fives on the whole course); and the closing 18th at 521 yards - but only a par-four.
Fiendish
In fact, the final hole concludes a run of the most fiendish closing five of any Major anywhere, a collection of twisted challenges that are tantamount to torture and will surely claim numerous agonised victims over the four days.
And those golfers who blithely believe that an errant drive into one of the bunkers is merely a precursor to another long iron shot will be better off packing a shovel in their bag instead. Advantage, once again, to those with intimate knowledge of Scotland's mischievous links.
This minnow also still has serious fangs. Fairways will be narrower even than the USGA's usual exacting standards; the rough will have a unique graded profile, from 1½ inches at the lower edge immediately off the fairway to 4½ inches just a few feet in (for which the club developed a one-of-a-kind mower that allowed that 3-inch gradient from one side to the other); and those malevolent bunkers will be tougher to escape from than the Hampton Court Maze.
The one wild card that nobody can forecast (almost literally), is how soft the East Course might stay in light of the recent deluge. A soft course plays into the hands of the big-hitters who can drive with relative impunity and land the ball on the greens with little fear of it careering off in unexpected directions.
But such are the other individual mannerisms and peculiarities; it will surely reign in anyone who tries to take liberties, while the overall novelty of Merion will ensure no-one can take any shot for granted.
What does that mean in terms of picking a winner, I hear you ask? Well, if you're looking for a wild and unpredictable Major, this could well be it. Woods may be an overwhelming favourite with the bookies (anywhere from 7-2 to 9-1 are the odds I've seen quoted), but Merion is made for an upset.
First-timers
It's already been the Year of the First-Timer on the US PGA Tour (with nine men claiming their inaugural victories), so it wouldn't be surprising if a new name came through in terms of Major titles. Westwood and Donald are names that certainly spring to mind; Rose and Matt Kuchar are two more.
Nobody is going to walk away with this one, that seems sure, and a bunch finish is a distinct possibility. Only three Britons have claimed the US Open in modern history (Tony Jacklin in 1970 and those Northern Irishmen McDowell and McIlroy in 2010 and '11) but the time could well be ripe for a fourth.
Merion is certainly set up for it. Now, how about that elusive first Major, Lee...?