Tiger Woods isn't "pretty darn close" to competing at the top level again
By Simon Veness
Last Updated: 22/07/14 9:42am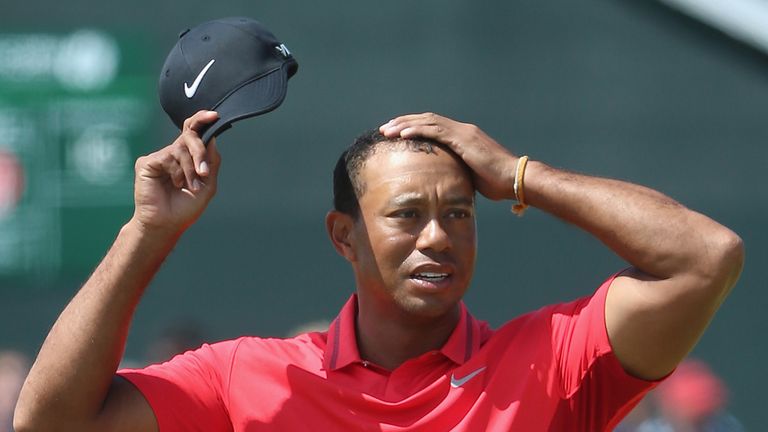 To borrow a phrase, you couldn't make it up. You really couldn't. This time last week, pretty much all we were hearing over here was how well prepared Tiger Woods was for The Open and how he was "pretty darn close" to his best once again.
Oh, and much of the US media felt "pretty darn good" about hyping his chances to the rafters. I pointed out the truly deluded nature of many of the comments and the way Tiger dealt with it in my last column.
But now, with the links dust from Hoylake well and truly settled, the hype machine has gone into reverse faster than, well, faster than Tiger's game has gone backwards this year.
To be fair, not everyone has taken the same herd mentality, in the same way as not everyone bought into the 'Woods can win' story prior to the Royal Liverpool shindig. ESPN writer Ian O'Connor pointed out the obvious under the headline 'Tiger isn't finished' on Monday morning.
It stands to reason that if the former world No.1 wasn't in any real position to contend last Thursday morning, he most surely isn't washed up as a potential Major winner this week either.
Fantasy
Things aren't that cut and dried, not even in our 24/7 media world. There are distinct shades of grey, and there may well be more than 50 of them (although Tiger would be well advised to avoid that particular route).
This fantasy approach from the pundits and other talking heads – much of it fuelled by Woods himself – has to stop if there is to be a Tiger renaissance, a return of the man who most definitely was king for almost 12 years.
Simon Veness
But this fantasy approach from the pundits and other talking heads – much of it fuelled by Woods himself – has to stop if there is to be a Tiger renaissance, a return of the man who most definitely was king for almost 12 years.
You could see it for much of the four days, when it was clear Tiger's 38-year-old body is far from recovered from the back surgery and all the necessary rehab work, both on and off the course, that follows from almost three months on the sidelines.
You could see it in his woeful inconsistency off the tee whenever he picked up that Achilles heel known as his driver. And you could see it in the continuance of a run of poor weekend performances that now dates back to 2011, the last time he broke 70 on a Saturday or Sunday of a Major event.
But more importantly, you could hear it in almost every statement that the more easily-fixated members of the press lapped up throughout events that, ultimately, saw a far more significant coronation on Sunday evening (which we'll come to in a minute).
Woods isn't "pretty darn close" to competing at the top level again, and most certainly isn't worth a captain's pick for the Ryder Cup on current form.
Stubborn
It's a word I used, advisedly, last week, and it is just as true this week. Unless Tiger admits it to himself, he is going down a truly delusional road with this stubborn insistence that he is just THIS close to being as good as ever.
Tom Watson would have to be borderline insane to even consider Woods as one of his three nominations for a trip to Gleneagles in September at the moment and, as much as Paul McGinley would like to see the "box office" Tiger taking on his boys, the current likelihood is that we will have to do without that element of cinematic pulling power in Scotland.
Yet, after the worst-ever 72-hole finish at one of golf's Big Four events of his 18-year career, almost the first comments out of his mouth were, "Yes, I should be a captain's pick."
Compare that to Mickelson's reaction at the weekend after finishing 23rd: "If I don't get in on my own, I don't know if I've played well enough this year to deserve a spot."
Let's put this in perspective here. Tiger has managed exactly 16 rounds of golf this year, 10 of them for a combined 34 over par. He has four rounds in the 60s and a best of 66, at the WGC event in early March. His FedEx Cup ranking is 214 and he would have to win at least one of the only two events he has left on his pre Ryder Cup schedule – which includes the US PGA at the Valhalla course where he won in 2000 – to make the Final Four events
If he misses the FedEx play-offs, he sits out the rest of August and Watson is left with the ultimate quandary – does he pick on form or perceived class (following Ian Botham's old adage that form is temporary but class is permanent)?
Watson has already tipped his hand on that particular conundrum – "Everyone thinks I am going to pick Tiger automatically but I can assure you that is not the case. I've said all along I'll pick Tiger – if he's healthy and playing well."
There's no room for equivocation there. IF he's healthy and IF he's playing well. On this week's evidence he is neither, but there is no sense that the player himself is ready to admit it and review his position. And there lies the ultimate challenge for Woods and the next stage of his career.
Honesty hasn't exactly been his watchword in recent years, and neither has opening up about the [i]real[/i] state of his life, either on the course or off it.
Force
We can only really guess at what he actually thinks about the current state of his game, but, if he has the right sense of realism of what is needed to finish the year with a flourish, we're not hearing it at the moment. And, without it, he is destined for only the second Ryder-less year of his career.
That isn't to say he is finished as a Major force and his quest to beat Jack Nicklaus' 18-title haul is officially a bust. Not yet. You do write off Tiger at your peril and, given the chance to properly re-groove his golf armoury, he will be hot on the trail of No.15 in 2015.
But only if he heeds the warning of Hoylake – get more rounds under your belt and get real.
Meanwhile, The Man Who Would Be King took a huge stride in that direction in adding a third Major to his CV. Rory McIlroy proved unmistakably that, when he puts his mind to it, no-one can match his A-game, in much the same way as a certain former world No.1 used to dominate.
America already loved Rory for his gallant failure at the 2011 Masters, but the way he led from start to finish in such masterful style in Merseyside has firmly etched his persona into hearts and minds over here, and he will find plenty of support at Valhalla, whether Tiger is back to his full roar or not.
Despite Woods damning McIlroy with faint praise for his Open victory – "Oh, he can get it going good, but he can also get it going bad" – it is clear the Northern Irishman is already in rarefied sporting territory.
And, if Tiger fails to read that particular reality, he really will be in for a thin time at future Majors.