Wowed by Augusta!
Dave Tindall gets his first view of Augusta National and is quickly updating his favourite ever holes list.
By Dave Tindall
Last Updated: 06/04/11 2:17pm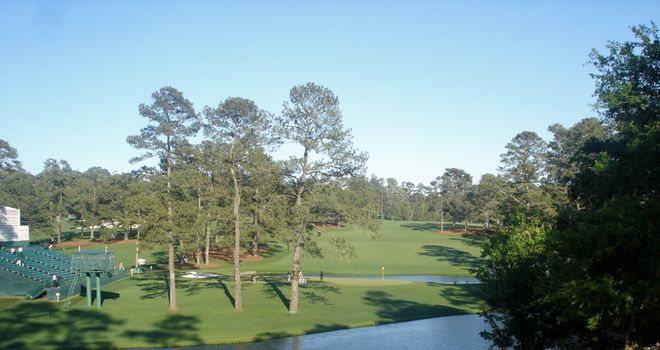 Imagine having a crush from a distance on the prettiest girl in your school and then finally getting to meet her.
That was the feeling I had when I said hello to Augusta National for the first time today.
What a place!
After leaving the press centre and watching Hunter Mahan play the first, I'd already decided that Augusta National's opener was the best golf hole I'd ever seen.
Then after seeing the sweeping view down to the par five second green, I decided that was my new favourite hole.
And what about the fourth. What a great long par three that is.
I hadn't even got to the iconic holes yet and here I was wondering how it could get any better.
Sure the sunshine helped but that was just an added bonus. You'd be blown away by Augusta National if it had snow on it.
Beyond the instant take-your-breath-away beauty there are several other observations that come quickly to mind when you first get to gaze at the home of The Masters.
Rough
First is the striking lack of rough.
If Augusta National's rough was your garden you wouldn't even think about cutting it yet. If a wayward drive goes into it, the lie simply isn't an issue.
It did immediately reinforce the point that already existed in my head that big hitters must have an advantage around here. I'm glad as my picks this week are all men who can give it a big old lash - Dustin Johnson, Nick Watney, Angel Cabrera, Phil Mickelson and Jonathan Byrd.
Honestly, if someone like Luke Donald was to win this week I'd be amazed given his lack of length off the tee. He'd simply have to putt the lights out.
The lack of rough also made me ponder how debutant Gary Woodland might fare.
Tiger Woods, in his press conference, made reference to his fellow American's massive hitting, saying the distances Woodland can carry the ball are startling.
"I played with Dustin Johnson and Gary Woodland the first two days at Bay Hill. I thought Dustin was long, and I've played a number of times with him but he's got nothing on Gary," said Woods. When Gary steps on it, it's like, whoa, are you kidding me. His ball is flat, when you think it should be coming down it, it just continues to fly."
Scoring on the par fives should be a big key this week so if Woodland can make hay on the four long holes he could maybe crack the top 10. I won't go as far as saying he could win it as, of course, no-one has done that since Fuzzy Zoeller in 1979.
It was pretty windy here this morning but the gusts died down in the afternoon which made my stroll to Amen Corner even more idyllic.
First though I stopped at the 10th and what an amazing view that is. Either looking down the steep hill towards the green or back up the hill from behind it, the scenery is breathtaking.
Amen Corner comprises the second shot at the 11th, the 12th hole, and the tee shot at 13. The term was first used in print by author Herbert Warren Wind in a Sports Illustrated article in 1958 and is an apt phrase for a key part of the course where you need to say your prayers.
Seeing it in real life was quite frankly bizarre. It did genuinely feel as if I'd climbed inside the television.
Forrest Gump
Next I moved onto the 15th and 16th and cashed in on the rule that you can use cameras on practice days. It was at these two holes that I pestered some fellow patrons into taking some snaps of me but, viewing them back just now, I look a bit like Forrest Gump in the White House scenes.
The par three 16th was perhaps the most surprising in terms of being out of line with my TV-based perceptions.
To begin with, and this could be a first, I was actually surprised by the lack of slope on the green.
It's usual, of course, for first-time viewers to be taken aback by how severe the undulations are at Augusta National but I think I'd braced myself for this and so nodded sagely when I saw all the dramatic changes of gradient.
But on 16, I somehow thought the drop from the top right hand side of the green (if viewing it from the tee) down to the bottom left was like a ski slope.
In reality it wasn't like that and there are bigger undulations on other greens.
But also at 16 I think I found my prime viewing spot for the week.
There's a huge bank to the left of the water which not only affords a great view of the 16th green but a wonderful landscape of players coming over the hill and hitting down over water to the 15th.
You don't really marry those two holes up when watching it on TV as The Masters is traditionally shot close up but the panoramic view on that bank is fabulous.
Oh, before I leave 16, two other points. Firstly, to get up to the bank there are some picturesque stone steps. I can't say I've ever seen those on TV before.
Secondly, it's part of practice round tradition for players to skim tee-shots on the water at 16 and land them on the green.
I had heard some roars coming from 16 when I was making my way down there but luckily I arrived just in time for the biggest noise of the day as young amateur Lion Kim hit a pearl of a shot. His ball fizzed flat from the tee, skipped off the water 20 yards from the green, caught the slope and ended a few feet away.
It was thirsty work climbing up and down Augusta National on a warm day but another welcome surprise was the sprinkling of water fountains located around parts of the course and toilet facilities that were so good that I wanted to take a picture of them before thinking that might look a bit dodgy to the four restroom attendants keeping everything spotless.
As I walked in from the course, there seemed to be a huge number of groundstaff on each and every green while I kept spotting little clumps of pine cones which had been carefully swept up into one place.
It's a pretty clear message you get from Augusta National. If you want to be the best you leave no stone or blade of grass unturned.
Blimey, it's only Tuesday and I'm already running out of superlatives.