The Merion Mystery
Conventional wisdom suggests straight drivers win the US Open, but the evidence states otherwise.
By Matt Cooper
Last Updated: 10/06/13 9:57am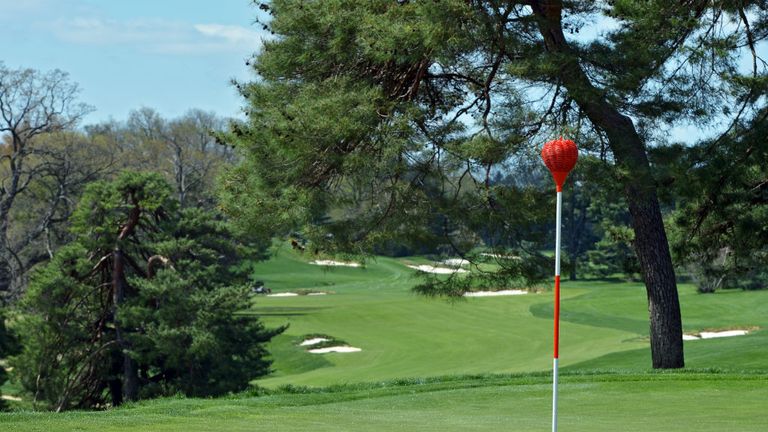 The US Open is a modern golfing enigma.
Ask the question "What do you look for in a potential US Open champion?" and the most common answer is: "A straight and steady driver."
There's a big problem with this notion, however. It's a simple problem and it's called evidence. You see the evidence suggests that, in recent years, conventional wisdom has got it wrong.
Let's assume that, when seeking potential champions in recent years, you had sought out the PGA Tour's Driving Accuracy stats and focused on those near the top of the rankings. Would it have been any help?
Unlikely. The end-of-year Driving Accuracy rankings for US Open champions (in the year of their win) since 2004 were 126th-105th-119th-192nd-169th-70th-48th-116th and 91st.
That's right: most of them were anything but precise from the tee. Just one of those nine winners ranked inside the top 60 (which is roughly the top 33% of those measured) and yet by striking contrast seven of them ranked top 60 for Driving Distance.
Okay, perhaps, in the week of the victories, those champions bucked their longer trend of inaccuracy and conformed to received wisdom?
Think again.
The trend remains: just one ranked top ten for Driving Accuracy during their win and yet of the nine seven ranked top ten for Driving Distance.
And get this: since and including 2004 only one man has ranked top five for Driving Accuracy and finished the week in the top five on the leaderboard (Jim Furyk, second in 2007).
Speculation
It is speculation (but necessary speculation because we have to be honest and accept that however educated our guesses are, they remain just that - guesses) but it might be the case that, as courses have been stretched to ever greater lengths, and club technology has become ever more advanced, being nearer-the-green-but-in-the-rough is better than in-the-fairway-but-further-back.
Strong men have won the Open in recent years. They are on record as saying that they prefer hitting shorter clubs to the greens, even if they have to do so from the rough. They find it easier to hold those firm US Open greens than a short-hitter trying to land a flatter trajectory 3- or 4-iron on the same greens.
So should we look again for long-hitters to contend? Well, maybe let's remember what the banks say: past performance is no guarantee of future results.
Things can change. Although the majority of course previews are trotting out the same old assumptions as if recent history never happened, one voice might be worth taking note of - USGA Executive Director Mike Davis, who has a record of pointing us in the right direction with his thoughts on the set-up he and his team have created.
For example he said ahead of the 2011 event: "Somebody that's got the ability to really move the ball out a pretty good distance and then bring their approach shots in with a high ball flight would do well at Congressional." As a prophetic description of the eventual champion Rory McIlroy it was perfect.
This year Davis has said: "Merion is probably is the most precise golf course we play a US Open on, it just requires precision off the teeing ground and precision with approach shots."
Preconceptions
He makes two distinct points about the rough which go beyond the lazier preconceptions. Firstly he notes: "There is probably less width here than most US Opens." And then adds: "The rough will be penal by US Open standards relative to past years."
The rough is an important point. Davis' introduction of graduated rough might have helped the longer hitters because, although it penalised wild hitters, those missing the fairway by smaller margins were less punished.
But Davis suggests the graduation of rough might also be subtly different this year, to reflect Merion's quirky split of very short and very long par-fours. "We still intend to graduate it. (But) on the shorter holes, you're going to see it a little bit more penal than the long holes."
There is one further thought to add. Matt Shaffer, Merion's Director of Golf Course Operations, reports that the rough is, unlike at almost every championship course in the modern era, a random collection of different grasses and purposefully not sprayed to control grass types others would seek to destroy.
Consequently: "(Players) could hit into the same spot in the rough four days and find four entirely different lies. There are big broadleafs in there and stuff with thick stems. Swinging through that is going to be like swinging through a pile of ropes."
Famously Merion is a short course (less than 7,000 yards). Will that allow the straight hitters to regain an advantage, because they will not be so far back in the fairway on the majority of holes? And will errant drivers be more heavily penalised by that tangly rough?
Or will modern trends remain? Will the long hitters prevail? Will their length over-power the short challenge?
The enigma continues, with added mystery at Merion.