US Open: Sky Sports' Sarah Stirk arrives at Pinehurst ahead of major
By Sarah Stirk
Last Updated: 11/06/14 12:59pm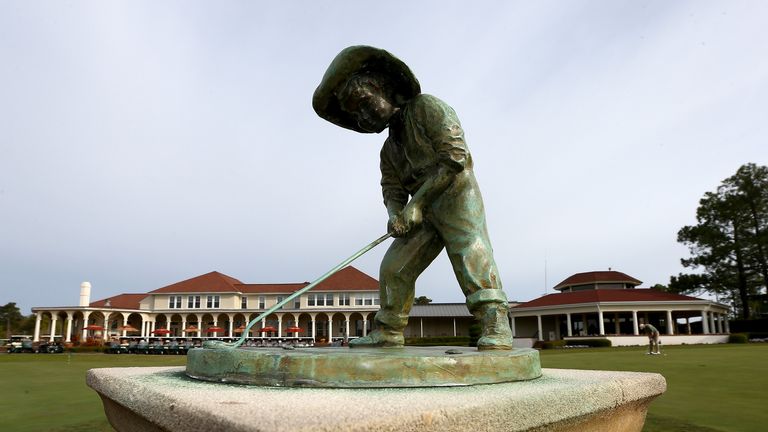 I only arrived yesterday and basically all of Tuesday and Wednesday will be spent gathering preview material and then I'm back on the touch screen Thursday and Friday doing player interviews.
So today and tomorrow is all about preview interviews, I've just been speaking to Bubba earlier on for instance. A big part of what we do with all these OBs (outside broadcasts) is trying to get little features in the can so we're doing a little Ryder Cup countdown feature with Bubba, looking back at the Masters a little bit and ahead to the Ryder Cup.
The first day is all about getting your bearings really and then tomorrow will be a full day of player interviews ready for the output once our coverage starts on Thursday and Friday.   
The forecast is not great so we might need more material, but to be honest it's more about the heat, it's so hot over here it's ridiculous! I think it may flare up in the afternoons or you might get lucky, you never know. But it's absolutely baking, you kind of don't want to be out in it for too long it's awful, but hopefully was can just avoid the thunderstorms.
I've not been here before, but it's beautiful. It's kind of in the middle of nowhere and then you arrive and Pinehurst itself is just huge and it feels very vast.
Fast track
Obviously it's going to play firm and first, there was a storm last night but they've not had too much rain and it is firm. It's a beautiful place, there's obviously these natural waste areas that everyone is talking about and it looks really impressive, it's a beautiful place with all the pine trees - its stunning.
I hope it stays firm and fast. A few people have been saying it's got a bit of an Open Championship feel to it because of how fast it's going to play and I'd like that to remain.
This is my first US Open with Sky so I'm excited about that, and I'm just fascinated about how it's going to play. Typically the US Open is such a brutal test of golf, it's a test of the mind, patience, tenacity more than anything.
But here the fairways are wider, there's not much thick rough and it's not going to be the traditional US Open set-up. But it's going to be fast and the greens are going to be so demanding. It's a second shot golf course I think, yes OK there's more room off the tee but you need to be pinpoint with your iron shots because of these upturned saucer greens.
It could give the big-hitters and shot-makers more of a chance. Because of the lack of rough the likes of Mickelson and Bubba, if they're out of position they're probably going to have shots were previously in US Open rough you're more heavily penalised and it's just a shot out, but that'll make it more entertaining to watch.
Entertainment value
Just think of Mickelson in these waste areas if he's got half a decent lie he's going for it which should make for great viewing.
I did the US golf in Memphis last week and found out that, although we know Phil's not had a top 10 all season, he's also not shot a sub-70 on a Sunday all year yet – which will be worrying for him.
I like Justin Rose's chances again, although I know he's defending and all the pressure that comes with, I also like Adam Scott's chances as well. I like to look at some of the sectional qualifiers as well and see how they do - Shane Lowry could have a good week, Danny Willett's qualified and Chris Doak, it's a good opportunity to see how they perform.
Graeme McDowell could well for sure, he's so good at these major championships, even without his 'A' game he knows what it takes and has the mental attitude to figure it all out.
But if I had to just pick one...I'll go for Adam Scott.
And then on Saturday we've got England's big World Cup game as well, maybe we can sneak out and watch that. I'm sure we will, it's a really good team we've got here this week so I'm sure we'll watch it but we've got some long hours ahead of us this week and with that and the heat we might not be going anywhere at night, maybe we'll just be eating and going straight to bed!