US Open: Tiger Woods posts his worst score in a major as a pro
Tiger Woods insisted he had plenty of positives to take away from the US Open despite finishing at 13 over par.
Last Updated: 16/06/13 10:48pm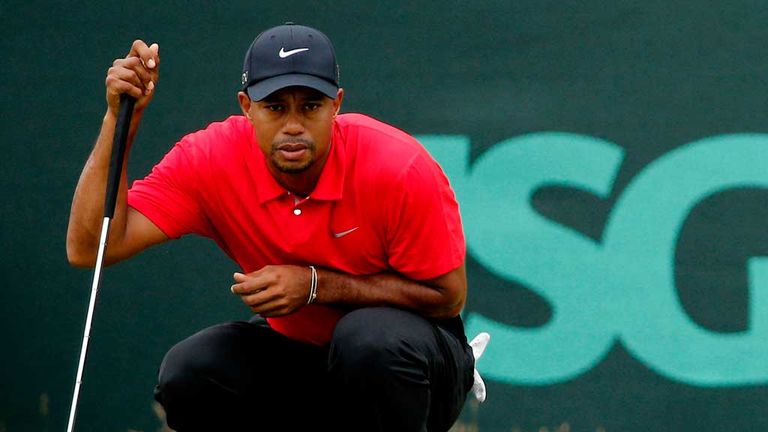 The world No 1 birdied the first for the second day running, but any hopes he had of putting pressure on the leaders vanished at the second, where he carved his drive out of bounds and ran up an ugly triple-bogey eight.
He dropped further shots at six and seven, although he managed to play the remainder in level par to return a 74 on the fifth anniversary of his last major victory.
"It was a good week overall," said Woods, whose 13 over total was his worst score in a major championship as a professional.
"There's always a lesson to be learned in every tournament whether you win or lose. I'll look back at the things I did right and the things I did wrong.
"I did a lot of things right. Unfortunately I did a few things wrong, as well," added Woods, who found the greens particularly tough to master.
"I struggled with the speed all week," Woods said. "These greens are grainy. It's one of the older bent grasses creeping bent. I struggled with the speed, especially right around the hole.
"Putts were breaking a lot more. I gave it a little more break and then it would hang. That's kind of the way it was this week.
"I'm sorry that the golf wasn't what I would have liked but it was a fantastic atmosphere, the people were into it.
"Obviously there weren't as many people as some of the US Open sites, but this was I think more intimate. People were very close to you.
"Sometimes we get a lot of people, like at Bethpage, but they're so far away from us. Here, because the property is so small, I think the galleries were a little bit closer than they have been in most US Open sites."
Merion had not hosted a US Open since 1981 but Woods added: "I'm sure it will come back.
"Obviously there are some vendors that are going to make more money with hospitality and that nature (elsewhere), but I think that overall as a golf course, yes, it can be played.
"They move the tees back and they give us some pretty tough pins this week. But certainly it could definitely host another major championship. But I don't know if the USGA wants to, they make a lot of money on other venues."