US Open: Emotional Justin Rose reflects on a memorable day at Merion
Justin Rose admitted that keeping mistakes to a minimum was crucial to claiming his first major title at Merion.
Last Updated: 17/06/13 1:52pm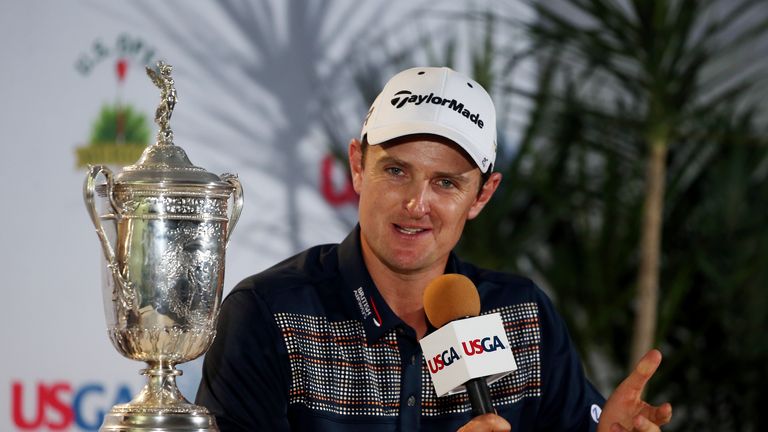 With most of the contenders struggling to keep bogeys off their cards, Rose closed with a level-par 70 to clinch a two-shot win over six-time runner-up Phil Mickelson and Australian Jason Day.
The 32-year-old did blot his card with five bogeys, but he also picked up five birdies and played the final two holes impeccably - making cast-iron pars to become the first English champion in 43 years.
"What a day, I just kept telling myself that bogeys is what everyone was doing," he said.
"You just have to finish them. I had two good swings up 18 even though it trickled off the edge, but I was happy to get up and down.
"I don't know what to say, I'm thrilled," added Rose, who revealed he took huge encouragement from a text message from Adam Scott, who made his major breakthrough at the Masters.
Encouragment
"Well there's no doubt I hadn't really given myself many great chances in the majors," he said.
"I took a lot of encouragement from Adam Scott. He sent me a fantastic text after the Masters, he said 'your time is coming soon', he is a wise man."
Rose smote a perfect drive up the final fairway and his ball came to rest next to the plaque commemorating Ben Hogan's famous one-iron into the 18th on his way to winning at Merion in 1950.
He added: "I saw my ball in the fairway I thought 'this is my moment', you know I have seen that Ben Hogan photograph a million times and suddenly it was me hitting middle of the fairway.
"I just tried not to get to ahead of myself. I hit a beautiful four iron into the green.
"I'm just so glad it all worked out. Philadelphia has been my town, I had such good support here all week.
"It wasn't lost on me that today was Father's Day. For it to all just work out for me, on such an emotional day, I just couldn't help but look up to the heavens and think that my old dad Ken had something to do with it."