US Open: Justin Rose expects sustained English challenge in majors
Justin Rose hopes his US Open triumph can inspire more English players to win major championships.
Last Updated: 18/06/13 7:29am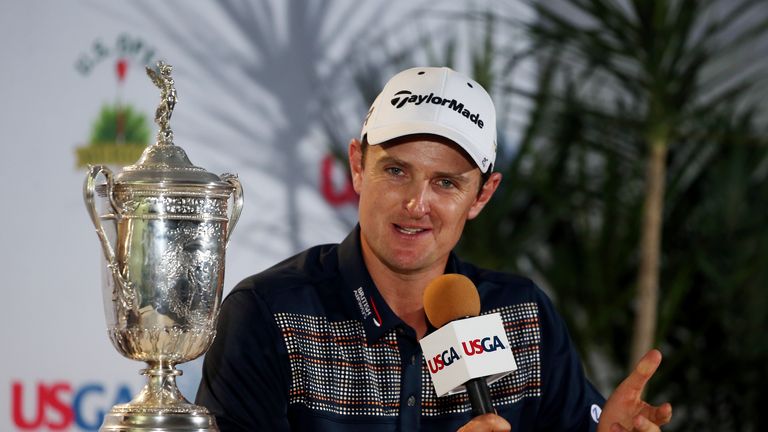 Tony Jacklin had been the last Englishman to win the US Open in 1970 - 10 years before Rose was born - while Nick Faldo was the last to claim a major title in the 1996 US Masters.
Lee Westwood, Luke Donald, Ian Poulter, Paul Casey and Rose himself had all threatened to win one of the game's four biggest prizes since then, but it was not until Rose carded a superb final round of 70 at Merion that the barren streak came to an end.
And Rose feels his two-shot victory over Phil Mickelson and Jason Day could be the start of many for him and his contemporaries, in much the same way Graeme McDowell's US Open win at Pebble Beach in 2010 was followed by major victories for fellow Northern Irishmen Rory McIlroy and Darren Clarke.
"There's been a very strong crop of English players for quite some time now, with myself, Westwood and then Poulter as well," Rose said. "Paul Casey was up there for a good while and is probably going to make a comeback, I think.
"I really hope it does inspire them. I think it was always going to be matter of time before one of us broke through. It was just going to be who and I always hoped it was going to be me to be the first, obviously.
"But I really hope that it has broken the spell and the guys can continue to win some for themselves."
Faldo's Masters win in 1996 was the last of his six major titles and that will be a tough act to follow but Rose already has a taste for more success.
"I think that winning makes you hungry to do it again because it just feels so darn good," Rose added. "As a professional golfer, most of us lose 90 per cent of the time.
"Winning just makes you realise and reminds you about why you practice hard and why you play the game.
Committed
"It's not necessarily the trophy that feels so great, it's knowing that you've answered the doubts in your own head, you've answered the questions, you've taken on the challenge and you've risen to it.
"Those feelings of self-accomplishment are great in the moment and I think that that's what inspires you to try and win more golf tournaments.
"I committed myself to the process this week. I committed myself to putting a strategy in place that I hoped would work in five to 10 years in delivering major championships.
"And to strike on that feeling the first week out, the first time I tried and tested it, to come out with the silverware feels absolutely amazing.
"The silverware and the history books are phenomenal, but it's about learning about yourself and how you can handle it. You wonder if you can handle it and when you realise you can, you want to experience that feeling again and again and again."
Until last year, Rose's best finish in a major championship had been a share of fourth place as a 17-year-old amateur in the Open Championship at Birkdale in 1998.
Technically he surpassed that when third in the US PGA Championship at Kiawah Island, although he was a distant nine shots behind runaway winner McIlroy and had contended more realistically on several occasions at the Masters.
Pinnacle
"This is the pinnacle of the game, winning major championships, and to win the US Open is in a way very fitting of how my game has been the last couple of years," Rose added.
He was inspired to victory by his good friend Adam Scott who won at Augusta in April, a victory which came nine months after he squandered a four-shot lead with four holes to play in the Open.
"I prepared with Adam in the Bahamas the week before and we had a couple of games," Rose added. "I took his money both times and thought that's not fair that he went and won the tournament!
"But I consider him a great friend of mine. He sent me a text message after that which said 'This is our time to win these tournaments. We're 32, we have been around quite a while, we've paid our dues.'
"The other thing that I really learned from Adam was that I wasn't scared of the heartache of losing one. The way he handled himself at Lytham is something that he needs as much praise for as winning the Masters."
Rose also spared a thought for a heartbroken Phil Mickelson after his US Open victory inflicted more misery on the four-time major winner.
"This is definitely a tough defeat for Phil, I guess now six times second in the US Open," said Rose, who also beat Mickelson at Valhalla in 2008. "He's such a great guy to play golf with and to have for the tour.
"I love the way he plays the game. He plays fearless golf. He keeps everybody guessing, he's entertaining and I feel fortunate to have been able to beat a world-class player that he is.
"It was also on Father's Day (and) he really showed the true spirit of fatherhood being at home for his daughter's graduation earlier in the week and putting a tournament as his second priority and that's very admirable."