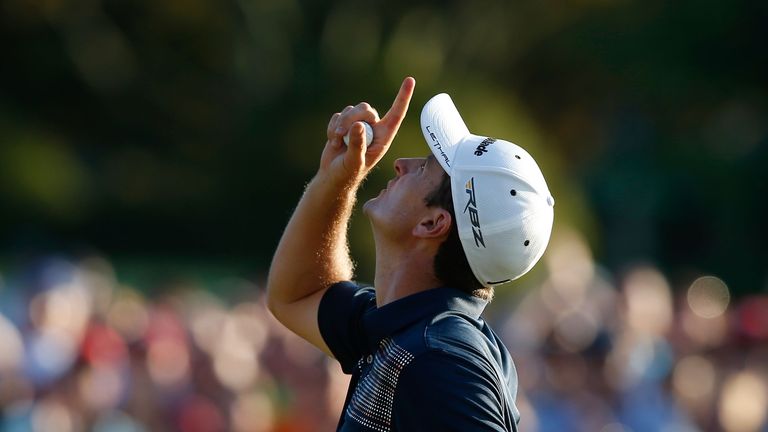 When Justin Rose won his first major title in brilliant fashion at Merion 12 months ago, it ended England's 43-year wait for a US Open winner.
Now all he has to do for an encore is become the first man in 25 years to win it twice in succession.
Curtis Strange was the last player to achieve such a feat in 1988 and 1989, but there is more than one reason to be optimistic about Rose's chances.
Firstly, the last man to win back-to-back US Opens before Strange was the legendary Ben Hogan, who did so in 1950 and 1951, with the first of those wins coming at Merion.
Secondly there is Rose's form this season, which was hampered early on by a shoulder injury but recently featured finishes of eighth, fifth and fourth in successive events on the PGA Tour before taking 25th in the BMW PGA Championship at Wentworth.
And last but not least is the 33-year-old's determination to add more major titles to the one he fittingly won on Father's Day last year and dedicated to his late dad Ken, a massive influence on his career.
"I've enjoyed the year of being US Open champion, but I really feel motivated now to move on from that and to win more golf tournaments and especially majors," Rose said. "So it's time to make special memories and new memories and create new goals.
It's time to make special memories and new memories and create new goals.
Justin Rose
"You have the elation of the first win and then the Open rolls around and you have missed the cut and there's another major champion crowned.
Contention
"I have young children at home and it did not seem to have any impact on them. You are still doing bed and breakfast time. When you fast forward to the end of your career that's when you can really look back."
Speaking of young children, Rose's son Leon and daughter Charlotte will not be at Pinehurst as their father does battle in the year's second major championship, but that could be another good omen.
"If it's not broke, don't fix it," Rose said of his preparations. "That is going to be my mentality and I will prepare the same way as I did at Merion.
"If you are in contention you are teeing off at 2.30 in the afternoon and the kids are up at 7am no matter what. Once the kids are up, it is very difficult for you to be detached from them. I think I am going to treat it the same way as I did last time and that means leaving the kids at home."
Rose took his first look at Pinehurst at the start of June - he failed to qualify when it was last held there in 2005 - and admits the rota of US Open venues will make it harder to defend his title.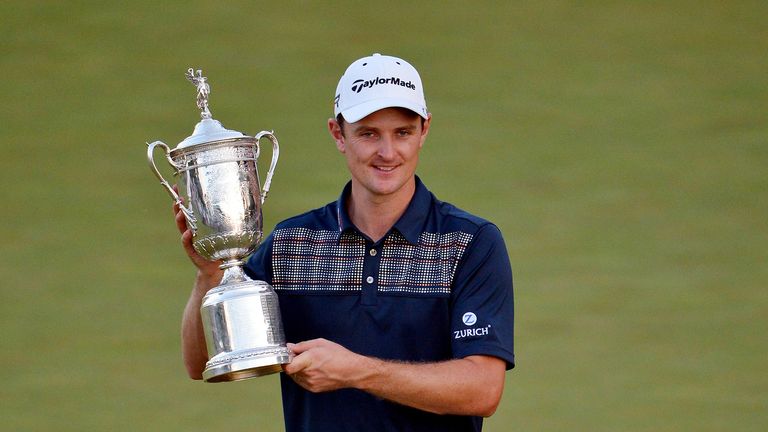 But the Ryder Cup star also believes his game suits the tough test such courses usually provide, with the 2003 US Open at Olympia Fields producing his first top-10 in a major since he memorably finished joint fourth as a 17-year-old amateur in the Open at Birkdale in 1998.
"Obviously if you are a defending champion at Augusta, it's probably a mental challenge more than anything. But in the other majors you have to learn a whole new golf course and I think that's important," Rose added.
"My preparation's going to be key. It's about developing and designing a game plan that you believe will hold up over 72 holes that you can execute that suits your game and that will produce the winning score. That's what I did at Merion. I produced a game plan to shoot even par and that held up so I need to do the same at Pinehurst.
"I just feel like the US Open test in a sense suits my game. I like to play the tough golf courses. Typically that's when I've done my best relative to the field. It's the kind of golf I like to play where you can go out and shoot a good score but par is still a good number.
"I think it's a cross between a US Open and an Open Championship this year [Pinehurst has undergone major restoration work and will not feature typical narrow fairways and thick rough] and I'm sure it could get a little breezy as well.
"But I feel like I've got all the shots, it's just a matter of putting them all together in the one week you need them and putting them in four rounds together."