Pinehurst No 2 will not present a similar exhausting all-round examination as Merion did in last year's US Open, but it will still make some of the world's best golfers look like fools at times according to one of the men who helped restore it for the event.
Bill Coore, along with Ben Crenshaw, were charged with restoring the famed old course to more like the original design by Donald Ross, meaning things have changed greatly since 2005 when Michael Campbell was a surprise US Open winner there.
It was more like a traditional US Open track in 2005 with trademark narrow fairways and thick rough stiffening the test along with treacherous speedy greens – but now things have changed.
Although USGA chief Mike Davis always wants to put players to the ultimate test in the US Open, he has not been growing the rough at Pinehurst No 2 and will instead let the natural defences of the course take centre stage – even if that means for lower scoring than usual.
"The course had changed a lot, certainly over the last 40 years," Coore said. "It had changed dramatically from one really quite natural looking course that looked like it lay very gently on that sandhills land with the native landscape as the rough.
Parkland
"Over the course of time there was much more maintained turf grass. It'd basically become a parkland-type golf course.
"To his credit, Mike Davis was always more concerned with the long-term future of the course more than one week at the US Open. I remember someone saying to him, 'What if someone shoots really low in the Open?' His response was simply, 'Then they have played well.'
"It is going to be a fascinating week. The contrast will be enormous between what we will see at Pinehurst and what we saw at Merion last year. They will be complete opposites. Instead of long grass 'protecting' the course, Pinehurst's difficulty will primarily be on and around the greens."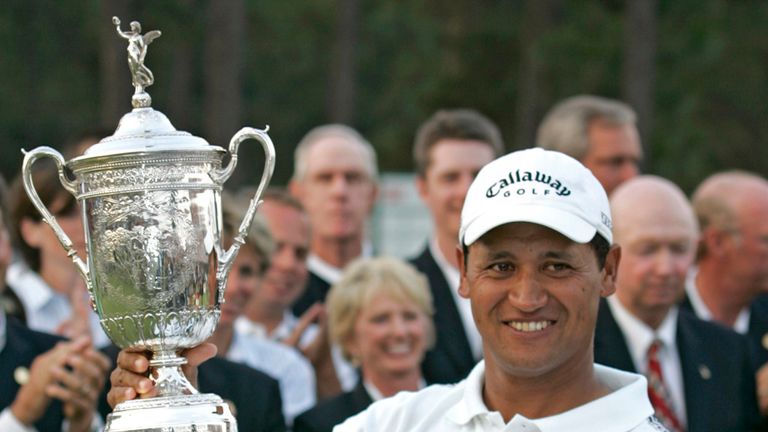 Completed in 2012, the restored Pinehurst No 2 is similar to the course back in 1943, but it will still be far from just a walk in the park or a birdie fest at this year's US Open.
Sandy areas await instead of thick rough for those missing the fairway target, and unpredictable lies will make for some very entertaining recovery shots, both good and bad, as Coore promised a more unusual US Open unfolding.
"The best part is that I think we will see a huge variety of approach and/or recovery shots," Coore added. "Guys will have opportunities to try the most spectacular shots.
Spectacular
"On the other hand, if the ball is lying on softer sand or pine needles, the shots could go anywhere. People watching on television are going to be sitting there saying, 'What the heck was that?'
"I kidded Mike Davis that those spectators sitting in the grandstands behind greens better be issued with hard hats. My feeling is we will see a great mixture of spectacularly successful and spectacularly unsuccessful recoveries."
Defending champion Justin Rose feels the redesign gives him a great chance of keeping hold of his trophy, with the course set-up to play different than the usual US Open.
"I've never played Pinehurst and I think guys who played in 2005 won't have as much of an advantage because of the course re-design," Rose said.
"There was a lot of rough in 2005, fairways were narrow, typical USGA-style fairways. But this year it's going to play I think more of a running game, almost a mix between a US Open and an Open Championship."