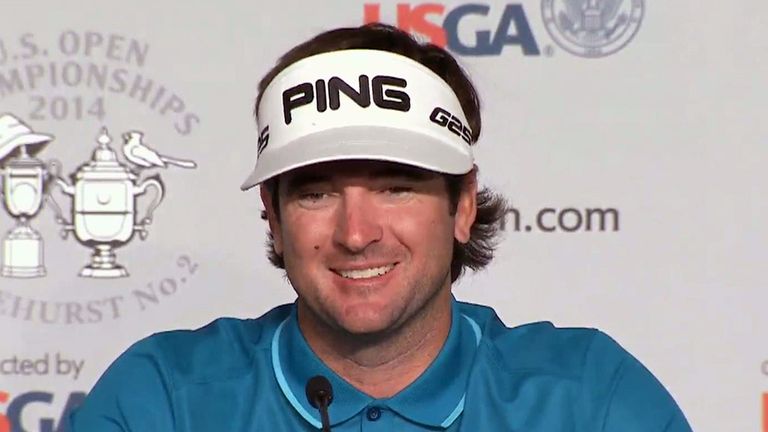 Two-time Masters champion Bubba Watson does not believe his ability to hit the ball a long distance off the tee will give him an advantage heading into the 114th US Open which begins on Thursday.
The left-hander has a reputation as one of the longest hitters on the PGA Tour and stunned fellow professionals at the Sony Open in 2010 when he hit the ball 416 yards off the tee.
But the 35-year-old does not believe his big-hitting style will give him an edge over his rivals at this weekend's Open at Pinehurst  No 2 in North Carolina.
"Length is an advantage if you can hit fairways but not every guy is hitting it 330 and hitting every fairway," Watson said.
"You have some holes that get pinched in. At 16 you get pinched - it's five hundred-and-something yards it gets pinched in at 300 yards. It's 308 yards to the bunker if I remember correctly so you lay it short, 300 yards off the tee to the middle of the fairway and you still have 230 to the front on a par four.
"It doesn't matter how far you hit it that's a long way with a long iron. There are four or five holes over five hundred yards I think, so length can be advantage.
"But when they're pinching it in and making everybody go to the same area we still have the same length going into the green there.
Fairways
"So it's about hitting fairways and hitting longer shots into these tough greens. I'm not saying it's the right strategy – hopefully in four days I will tell you it was a great strategy but that's what I'm planning right now.
"Now if I make a few bogeys and doubles real quick I might switch to the driver."    
Watson does not believe the course at Pinehurst bears any resemblance to the US Masters course at Augusta and insists he will be taking a more conservative approach in this year's US Open.
"There are 18 holes and that's about it," Watson said.
"This reminds me a lot of playing golf in the Presidents Cup in Australia. Too many pine trees to say the British Open, but it looks like Australia.
"Different golf courses and different conditions make you lay up and strategise a little differently but this one I think I should play a little safer off the tees and let my irons hopefully help me going into some of these greens."