US Open: Phil Mickelson desperate to win at Pinehurst and complete grand slam
Last Updated: 11/06/14 8:49pm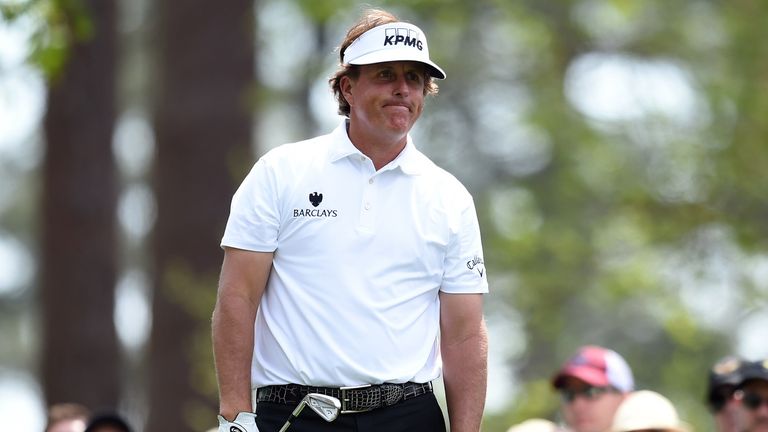 Phil Mickelson says the sheer weight of his own desperation to win the US Open and complete the career grand slam will make it even tougher for him to finally claim a maiden success at Pinehurst No 2 this week.
Mickelson has six times been runner-up in his home Open, and the major that means the most to him – including last year when he was in the final group but was pipped to the title by Justin Rose.
After being completely deflated after losing another golden opportunity, he rebounded superbly to win the Open Championship at Muirfield and move him within a US Open of completing the grand slam.
Only Gene Sarazen, Ben Hogan, Gary Player, Jack Nicklaus and Tiger Woods have won all four major titles in their careers, and with is being the US Open as the final piece in the puzzle the desire to win it continues to get bigger and bigger.
"The expectations of me looking forward to this event, for almost a year now, and how much it would mean to me, makes it a challenge," Mickelson said.
"It's a career goal of mine to win all four majors I feel like the five players that have done that have separated themselves from the other players throughout all time. It shows that they have a complete game. If I'm able to do that, I feel that I would look upon my own career differently.
Desire
"That's why it would mean so much, in addition to the fact it's our national championship. Growing up here in the United States, this is a tournament that I've always felt this patriotism to and would love to win, plus with all the close calls. It would really mean a lot to me."
The first of Mickelson's runners-up spots came at Pinehurst back in 1999 when he finished behind the late Payne Stewart, and in what is his 24th US Open he is desperate to add that to his CV.
Mickelson has not had the best season so far, with just one Top 10 all year and off the course being investigated by the FBI for alleged insider trading also not helping matters, but on the course h s insists his game is in good order.
"I feel as good about my game today as I have all year," Mickelson added. "It's not saying a lot, because I haven't played well all year, but last week was a good week for me. I started to slowly put it together.
"I struggled on the greens (at the FedEx St Jude Classic in Memphis), but the greens here are quick and so I'm actually going to go back to the claw grip to create a softer roll.
Driving
"My driving's taken a whole different turn and if I can put it together like I did those last two rounds, this week could be a good one because it will make a big difference having a shorter iron in.
"There's no luck involved with the hack-it-out rough that sometimes we have around the greens. It's just a wonderful test that is, I think, the best test I've seen to identify the best player.
"I feel this golf course, this set-up and everything about Pinehurst provides me the best opportunity. I don't want to get overly excited, because the pressure of a US Open and having not been in contention (this season), that's going to be a challenge for me.
"Also, the expectations of me looking forward to this event for almost a year now and the history that I've had here and how much of a great story it would be and how much it would mean to me to win here with what happened with Payne Stewart and my child and all these things, that makes it more difficult as well.
"I tend to do something, play better, like at Muirfield last year when nobody really expects it and know that I can do it and not really have to answer questions about it. So these are all challenges that I'm facing this week, but I'm also enjoying it and I love being here."