US Open 2014: Matt Fitzpatrick has mixed emotions after first-round 71
Last Updated: 12/06/14 10:43pm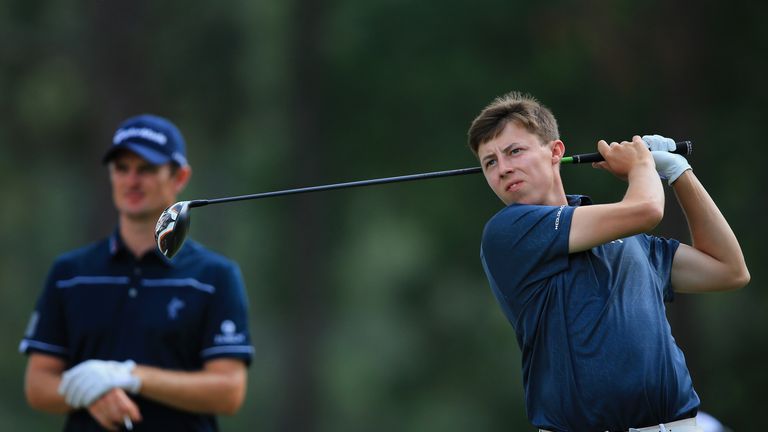 English amateur star Matt Fitzpatrick said he was both pleased and disappointed by his opening 71 in the US Open at Pinehurst.
The 19-year-old, the current US Amateur champion, outscored one of his playing partners - defending champion Justin Rose - and finished just one behind the other, five-time major winner Phil Mickelson, after suffering a one-shot penalty on his penultimate hole.
No wonder the US Amateur champion had mixed emotions about an opening 71 in his final tournament before turning professional in time to compete in next week's Irish Open.
"Pleased and disappointed at the same time," said Fitzpatrick, who briefly shared the lead when he birdied two of his first three holes, having started from the 10th.
"To get under par really was quite nice, and it would have been nice to just steady out the rest of the day. But it was a bit up and down and I had back-to-back bogeys twice, so that was a bit annoying."
Penalty
Fitzpatrick's final bogey of the day came on the eighth hole, when his ball moved and touched his club as he prepared to play a chip from the back of the green.
"The ball was set up fairly nicely," added Fitzpatrick, who missed the cut by one shot in the Masters in April. "I rested my club down and the ball moved and touched my club and that was it really.
"Me and my caddie both saw it move and he said call the referee over. I called him over just to confirm that I replace the ball rather than play it from where it finished."
Speaking about his illustrious playing partners, Fitzpatrick - who dropped out of Northwestern University after just one term earlier this year - added: "Both Justin and Phil were great. They were both positive with me and about me and it was nice to have that support from two fantastic players.
"I'm not saying that I can compete with them just yet, because I don't feel like I can. Obviously they're fully grown men. They've been on Tour for years and they know what they're doing. I think it's about just developing my game to try to be as good as theirs."