US Open: Dustin Johnson to stay aggressive at Pinehurst chasing Martin Kaymer
Last Updated: 14/06/14 1:03am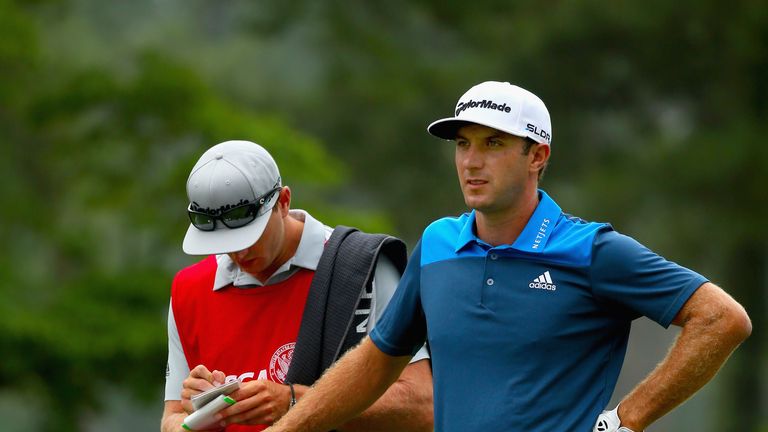 Dustin Johnson had a second solid round at the US Open with a one-under 69 putting him on two-under and leading the pack trying to chase down runaway leader Martin Kaymer.
Two rounds under par at the US Open usually has you in contention, and when Johnson finished his round he sat in second place – albeit a massive eight shots off a flying Kaymer.
Johnson has been in contention in majors before of course, but has never managed to get over the line, and even though he's some way back he's happy with his performance so far at Pinehurst No 2.
"I'm just going to keep on playing my game, just trying to hit greens, make some birdies and make a lot of pars," Johnson told Sky Sports. "I can't control what Martin does, I can only control me so I just need to keep playing solid and keep shooting under par and I'll be happy.
"I've put myself in a lot of good situations in majors before and I just need to keep doing that and put myself in a position where I've got a chance coming down the back nine on Sunday."
Aggressive
Pinehurst has been perplexing most of the field, with a premium on position off the tee many are backing away from driver off the tee, but Johnson is taking on the challenge head on.
Johnson has used driver more than most, and will continue to be aggressive as he enters the weekend chasing clear leader Kaymer.
"I played well again today, I played really solid and I got quite a few good looks at birdies – I think I missed a few opportunities that's for sure but it's a tough golf course and it's tough to get good looks at birdies.
"I've played pretty aggressive off the tees here. I feel like I'm driving well, I like hitting driver and I'm not scared to hit it.
"You've got to be aggressive off the tee so you can have some sort of look at the greens because even with a wedge in your hands it's hard to be aggressive at the flags, you're just trying to pick a spot to give yourself a chance of making a putt."