US Open 2014: Martin Kaymer full of confidence after back-to-back 65s
Last Updated: 14/06/14 12:19am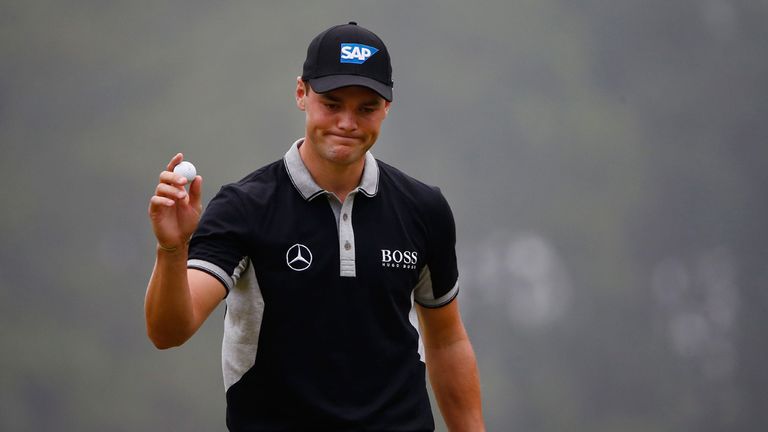 Martin Kaymer feels totally in control of his golf game after charging into the lead at the 114th US Open in North Carolina.
The German posted the best 36-hole score in the history of the tournament with his second straight five-under-par round of 65 around Pinehurst No 2.                 
Taking advantage of a course softened by overnight rain, Kaymer also matched the 36-hole mark at any major championship, set by Nick Faldo in the 1992 Open Championship at Muirfield.
Kaymer told Sky Sports: "I am very happy, very satisfied with the way I played golf.
"Even though for the last three or four holes I struggled a little bit with the tee shots, I could make a few nice up and downs especially on six and seven.
"I made a good two-putt on eight so overall I am very happy with the way I played golf."
Kaymer's putting has been particularly impressive this week and he admits he is feeling comfortable on what for many have proved treacherously fast and undulating greens.
"The greens are very, very pure," he said. "I think yesterday on one, two and three I had some sneaky putts, three or four-footers and I made those and so gained a lot of confidence."
Monster putt
Starting on the back nine on Friday and with a couple of birdies already on his card, Kaymer rolled in a monster putt on 16.
I feel very comfortable with all the shots really. I don't fear anything.
Martin Kaymer
"I was two under par and it was nice to make one of those big putts. It was the first time I really pumped my fist. I was very, very happy with that putt because it is a tough hole and if you make three you really make one and a half shots on the field."
As for his game overall, he added: "I feel very comfortable with all the shots really. I don't fear anything.
"If I need to shape it left to right or right to left or something high or low, I can do it. You can only gain confidence when you try to hit those shots and once in a while you pull them off and the confidence gets higher and higher."