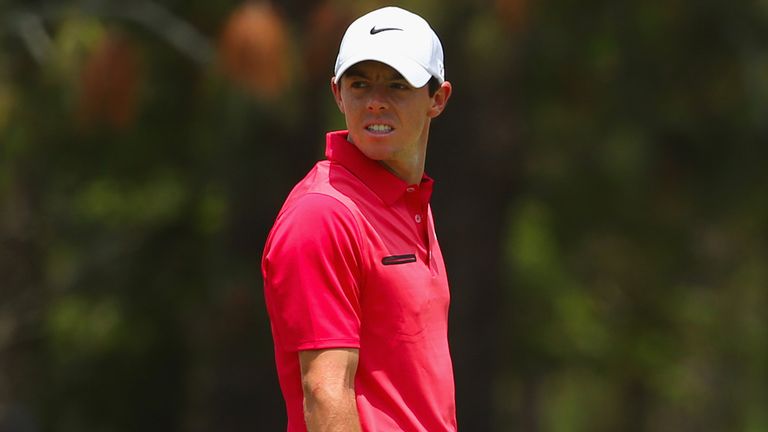 Rory McIlroy has warned Martin Kaymer it could be "detrimental" if the the German is too defensive over the weekend of the US Open at Pinehurst.
Kaymer has been in a class of his own and will take a six-shot lead into the third round after posting a second successive five-under 65.
His 10-under score of 130 is one better than McIlroy's previous 36-hole record of 131 set at Congressional in 2011, and McIlroy has encouraged his Ryder Cup team-mate to stay aggressive.
"If I was Martin, hopefully I would be thinking about how to get seven ahead and then how to get eight ahead and then how to get nine ahead," said McIlroy.
"Especially on a golf course like this, you can't go out trying to protect anything. You've just got to keep the foot to the floor and just keep it going.
"If he's comfortable out here and making birdies, then that's what you should still be thinking of.
"Ten under par is an incredible total after 36 holes and, if he can hold on to that 10-under total, he's going to win this tournament.
"I learned at the Masters, the previous major before Congressional, if you get too defensive, it's detrimental."
Speaking about his chances of a second US Open title this weekend, the 25-year-old added: "If I have a couple more 68s, I would take my chances. With a five-under total I would sit in the clubhouse happily with that.
"If someone had told me at the start of the week that I was going to be standing here one under par after 36 holes, I would have taken it. I would have said, 'perfect, let me play the weekend and see what happens'.
"But what Martin has done over the first couple of days has made one under par look pretty average.
"But I'm happy with where my game is and there's a lot of golf left to play. So we'll see what happens over the weekend."