US Open 2014: Phil Mickelson in relaxed mood despite another mediocre round
Last Updated: 15/06/14 1:51am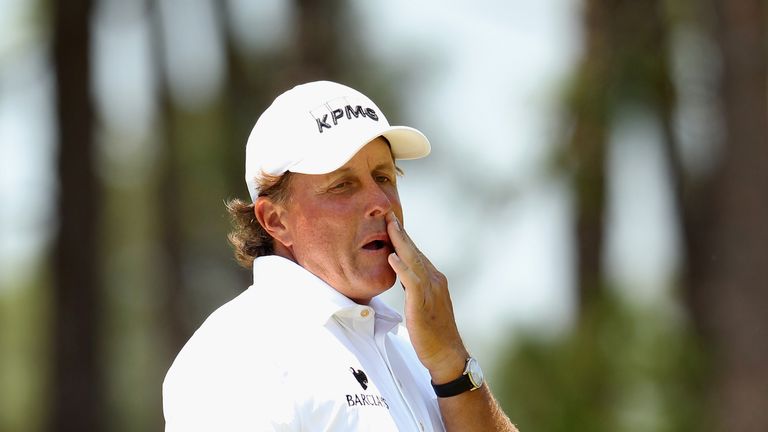 Six-time runner-up Phil Mickelson managed just one birdie on Saturday but at least the American has retained his sense of humour.
The chances of him tasting victory on Sunday to join Gene Sarazen, Ben Hogan, Gary Player, Jack Nicklaus and Tiger Woods in having won all four major titles are remote to say the least, but the Open champion was in jocular mood after finishing on five over for three rounds.
"If I play well tomorrow, if I hit it better and make some putts, I think I can shoot four or five under, end around even par and finish second again," Mickelson joked after a 72 containing three bogeys and just one birdie.
"I'll play a good solid round tomorrow, not really worry about the results and see if I can finish the year strong."
One of the reasons for Mickelson's relaxed attitude to the tournament he so desperately wants to win was the ongoing performance of Germany's Martin Kaymer, who took a record-equalling lead into the third round.
No rain had fallen overnight as it did on Thursday to soften the greens and the pin positions tucked close to the edge of almost every green prompted 2010 winner Graeme McDowell to write on Twitter: "Moving day here at @usopengolf but looking at the pin positions level par makes a move today. #patience #grindmode."
Speaking after a round of 74, veteran American Kenny Perry said: "It was a golf course of 18 of the toughest pins I've ever seen. It was probably the hardest set-up I've ever experienced in a major championship."
Those sentiments were borne out by some of the early completed scores which saw Boo Weekley shoot 80, Russell Henley 82 and Japan's Toru Taniguchi an 18-over-par 88 which contained six pars, seven bogeys, four double bogeys and a triple bogey.
f I play well tomorrow, if I hit it better and make some putts, I think I can shoot four or five under, end around even par and finish second again.
Phil Mickelson
England's Matt Fitzpatrick, the only amateur to make the cut in his last tournament before turning professional, came to the 18th needing a par to break 80 but managed one better, holing from 10 feet for birdie to complete a 78.
Unlucky
The 19-year-old from Sheffield, who will make his professional debut in the Irish Open next week, said: "I didn't play particularly well, but at the same time I never felt like anything went for me. I felt I was quite unlucky.
"I think it's the most relaxed I felt on the course, so you would expect the golf to be all right, but it was just one of those days. A couple of tees are forward but the ones that are forward don't really make too much difference, but there's a few that are back and they make a big difference.
"I probably played similar to yesterday and the day before, I didn't hole any putts of any sort apart from on the last."
Despite the tough conditions - or perhaps because of them - USGA executive director Mike Davis said tournament officials were pleased with the tournament's return to Pinehurst.
"We are delighted with it," he told NBC. "It's a different type of US Open from 1999 and 2005 here, but in a good way. It's still a great comprehensive test of golf and the players have to hit all the shots.
"They have more options off the tee but they still have to get on the Donald Ross-designed turtleback greens."