The Open: Dustin Johnson puts faith in patience over power
Renowned big-hitter Dustin Johnson believes that patience and not power will be the key to success at Muirfield.
Last Updated: 18/07/13 12:57pm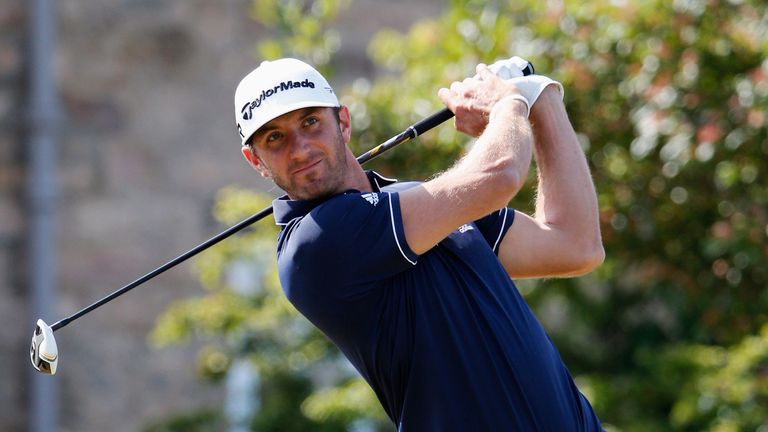 The 29-year-old Ryder Cup star has been in the PGA Tour's top five for driving distance ever since making his debut in 2007, averaging more than 310 yards during that time.
But with Muirfield running firm and fast for the 142nd Open Championship, the American concedes trying to blast out the course is unlikely to be the way forward.
And even though he is paired with fellow big-hitters Bubba Watson and Nicolas Colsaerts for the first two days, there will be no attempt to out-do one another.
"All three know we hit it far and about the same distance - I just want to hit it in the fairway more than they do," he said.
"At this point I don't need to hit it further than them, I need to hit it straighter. There are a lot of different ways you can attack this golf course.
"Depending on the wind I might not hit any drivers. There is not really any need because it's not that much of an advantage.
"Downwind I can hit a three-iron 290 maybe further because it's pretty fast.
"You have to be very patient as you don't attack these courses as much as you would back home and you have to put the ball where the hole is designed for you to hit it.
"Back home in the States I am doing all I can to get it on the fairway and that's what I'm trying to do over here."
Near misses
Johnson's best two major finishes in the last three years have been at the Open. He was favourite to win at Royal St George's in 2011 only to smash his ball out of bounds with five holes to go.
It was not his first disappointment in a major, having led the 2010 US Open by three heading into the final round only to shoot 82 and then missing out on a play-off at the USPGA two months later after incurring a two-stroke penalty at the last for grounding his club in a bunker.
"A lot of things have to come together for you to win a major," he added. "You have to putt well, you have to hit it well, you have to play well for four days - and a lot of time in conditions over here it is tough to do.
"Sometimes the best place to hit it is 30 yards short of the flag and then you have to get up and down so it is crucial to have a good short game.
"I like my chances, it is a good golf course for me, but like any Open it just depends on the weather."