Gonzalo's major move
We talk to Gonzalo Fernandez-Castano about The Open, his strong form in the majors and tennis!
By Dave Tindall
Last Updated: 08/07/13 11:23am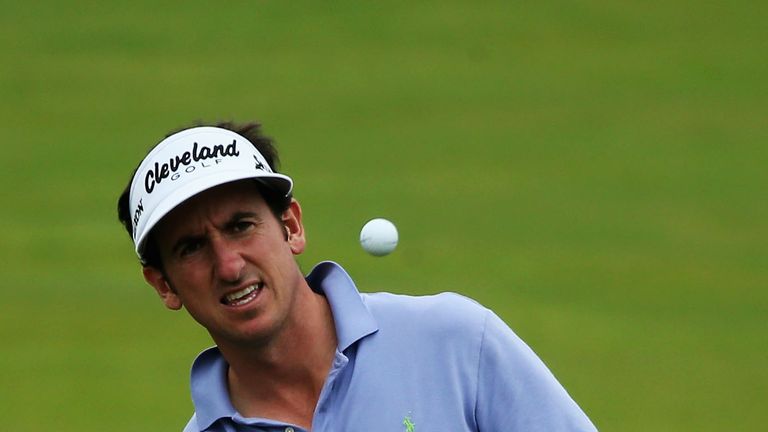 After six wins on the European Tour, Gonzalo Fernandez-Castano is now making his mark in America.
We spoke to the Spanish star about this year's Open, the USPGA, his strong form in the 2013 majors, playing with Tiger Woods, his new life in America plus tennis, football and The Olympics.
Sky Sports: You banked enough money to earn Special Temporary Membership of the PGA Tour earlier this season. Was it an easy decision to take that offer up?
GFC: Yes, there was nothing to lose although the only benefit, believe it or not, is that I can play more than 12 events and not just rely on invitations. There weren't any cons, it was just pros. It think it's going to be harder next year when I take a full membership because you have to commit and play a full 15 events and, of course, I have to play the 13 in Europe and then it's going to become complicated.
Sky Sports: So have you already won your full PGA Tour card for next season?
GFC: Yes. If you look at the PGA Tour website, you won't find my name because they have different Money Lists. They have a Money List for members and another one for for non-members. But I've won enough already. I've made $800,000 which is more than enough because the mark this year is probably going to be around $600,000, probably less. For the Money List they don't record the money you've won on the World Golf Championships if you've only got a temporary membership but at the end of the year it does count. Don't ask me why. It's a bit confusing for the people who don't know the rules. All the Spanish press keep on asking 'what's going on? Have you got your card yet?' But yes, I have.
Sky Sports: Have you worked out a schedule yet?
GFC: I will probably start in January. I'm not going to start in October when the new 2013/2014 starts because we've got the big events coming up in Asia and I don't want to miss any of those.
Sky Sports: Have you got a US base now?
GFC: We haven't actually got the house yet but we're about to sign for a very nice place that we've bought in Miami, in Key Biscayne. The idea is to move there at the end of the year.
Sky Sports: Are you near any other golfers?
GFC: Not really, I'm quite close to a public course called Crandon which is supposed to be one of the best courses in Miami. They used to hold a Champions Tour event there. I think the practice facilities aren't great but I will probably go to practise at Doral or perhaps I'll take a membership somewhere else. When we decided Miami I was more looking for a place which my family would enjoy. I wasn't thinking so much about me as a golfer. If I have to drive half an hour to get to a golf course it's not a big deal. My family are making a big sacrifice going all the way to the U.S. so I was thinking of them when buying the house and what would be the best place for them.
Sky Sports: When we talked earlier in the year you said one of your big aims was to play better in the majors. You've certainly done that with a 20th at Augusta and a 10th at Merion. You talked about taking a more relaxed approach so that appears to be working!
GFC: Yes, it is working and now I've got the confidence and I'm looking forward to the next major. It's impossible to get that confidence until you see yourself on that leaderboard and fighting against the best guys in the world in the best tournaments in the world. So, yes, it's happened this year, it took a while to happen but I'm really excited. Not long ago I saw the majors as something very, very far away and unreachable. Now I believe, why not, maybe if I have a very good week, maybe I can contend on a Sunday, on the last few holes and, who knows? I've always looked forward to the majors but now I realise I might have a chance if I play well.
Sky Sports: Have you ever played Muirfield?
GFC: No, I've never been there. The closest I've been is Gullane when I played in a European Boys Team Championship in 1998 and I also played at Dunbar but I've never played at Muirfield. But I'm really looking forward to it. It's one of those courses that you've seen a lot on TV. It's one of the classics and you pretty much know every hole without having played it.
Sky Sports: How will you prepare. Will you play some links golf the week before?
GFC: I think the French Open is not a bad preparation for The Open so after that (he finished T38th) I'm going to go back to Marbella, where I'm based in the summer, and do a bit of practice there. Then I'm going to fly to The Open on Saturday and, if the weather is fine, I'll be able to get in three or four practice rounds before the tournament starts. I'm starting already to hit a lot of two-irons off the tee, hit low shots and things like that because it's likely to be windy. Hopefully next year I'll play the Scottish Open as it's moving to Royal Aberdeen and that might be a good preparation for The Open.
Sky Sports: You've made three cuts out of four at The Open and were tied ninth at halfway on debut in 2006. Do you feel like it's tournament you can play well in?
GFC: My record on links courses isn't that great but I've always enjoyed playing links courses. My debut at Royal Liverpool was pretty good and I played with Tom Watson and Retief Goosen in the first couple of rounds so I was very proud of that and hopefully I can get a good start at Muirfield and be in contention on the weekend. I think I've learned a lot on the last two majors and I'm very excited. As I said. I believe I can do something big.
Sky Sports: Who will you play your practice rounds with?
GFC: I'll play with some of the Spanish guys. Sergio's a nice guy to play with around Muirfield because he won the British Amateur there (1998) and he likes the track. He's shown before that he likes links golf and plays well on any links course so it will be fun to practise with him there as he knows the course inside out.
Sky Sports: Something strange this year is that you and Tiger Woods have been thrown together a lot. You've been paired with him four times, all on the weekend, and two of those were in majors. Have you become good friends?
GFC: We have a good relationship. I enjoy playing with him. He's very nice with me - I don't know how he is with the rest of the players but I believe he's the same way. It's a great opportunity, playing with one of the best players in the world, if not the best. It's pretty much a dream come true. If you get to play with him on the weekend it's normally a good sign. I was joking with him at Muirfield Village, when we played Memorial, that if people had said I was going to play with you in the second to last group on the Sunday I'd have said we're doing well but unfortunately we were playing off the 10th, we had a U-draw and we were fighting for the wooden spoon! He's one of those guys that is a pleasure to play with. He plays a different game and it's great fun just to witness what he can do on a golf course.
Sky Sports: Looking ahead to the USPGA at Oak Hill, is that a place you know much about?
GFC: I watched the 1995 Ryder Cup there when Philip Walton scored the winning point. I remember some of the holes and somebody said the other day that it's a course that might suit my game, but I don't know. I will get there the Sunday before and try to get ready for the tournament. I have to say the American courses, and I'm not saying this in a disrespectful way, they all seem very similar to me. I think we have a bit more variety on European courses.
Sky Sports: Does their similarity make it easier for someone like yourself who is playing them for the first time?
GFC: Well, you know what you are going to find. Most of the time it's long courses, not wide but long, and very fast greens and tricky pin positions. The rough will be tough. You know what to expect.
Sky Sports: We saw lots of golfers at Wimbledon recently - Ernie Els, Ian Poulter, Martin Kaymer. Have you ever been there?
GFC: Yes, I've been lucky enough to go once. That's something I will never forget because it was the first time Rafa Nadal won Wimbledon (2008). He invited me to the final. We were playing the European Open at the London Club and I remember I got an early tee-time and after I'd finished on Sunday I went straight to Wimbledon and Nadal was two sets up. I though this thing's going to be over soon but it was that epic final against Roger Federer (Nadal won 9-7 in the fifth) so it finished nearly in the dark.
Sky Sports: I understand you used to be a good tennis player yourself.
GFC: I played a lot of tennis until I was 14 years old. I probably played as much tennis as I played golf. I was alright at tennis but I was never very quick on the court. My technique was good but my movement wasn't that good. But I'm glad I went for golf, I think I made the right choice!
Sky Sports: At your best do you reckon you could take a game or two off Andy Murray?
GFC: Haha. No, I wish! I had a good forehand but my backhand was pretty poor. But I've always enjoyed playing and watching tennis. It's a big sport in Spain. I grew up watching Arantxa Sanchez-Vicario and Sergi Bruguera. We've always had different generations of very good players, especially on clay, and now we've got a genius like Nadal who's probably the best Spanish sportsman ever.
Sky Sports: Are you a football fan?
GFC: Football is the number one sport in Spain and all you hear about is football, football, football. I'm not that big on football, as my father was never a big fan either so that's probably the reason. But I do support Atletico Madrid and I enjoy watching Real Madrid and Barcelona games but I'm not one of those guys that if their team loses it ruins the weekend.
Sky Sports: Do you watch Spain in World Cups?
GFC: Oh yes. It's about time we got some trophies because I grew up watching Spain always losing in quarter-finals. We always had good teams but nothing really happened for us. I don't know what happened the last six years because we're winning everything. I never thought I'd witness that so that's something I will be able to tell my grandchildren in the future.
Sky Sports: Golf is in the Olympics in 2016. Is that something which would appeal to you?
GFC: I would like to experience that once, to see how it feels. All the athletes, they talk so positively about the Olympics. Look at Nadal, he said it's one of the best things he's ever been to. I'm curious about what it would feel like and the atmosphere but if you asked me right now what would I prefer to win, the Claret Jug or the gold medal, I wouldn't hesitate. I would go for the Claret Jug!