Open Championship: Adam Scott says he took only positives from last year's meltdown
Adam Scott says he gained self-belief from last year's Open performance despite blowing victory after a late collapse.
Last Updated: 12/07/13 9:48am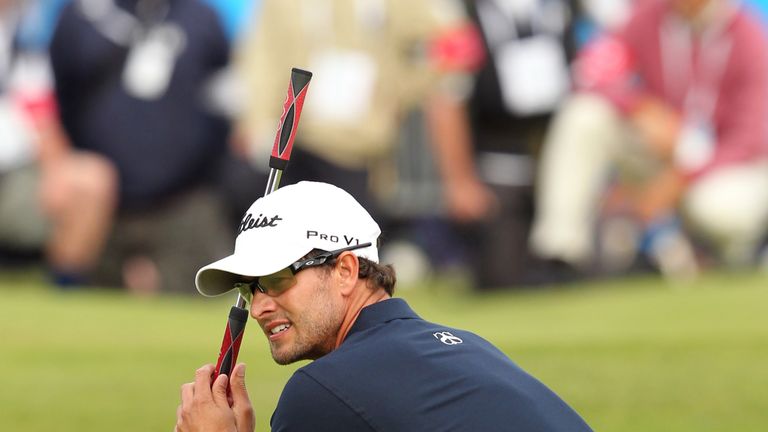 Scott threw away a four-stroke lead with four holes remaining of the 2012 championship at Royal Lytham and St Annes to lose by one to eventual winner Ernie Els.
It had his critics queuing up to point out that was exactly why he was one of the best players of his generation never to win a major.
A month later at the US PGA Championship, entering the final round in the penultimate group four shots behind leader Rory McIlroy, the 32-year-old shot a one-over-par 73 to drop back into a share of 11th.
But while the doubts may have persisted outside of Scott's inner circle, there were none from the player himself and in April he won a play-off against Angel Cabrera at Augusta to become the first Australian to wear the Masters Green Jacket.
"There was no time to sit and feel sorry for myself that I didn't win The Open," said Scott.
"It was nice for me to see the way I handled it: my natural response to it of course there was disappointment but I could see the big picture.
"The self-belief it gave me, which sounds a bit odd seeing as I didn't win, far outweighed the disappointment of it.
"It was like 'Finally I've played really well and essentially controlled that tournament for the whole week'.
"It was all in my hands to win or lose and I lost but I really think it was just the last couple of pieces in the puzzle that I learned at Lytham to get me over the line, ultimately at Augusta."
Progressed
In those last 12 months Scott has progressed not only as a golfer but as a person.
The self-doubt was banished and he began to believe in himself more, not allowing similar hiccups to get in the way of his ultimate target of a major triumph.
"I just didn't play smart enough or well enough for that matter," he said of his previous major attempts prior to Lytham.
"My confidence was too easily affected by a poor shot or a poor hole and was a bit too fragile probably.
"Part of the preparation and the way you get ready protects you from being fragile so I feel like I'm doing all of these things better.
"A couple of little things learned at Lytham I was able to use physically on the course and it paid off at Augusta.
"You've just got to put those pieces of the puzzle together and then keep going and believe that it's going to happen.
"I think overall the biggest difference for me is the last couple of years I've had a real belief in my ability that I can win big tournaments.
"Golf is a very fine line. The difference between winning and not for the last couple years for me has been balancing on a knife's edge, really.
"I felt last year like I could have won three of the majors with pivotal moments going my way or not, and I didn't win any of them. Then you do at Augusta.
"I hope I contend in a lot more majors and I'm hopeful to win some more."
Prior to last summer Scott had recorded just one top-10 Open finish in 12 attempts, missing the cut four times.
But since the 2001 US PGA Championship he has finished outside the top 15 just once in seven attempts and that was at last month's brutal US Open at Merion.
His last visit to Muirfield in 2002 saw him fail to make the weekend after a second-round 68 could not rectify the damage of an opening 77.
Scott will return later this month believing he can win the Claret Jug with a confidence born on the Lytham links.