Dave T diary - Saturday
Dave Tindall's blog from the third round of the 142nd Open Championship at Muirfield.
By Dave Tindall
Last Updated: 20/07/13 9:25pm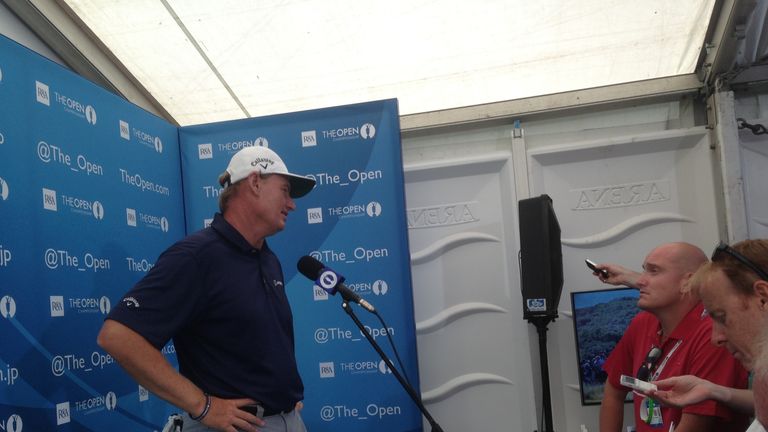 0900: Welcome to day three. Less of a rushed start this morning and it appears the sun has decided to take a lie-in as well. Lots of clouds over Muirfield at the moment.
0930: Sun starting to break through now. Keegan Bradley, Ernie Els and Fred Couples - all major winners - are on the practice putting green. It's strange to see Ernie up and about at this time on Open Saturday. Normally he's one of the leaders but after yesterday's poor finish it means he's going out at 10.35am this morning.
0945: Watched Gonzalo Fernandez-Castano hit his opening tee-shot whilst chatting to his wife Alicia. She said he lost some confidence yesterday as he slipped all the way back to +7 after a 79 but they're hoping for a strong performance on the weekend. They're staying with Francesco Molinari, who had a better day and is just four off the lead. Francesco is fluent in Spanish so converses with the Fernandez-Castanos in their own language rather than Italian. Sometimes he appears a little deadpan and shy in public but Alicia describes him as a "really, really funny guy". Both are managed by Hambric Sports Management who also have Dustin Johnson (-2 and one back) and Martin Laird (-1) on their books. Both are heavily in contention and will go out together in the third last group today.
1000: Just finished my slot for Sky Sports News radio. When asked what I thought might happen today I didn't really know so just blurted out some stuff about Miguel Angel Jimenez probably not leading at the end of the day. As for who will, I'm really not sure. Lots of people are saying Tiger but, for me, he lost some momentum yesterday. I'm more confident of a Woods win when I see him take things by the scruff of the neck. I don't think he's doing that at the moment.
1020: Not overly impressed by the full English. Sausages and black pudding are nice but the bacon (fatty) and eggs (runny) are way off the pace. £10.50 is over the odds but I can't complain too much as the press are given a food card which has a daily allowance of £30 on it.
1030: Put up my picture of me and Ronnie Corbett on Facebook last night. Don't think I've ever had as many 'likes'.
1110: No movement yet from Ernie. Three straight pars and he remains at +6. He, Chris Wood (still +8 after 13) and Thomas Bjorn (+5) I don't have too much hope for now. But I am still dreaming of another big move from Gregory Bourdy. The Frenchman shot the joint fifth best round of the day yesterday and moved from tied 92nd to tied 34th. I have him at 10/1 for a top 20 which seems the most realistic goal but each-way at 250s could still be a runner given that I took it with a firm offering eight pay-out places. My other tip with a bit of hope is Branden Grace (66/1) who is six back. The South African has hit more greens than anyone else after 36 holes so if he can just warm his putter up he may be able to get in the mix. I've also had an ante-post punt on Henrik Stenson at 66s so it's very heartening to see him just one back. He goes off in the final group today alongside Jimenez.
1130: History doesn't give the chasing pack much hope it has to be said. In the last 5 Opens at Muirfield, the champions had been 1st, 1st, 2nd, 2nd and 1st after 36 holes. Also the eventual Open champ had been inside the top 5 in 15 of the last 20 years and inside the top 10 in 18 of the last 20 years. The top five at the moment are Jimenez, Stenson, Woods, Westwood and Dustin Johnson.
1135: Nice quote from Richard Kaufman on Twitter. He reports that halfway leader Miguel Angel Jimenez has been eating in the same Italian restaurant all week ('Cucina Amore' in North Berwick). He was there with his wife and four boys last night and was applauded out when he left!
1140: Gregory Bourdy is paired with former US Open champ Graeme McDowell today (12.20). I think that's a good pairing for him. G-Mac is a friendly fellow and hopefully Bourdy will feel inspired by playing alongside a golfer with such a strong record in the majors.
1142: Thomas Bjorn starts with a birdie to move to +4. Maybe I shouldn't give up on him just yet.
1205: Bjorn now adds a birdie at the third so climbs to +3 and into a tie for 24th. Go on the Great Dane!
1335: Oh well, looks like the Gregory Bourdy dream is over. Just watched him make three bogeys in a row and then, checking the scores when returning to the press tent, noticed he'd made it four. An une, deux, trois, quatre of disaster. To be honest he didn't do much wrong. At the first he hit two great shots and just missed a 12 footer for birdie and then made a two-putt par at the second. However, at the third his tee-shot got snagged in thick rough down the left and he could only chunk his second into a grassy bank. From there he chipped on and two-putted from 30 feet for bogey. At the par three fourth, he went for the front flag but came up just short and his ball caught a slope and ran back down the hill into a bunker. A chip out and two putts led to a bogey when he could so easily have been putting for birdie. Such small margins. If you're just a little bit off, this course can punish you hard. At the par five fifth, he hit a loose lay-up into rough down the right and again pulled a bad lie. A chunk out went left of the green and from there he couldn't get up and down. Not sure what happened at six.
1345: Whilst writing that last update I've just refreshed the scoreboard and Bourdy has made a birdie two at seven! And whilst smiling at that, I've just seen 66/1 tip Branden Grace sink a 20 footer at the third to move to +2, just five off the pace.
1355: Another 66/1 tip Thomas Bjorn doubled the fourth shortly after I headed out to the course and also bogeyed six. However, birdies at five, eight and nine meant he turned in two-under. He's currently +3 after pars at 10, 11 and 12.
1356: Ernie Els won't be winning but he's also finding some respectability now. He'd slumped to +7 but but birdies at 12 and 13 and pars at 14, 15 and 16 mean the defending champ is currently tied 34th at +5.
1455: Spent the last hour running/walking briskly between the media tent and the mixed zone - the place near the back of the 18th green where the players are taken for interview when they've finished their rounds. Ernie Els had the hump yesterday after his second successive 74 but he's more smiley today and says he still believes he has an outside chance to win. His 70 today was a good effort but surely not enough as he's currently +5 and that's eight back. Sergio Garcia was in next. He did a little fist pump after holing a good putt on 18 for an excellent 68 and that took him to +3. Again, that could be too far back but he's still hoping. He says: "As an individual tournament, this is my favourite." He played with Padraig Harrington (77) and the Irishman says of Garcia's round: "He was quite unlucky to shoot only three under par."
1500: Took a few photos of Lee Westwood and Tiger Woods on the practice putting range (they head out at 3.10pm). Westwood was in jocular mood while Tiger had his game face on.
1520: Leader Miguel Angel Jimenez hits his opening shot of round three.
1525:
We're running a competition from the Sky Sports Golf Twitter account to win two pairs of tickets for Sunday's final round. Bizarrely, European Tour pro Graeme Storm has entered. Just got Matt C to check his career earnings and they show he's pocketed over 5 million Euro! I'll tell you now, he won't be winning free tickets!
1545: MAJ (Miguel Angel Jimenez) bogeys the first so Tiger Woods, after a birdie at two, leads on his own at -3.
1546: Poor old Martin Laird. A birdie at two takes him to two-under and just one off the pace but then he racks up a horrid quintuple bogey nine at the supposedly easy par four third. That flings the Scotsman all the way back to +3.
1615: Lee Westwood takes driver from the tee, another driver from the deck to just off the front of the green and then curls in a 30 footer for a brilliant eagle at the par five sixth. Now he leads on his own at three-under as Tiger has to settle for par.
1630: One curious record about Englishman Westwood and Open Championships is that he plays them far better north of the border. On his native English soil his Open finishes read MC-62-47-MC-31-67-MC-45. But in Scotland he's had a second at St Andrews (2010), a should-have-won third at Turnberry (2009) and a fourth (2004) and a 10th (1997) at Troon. Now, of course, he's leading at Muirfield.
1640: Westwood leads by three as he moves to four-under with a birdie at the par three seventh. Sky Bet now have him at just 13/8! I wouldn't be rushing to back that. There's still 30 holes to go and he has lots of mental baggage after all his near misses in the majors.
1700: Westwood (-3) and Tiger (-1) now joint 9/4 favourites after Westwood three-putts the eighth.
1720: Hard to believe that the mercurial Angel Cabrera has made 12 straight pars. He's not exactly Nick Faldo is he! The big Argentine is just one off the lead now after Westwood's back-to-back bogeys.
1730: Almost under the radar, Adam Scott has crept up to tied fourth and he's just two off the pace now. The Masters champion is one under for his round today and level overall.
1740: Westwood and Woods still tied at two-under. Is it time to bring up the stat that Tiger has been leader/joint leader after round three in all 14 of his major wins?
1740: Hunter Mahan holes a 15 footer for par at the last and that's the clubhouse lead of one-under. A superb round of 68 for the American, who went out in the final group of last month's US Open.
1755: Westwood and Woods currently trading pars. That's four each on the back nine and they walk to the 14th tee still tied for the lead at -2. Mahan (clubhouse) and Cabrera (15) the only two other players under par.
1815: There's an R&A rules official now in the media tent explaining why 21-year-old Japanese star Hideki Matsuyama picked up a one-shot penalty for slow play on his 17th hole. It baffles me how they decide to single anyone out. If the rule is that you have 40 seconds to play your shot then I've seen it transgressed by every player in the field this week.
1830: Hideki Matsuyama's playing partner Johnson Wagner was up in arms that the young Japanese ace was penalised. He said: "I pleaded in the scoring area for five minutes. I feel like I let the official know how I felt about it as gentlemanly as I could, but it infuriated me that he got a penalty. If they had tried to penalise me, I would have gone ballistic. So I tried to represent Hideki as good as I could, and couldn't get it changed."
1840: It just shows you what a lowish round can do in tough conditions. Richard Sterne went out in the first group at 08.10 this morning but a 68 has lifted him into tied 19th.
2030: It's been a bit of a whirlwind the last few hours - attending press conferences, filing reports and quotes pieces, eating cake etc. It's ended with Lee Westwood separating himself at the top of the leaderboard and taking a two-shot lead into the final round. It's not the first time he's led a major after 54 holes. He was also in front with a round to play at Augusta in 2010 only to be denied by the brilliance of Phil Mickelson rather than doing anything wrong himself. He's very relaxed as he speaks to the press and, as usual, throws in some jokes and quips. Westwood has a quick mind (his dad was a maths teacher) and, if I had a spot for a golfer on my imaginary dinner party list, I reckon I'd pick him ahead of anyone. I'd sit him between Stephen Fry and Frank Skinner.
2100: Ironically, Gregory Bourdy - the subject of my secret gamble - started the day in tied 34th and ended it in tied 34th. I thought he'd blown his chances of a top 20 (10/1 shot pre-tournament) or better but he'll have another crack at pulling it off tomorrow. As for my other tips, Ernie Els is tied 19th and Thomas Bjorn tied 25th so they have an awful lot of work to do to even get a place. Still some outside hope though.
2120: That's just about a wrap for the day. Time for a visit this week to the fish and chip shop in North Berwick. Hopefully there will be a few Open golfers milling about. Or even Ronnie Corbett. And it's goodnight from me.