Dave T diary - Sunday
Dave Tindall's blog from the final round of the 142nd Open Championship at Muirfield.
By Dave Tindall
Last Updated: 21/07/13 8:52pm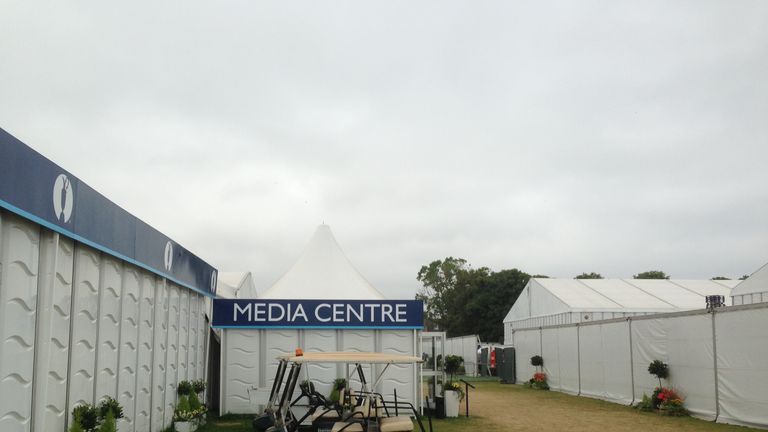 0900: So here we are. The final day of the 142nd Open Championship. Will Lee Westwood finally get his first major? Will Tiger win his 15th but first since 2008? Will Masters champ Adam Scott find redemption after blowing victory in last year's Open at Royal Lytham? Will Gregory Bourdy come from 10 shots back and secure the biggest betting coup of all time?
0915: Last night in North Berwick I ended up showing a picture of Ken Duke to the actual Ken Duke. The PGA Tour star was in the fish and chip shop where apparently he's become a regular this week and was chatting away with the locals. When he won the recent Travelers Championship - the 44-year-old's first ever PGA Tour win - he turned to camera and did a little, serious 'take that world' face. It looked like a scene from a bad golf film in which the plucky underdog comes good so I paused the TV and took a picture of Ken's triumphant against the odds moment. Anyway, I flicked through my iPhone photo album and showed him. "Who is that guy?" said Ken, taking it the right spirit although probably wondering why on earth some strange man had a paused TV picture of him on their phone. When I told him I worked for Sky Sports he looked more at ease and in the end we had a nice chat about betting and ball flights.
0945: In a nice coincidence Ken Duke's two-ball partner today is... Gregory Bourdy. I'll be cheering both of them on later. They head out at 10.50. Am tempted to shout "fish and chips" in a loud American accent when he hits his opening tee-shot.
1000: Is scoring easier today? Oli Fisher (after 11), Jason Dufner (11) and 2009 Open champ Stewart Cink (7) are all four-under for the day. Cink eagled the fifth and is up to tied 25th.
1030: Can't be doing with another full English so just weetabix this morning. Whilst spilling half of it when opening the packet I hear one US journalist say that there are Americans in seven of the last eight groups. Just checked and that's correct. Why they're so good on links courses that are alien to them remains one of life's mysteries.
1130: Just spent an hour watching Bourdy and Duke (speaks into dictaphone "idea for new cop show"). Gregory has played some really nice golf this week but just can't hole any, and I mean, any putts in the 8ft to 15ft range. He missed a 10 footer for birdie at the third and then, after a loose tee shot and superb chip over a mound at four, he lipped out an eight footer so made bogey. Pars at five and six mean he's currently +8 and tied 39th. Come on GB, I need you to finish top 20. Duke, meanwhile, nearly holes his second shot at No.2 and taps in for birdie. He also displays his low ball-flight which he told me about in the fish and chip shop last night.
1230: Hoping for a big move from Thomas Bjorn this morning and he starts off in great style with birdies at one and three. That's him up to +4 and within range of the payout places. However, he bogeys four to temper my optimism.
1230: It appears the Gregory Bourdy story is over. Bogey at 9. Bogey at 10. Tied 54th. Fin.
1245: Still a lot more clouds than there were yesterday but hopefully the sun will blitz them away shortly.
1310: Back from the practice putting green where all the leaders are gathering. Lee Westwood heads to the range so looks as if he wants to work on his long game a bit while Tiger Woods and Adam Scott follow soon after. Phil Mickelson and Hunter Mahan also hit some putts. Woods' and Mickelson's bags are plonked right by the putting green entrance so I manage to get some clear photos of them. Twitter reaction suggests people are pretty interested to see 'what's in the bag'.
1330: Muirfield Skies Cup latest: "Early domination from grey but blue starting to make strong inroads."
1340: Thomas Bjorn is really riding the bogey train. Five in a row now so goodbye any chances of an each-way payout.
1350: Twenty minutes to go until Lee Westwood tees off. My prediction is that this is his moment. I'll go for Westwood to win, Adam Scott to finish runner-up, with Tiger third.
1400: Bit of chicken for lunch. Not bad. Dribble gravy down my chin as Stenson's birdie putt at two comes up just short. However, he birdied the first so is just three off the pace. He's my only hope for winning any cash now. I'm on at 66/1 but win only.
1415: More good Stenson news as he cosies in a seven foot birdie putt at the third. He's now tied second at one-under. As he does that, Tiger three-putts the first from long range and drops back to level par.
1425: Ken Duke now +5 for the day and +12 overall as he plays the last. Not his day but he can console himself later with another visit to the fish and chip shop.
1426: Ian Poulter makes eagle at nine and birdie at 10 and vaults up to tied seventh (+2).
1430: Having played this course in May, I feel like I have a much greater appreciation than normal of some of the shots. I think it may well be my second favourite course on the Open rota. First would be Royal Birkdale. Not sure yet about St Andrews although, luckily, I've got an invite to play the Old Course in a few weeks. I hope my slice behaves. Wouldn't want the embarrassment of carving one out of bounds at the first hole where the fairway is about two miles wide.
1440: The Gregory Bourdy story has added a fun element to this Open but now this tale is over. And, as if to prove it wasn't to be, he ends with a double bogey. It's a closing 77 and he's currently in T65. But who will ever forget (well, most people actually) his excellent round on Friday which was the joint fifth best of the day. If only he could have reproduced that on the weekend. Quel dommage.
1450: Ian Poulter going absolutely mad here. Two more birdies at 11 and 12 means he's played the last four holes in five-under. His odds have crashed from 125/1 to 5/1 third favourite and he's just two off the lead after Westwood's bogey at the third. Poulter's adrenalin must be really pumping now but, as he's shown in Ryder Cups, he can control it/thrive off it in these situations.
1452: Poulter is cut to 100/30 after a superb tee-shot on 13 but his birdie try just misses on the left. He still trails Westwood by two.
1455: Stat alert: Since 1972, 38% of third round leaders have gone on to lift the Claret Jug. Not exactly comforting for Westwood.
1500: Tiger's winning scores in majors: -18, -11, -12, -19, -18, -16, -12, -3, -12, -14, -18, -18, -8, -1. Having won 11 of them in double digits under par it suggests he's not so good when the winning score is around par. To be fair when he won the US Open at Pebble Beach with 12-under, second place was +3! Then again, that was 13 years ago when he was at the very peak of his powers.
1530: Ian Poulter slaps himself on the thigh and not in a good way. He bogeys the 16th and slips back to +1. That's four behind Westwood, who is three clear teeing off at the seventh.
1540: Lee Westwood is almost certain to have some crisis moments at some point today and here's one coming up at the par three seventh. He finds sand off the tee, gets a plugged lie and fails to get out of the bunker with his second. He splashes out with his third to about 12 feet and is staring at double bogey. If he misses he'll drop back into a tie for the lead but, not for the first time this week, his putter saves him. A great putt and Westwood walks to the eighth with a big smile of relief on his face.
1555: It just hasn't been Ernie Els' week but he breaks into a big smile at 17 as his wedge plops straight in the hole for eagle. It takes him back to +8 from +10.
1605: Poulter pars the last and sets the clubhouse lead of one-over. A superb round of 67 by the Englishman although it probably won't be enough. Westwood finds sand for the third hole in a row which means he can only par the easy ninth. So, deep breath Lee, nine holes to go and you're still in a great position to win the Claret Jug. The problem is Scott and Stenson are tied for the lead with him and there are three Americans - Mickelson, Zach Johnson and Mahan - just one shot behind. This is wide open!
1618: Westwood has lost his lead for the first time today as Adam Scott's hot-streak continues. The Aussie makes it four birdies in five holes with a superb three at 11 after a wonderful approach right over the flag. Westwood is joined in second place by Mickelson, who drains a birdie putt at 14. A gasp from the American section of the media tent as Phil's 15 footer drops.
1640: Scott's scoring burst is halted by a bogey at 13 and it's a three-way tie again between him, Westwood and Mickelson.
1655: Another huge twist as Scott bogeys the 14th. That leaves Mickelson alone in the lead at one-under and the left-hander has just smashed his second onto the green at 17 and faces an eagle putt. All of a sudden, Mickelson, who won last week's Scottish Open, is a hot 1/2 favourite to lift the Claret Jug.
1710: Mickelson birdies the 17th to go two clear and then hits a superb drive down 18. His approach flirts with the left bunker but rolls around in an arc behind the flag and he has the chance for another birdie. He's closing in!
1715: Mickelson sinks his birdie putt and surely that's it! A superb round of 66 - the joint best of the week - and barring something extraordinary from Westwood, the American is the Open champ!
1730: It's game over. Westwood bogeys 16 and is now four back. Mickelson is celebrating with his family behind the 18th green while the engraver is getting to work.
1815: Mickelson parades the Claret Jug in front of the Muirfield crowd. He's a hugely popular winner.
2025: Time to reflect. Firstly, delighted for Phil Mickelson who has always been one of my favourite golfers. Secondly, gutted I didn't tip/back him. I did tip him at Castle Stuart last week when he won the Scottish Open at 22/1 but didn't think he was worth another investment in a far better field here at lesser odds. Doh! Sympathies for Lee Westwood although all the field must feel that Phil won it rather than they blew it. Tiger Woods sums that up well, saying: "I think a lot of us would be a little more ticked than we are now if one-under had won." Phil, of course, won with three-under. There's applause as Mickelson comes in for his official press conference and a delighted and relaxed Phil even puts on a Scottish accent to answer one question. I'm tempted to shout "do Ronnie Corbett" but I'm not sure if Phil knows the little man's work. At the end, I even storm the stage - not because I'm so excited (although Phil has always reminded me a little of Paul McCartney in his demeanor) - but I, along with plenty of others, want a close-up photo.
2100: Time for home. East Lothian is a wonderful part of the world and if ever you fancy a golf trip, come here - there are so many superb courses in a very concentrated area. It's been a memorable week in lots of ways. Not for my tips (rubbish) but I've worn shorts for the first time at an Open Championship, I've spoken to Ken Duke in a fish and chip shop and I've also had my photo taken with comedy legend Ronnie Corbett. So it's goodnight from me... and it's goodnight from him. Goodnight.