After Muirfield near-miss will Lee Westwood win a major?
After missing out on winning one of golf's big four yet again, Paul Higham asks if Lee Westwood will ever win a major.
Last Updated: 22/07/13 5:33pm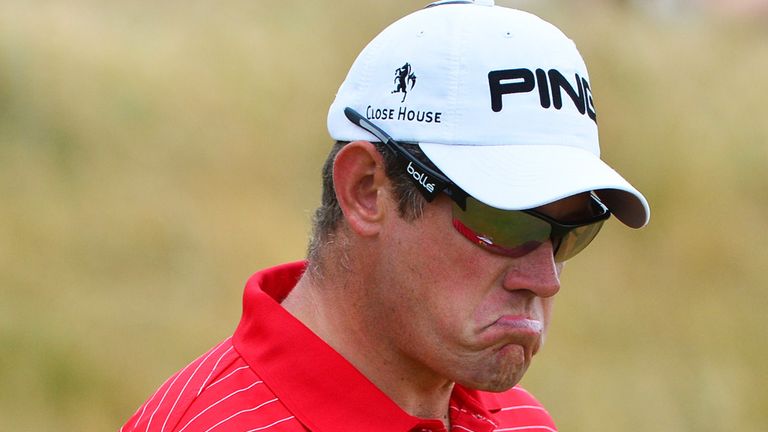 It's true that Phil Mickelson's superb final round of 66, including his final six-hole birdie blitz looked to be the play of a man destined to claim the Claret Jug.
The popular left-hander suffered his own heartbreak at Merion in the US Open just last month, but responded brilliantly, and with four majors already under his belt he was not carrying the mental baggage that Westwood surely has to deal with every time that winning post appears in sight.
Let's focus on the positives though, Westwood has ten top-five finishes in majors, and his overall game at Muirfield showed that he can still keep putting himself into position even if he has just nudged into his 40s.
That being said - the last three Open champions have been 40-somethings so it's safe to say that Westy still has a good few years left in him, so if age is not so much of a barrier what will be?
Positives
More positive signs from Westwood came on the greens at Muirfield, where so many players simply fell apart. And for the most part the Englishman showed a hugely improved competence and confidence with the flat stick.
His final round of 75 was disappointing, and while Sunday is when it matters most it was definitely a step in the right direction and more help from Ian Baker-Finch could continue that progression and bode well for the USPGA and beyond.
Making the move from Worksop to Florida, while on paper seemed an obvious one, was a big wrench and proves that Westwood has that burning hunger to bag a major, and again that seems to be working especially for his short game.
With a sharpened short game and more confident putter, Westwood would have all the tools needed for major glory, as he drives the ball straight and long and also hits his iron shots as good as anyone in the world.
It is the unmeasurables that will decided if he can finally shrug off that nearly man tag though - character, bottle, mental strength, positive thinking - call it what you want, being able to hold your nerve with the world watching and a major on the line is what it all comes down to.
And will it be all those near misses that come back to haunt him when he gets back into a winning position, which he surely will do given his talent and form in recent majors?
Consistency
His final round 75 at Muirfield was not a Sunday meltdown such as Rory McIlroy's at Augusta, but it was a disappointment given a level par round would have put him in a play-off with Mickelson if the American did exactly the same.
But playing so well, being almost constantly in contention but never being able to get over the line must be a huge drain on your confidence and belief even for a generally relaxed sole like Westwood who, at least outwardly, seems to laugh off such talk.
As Mickelson, McIlroy, and Adam Scott have proved in recent years, after a narrow miss, opportunity may come knocking in just a few majors' time, and it can actually prove to be a motivating factor to get over the line and this is exactly the mentality Westwood must adopt.
Westwood would be a hugely popular major winner on both sides of the Atlantic, and his fans should take more positives than negatives from Sunday's performance - as I'd actually be more inclined to believe he can win a major after Muirfield than write him off altogether.
Mainly due to his obvious improvement in putting, but also his final day demeanour suggested he could handle the situation if he finds himself in it again - although I would prefer that to be sooner rather than later.
You need the cards to fall in your favour to win a major, and who knows, without a Mickelson-esque flying Sunday finish to thwart him yet again then Westwood could yet avoid that dreaded nearly man tag.