Muirfield lengthened and rough added for Open Championship
Muirfield will be 158 yards longer and feature "plenty" of rough for the Open Championship in July.
Last Updated: 07/07/13 10:56pm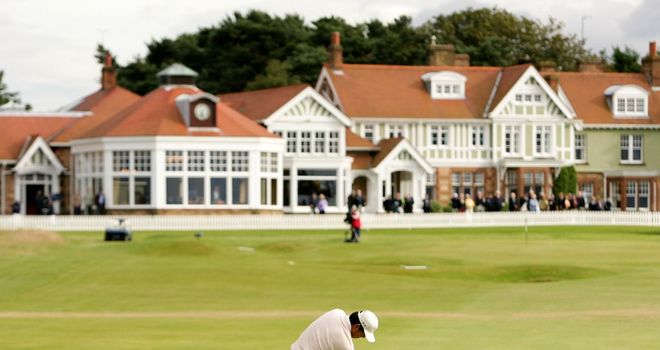 The layout has been extended to 7,192 yards compared to 7,034 when defending champion Ernie Els clinched his first Open title after a play-off with Thomas Levet, Stuart Appleby and Steve Elkington in 2002.
New tees have been added on seven holes, with the par-five ninth being lengthened by 50 yards to 554 yards, while the course will also feature "plenty" of rough.
"We are absolutely delighted to be back at Muirfield for the 16th time," R&A chief executive Peter Dawson said. "It's immensely popular with the players.
"Jack Nicklaus' comment about 'What you see is what you get' at Muirfield was perhaps directed at other links courses with blind shots and where more luck is involved.
Challenge
"The ground here is relatively flat and every hole seems to be going in a different direction, but we will be setting the golf course up to challenge these golfers.
"The rough has been cut down over the winter but will regenerate over the coming weeks. We will see the rough up and you are unlikely to win an Open Championship at Muirfield from the rough. The amount of rough is weather-dependent, but we will get plenty.
"It has been lengthened by 158 yards since 2002, but that is only a two per cent increase."
Other new features this year will include a "wi-fi mesh" around the course, and spectators will again be allowed to take mobile phones after a mostly successful re-introduction at Royal Lytham last year.
Executive director of championships Johnnie Cole-Hamilton admitted: "It did not go completely without incident. We have learnt lessons from last year and we did not get any complaints from the players, which was important. I think it will improve year on year."
Jim McArthur, chair of the championship committee, added: "We took a big risk but we had some belief in the spectators' respect for the game. It brings so many benefits that we think we need to continue with this unless we have any major problems.
"We will also have complete control over the content displayed on the LED scoreboards - which have video capability to show live footage - to ensure that we don't disrupt the players. We will err on the side of caution."
Men-only
Dawson also re-iterated the R&A's stance on taking the Open to clubs like Muirfield, Sandwich and Royal Troon, which are male-only, after saying last week courses would not be bullied into changing their policies by the threat of losing the Open.
"We come for the golf course," he said. "To think we would not come to a course as wonderful as this is something we could not countenance. It's like taking the Boat Race to the Humber if you did not like (mayor of London) Boris (Johnson's) policies."
As with 12 months ago, pace of play regulations will be "applied stringently," with McArthur insisting the game's top professionals will be treated the same as 14-year-old amateur Guan Tianlang, who was penalised a shot for slow play during the Masters.
Dawson added: "The question then is, is the system working? All you can do is apply the rules. If the group is out of position they go on the clock and the experienced players catch up and they are fine.
"The young amateur did not have the experience and despite many warnings was caught out."
No player was penalised for slow play during last year's Open at Lytham, with Dawson adding that the pace of play was "the best we have had for a long time".