Open qualifying diary
Matt Cooper travels to Sunningdale to witness International Final Qualifying for this summer's Open.
By Matt Cooper
Last Updated: 28/06/13 1:27pm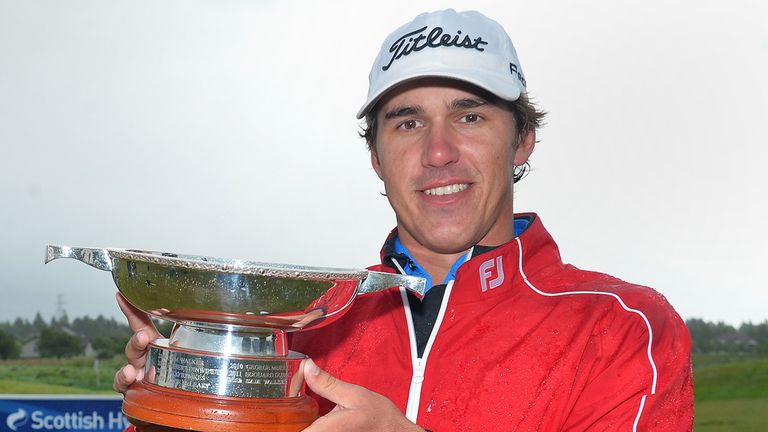 The journey to Muirfield for the 2013 Open Championship began at Sunningdale. The International Final Qualifying European stage is now a regular part of the schedule and last year Thorbjorn Olesen progressed from winning a spot via a play-off in Surrey to contending for the claret jug and playing alongside Tiger Woods in the third round.
Matt Cooper reports for Skysports.com on another exciting day at Sunningdale.
Who is Brooks Koepka?
At one point in the day the leaderboard had his name as Koepka Brooks but, if the whispers on the Challenge Tour hold true, people won't be getting his name wrong in the future: he won the tournament in some style.
Coached by Claude Harmon III he has been plying his trade on Europe's second string tour alongside fellow American youngster Peter Uihlein. Such was their reputation on arrival last year many might have expected them to thrive straightaway.
It has actually taken them a little longer to settle, but maybe not in a manner detrimental to their game in the long term.
Uihlein won the Madeira Islands Open in May to graduate to the main tour and Koepka responded by winning three Challenge Tour titles, the third only last week, to earn 'Battlefield Promotion' to the big league.
Room-mates, they feel the varied schedule they have experienced on the Challenge Tour has given them a strong grounding for what they hope, and many predict, will be big futures.
And Koepka's strength? His playing partner Oliver Fisher - who finished second - said after watching the American's rounds of 69-65: "He's probably the best putter I've ever played with."
"Yeah," Koepka laughed when told this, "I sure did putt well today, just don't ask Oli to talk about my ball striking today. That wasn't so good."
Brooks Koepka - remember the name.
Redemption
Exactly 12 months ago Oli Fisher was eliminated at the first extra hole of the play-off. As the remaining golfers made their way to the next hole, he trod a lonely walk back to the clubhouse, ignored by the fans lining the fairway.
This time he made sure of his place in the Open Championship with a second round of 65, which combined with a morning 70 left him well clear of the agonies of last year.
Not that the memories seemed all that painful or lingering. Asked if he wanted some sort of revenge on the course he shrugged and seemed to have forgotten last year's failure.
Caddy talk
Many players take local caddies for this event. It's a help because they have less preparation (if any) so might need local knowledge, especially on the greens. Maybe the non-tour caddies aren't quite as cute as the more canny tour bagmen though. I overheard a conversation between a player and a local caddie, walking from the 10th tee early in the day which might illustrate this point.
Player: "Have you caddied this event before?
Caddie: "Yeah, six or seven times."
Player: "Ever had a golfer qualify?"
Caddie: "No. Not yet."
I think others might have told a white lie in his shoes.
The ghost of Maurice Flitcroft
Early in the morning the scorecard of Chile's Felipe Aguilar was prompting memories of the great Maurice Flitcroft as his score rose to an alarming 37-over-par prior to his withdrawal on the seventh hole.
Alas, the story was not quite Flitcroft-ian after all (there was no middle-aged man pretending to be Chile's finest golf export), but it was nice to be reminded of the legend of Open Qualifying.
If you are unaware of his story I recommend the book The Phantom of the Open by Scott Murray and Simon Farnaby, but here are a few highlights of Flitcroft's remarkable quest to play in the Open for real.
A crane-driver who had barely played the game he entered the qualifying tournament in 1976, aged 46 and using a set of clubs he had bought in a catalogue. His total of 121 (49-over-par) was (and still is) the worst 18-hole score recorded in the championship's history.
But the real secret to his popularity (and notoriety amongst many at the R&A) was his deadpan response to his clown-like antics. There was definitely an impishness about him, and also chippiness at his treatment from the blazers, but he also desperately wanted to be taken seriously - he loved the game of golf.
Here, for example, was his response to questions about his dodgy putting: "I thought I putted pretty well. Apart from the five putts on the 11th green. Actually, I'd like to take the opportunity to praise Formby GC for the quality of their putting surfaces, as in texture and pace they resemble my living room carpet which I practise on every night." It's both hilarious and deadly earnest at the same time.
In later years he adopted disguises and nom de plumes to avoid detection by increasingly suspicious and bad-tempered R&A officials. He could walk to the first tee wearing ludicrous moustache-and-spectacle combinations unobserved, even enter under names as ludicrous as Gerald Hoppy and Gene Pacecki (Pay-cheque-y), but he was always found out when he tried hitting good shots.
Although Aguilar himself didn't play like Flitcroft (as you would expect of a man who has made eight top tens this year; he was merely injured), there was an element of Flitcroft farce in the explanation for his 37-over-par - the man scoring his group didn't know how to deal with a withdrawal on the handheld scoring unit and inadvertently turned the Chilean into a 36-handicapper.
Best kept secret
Although the play-off was a bit of a damp squib (Tano Goya progressed because others failed), IFQ was another success. The only mystery is why so few people turn out to watch it.
The field is superb, there are two great golf courses to walk, a dramatic finish is more or less guaranteed and it's free entry. What's not to like?