Open Championship: Ernie Els determined to defend his title
Ernie Els believes he can add more major titles to his collection - before retiring to sell hotdogs on a beach.
Last Updated: 13/07/13 11:24am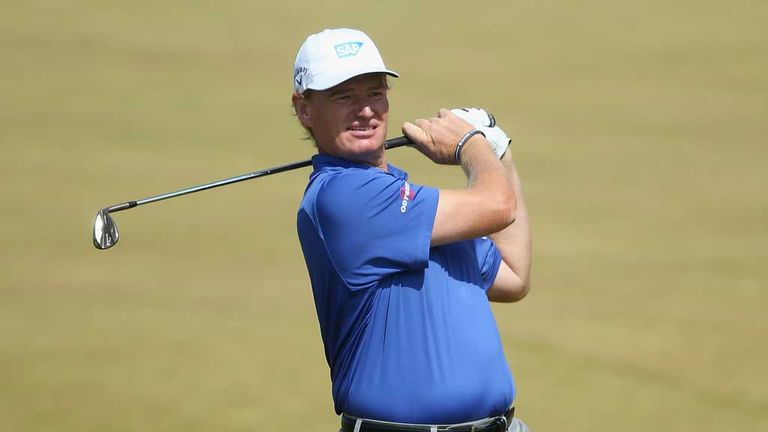 Els was the second consecutive 42-year-old to win the Open Championship when he triumphed at Lytham last year, following in the footsteps of Darren Clarke at Sandwich.
The victory was his fourth major title after first lifting the Claret Jug back in 2002 at Muirfield and also winning the US Open twice in 1994 and 1997, and the South African believes he can win more.
"I have been around a while," Els said ahead of the defence of his Open title at Muirfield. "I turned pro back in 1989 when I was 20. I am 43 now, going on 44, so I am probably on the third stage of my career, but who cares?
"I feel, I really believe that I have a couple of majors left in me. I have got everything sorted business-wise and all that stuff so I can concentrate and play golf. I have nothing stopping me.
"That is what makes golf so great. We are the only sport anywhere where you can compete as a 40-something and at times beat 20-somethings. It is a wonderful sport that we play.
"If it wasn't for golf I would be selling hotdogs on the beach but I have golf and I can compete and win. I am looking forward to the future and maybe at 55 I will go and sell some hotdogs at Herolds Bay."
Oldest winner
Julius Boros is the oldest winner of a major championship - he was 48 when he won the USPGA Championship in 1968 - but Tom Watson was 11 years older when he came agonisingly close to claiming a sixth Open title at Turnberry in 2009.
Els added: "I truly believe what Gary Player said; even when he was 62 he believed that he could still win an Open Championship and we tend to laugh about it, but if you believe in something, only you know what you can do.
"Darren Clarke believed that he could win and I did. It is sport and anything can happen. I think there will be more older winners in the future.
"With technology and knowledge of the game, experience, it is proven against a guy that doesn't quite believe that he is quite ready to win that older guys could maybe step in. Tom Watson almost showed that so there are going to be some great stories written in sport still."
Funny one
Els' own story is also worth repeating, the 43-year-old starting 2012 by failing to qualify for the Masters for the first time since 1993 but going on to win a second Open title three months later, 10 years after first lifting the Claret Jug.
"2002 was a funny one because I played good golf at the start of the year and then my game left me," Els recalled. "David Leadbetter and myself worked our behinds off to get my swing back in shape and luckily I found my game, so to speak.
"Basically, it was a last-minute thing. On the Wednesday at Muirfield I found something in my swing and I went with it so it was fortunate."
Muirfield has been lengthened by 158 yards since 2002 with the addition of seven new tees, but Els reckons it will retain its reputation as one of the best and fairest tests of golf on the Open rota.
"The course will still frighten the guys, especially when you get on the first tee because you don't see much else than the rough," Els added.
"There is a strip of fairway down there somewhere, but it is very fair. They have lengthened some of the holes but, with technology now everything is fair. Honestly, the guys will have a great time."