R&A chief plays down male-only clubs ahead of Muirfield
The chairman of the Royal & Ancient does not believe male-only clubs damage the image of the sport.
Last Updated: 17/07/13 2:55pm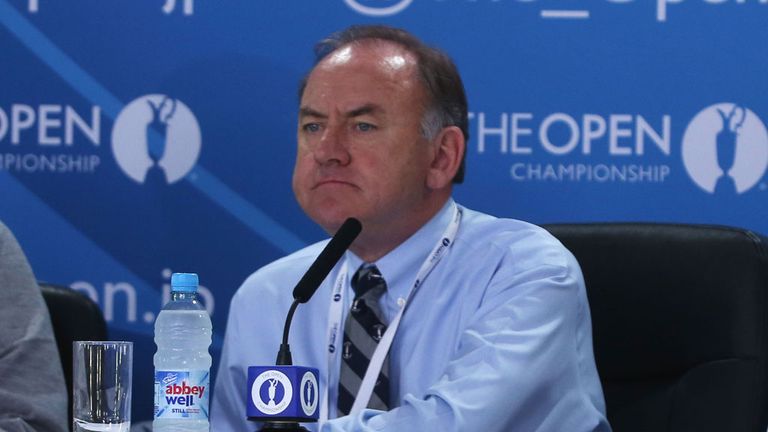 On the eve of the Open at Muirfield, Peter Dawson says the R&A will examine the issue after the tournament has finished and admits the organisation is finding it "difficult" to deal with.
Rory McIlroy expressed his dissatisfaction over the membership policy at the club, while Scotland's First Minister Alex Salmond is among the political figures who won't attend the event, describing the rules as "indefensible in the 21st century".
At Wednesday's news conference, a day before the start of the championship, Dawson faced questions about membership at Muirfield and two other clubs in the tournament rotation, Troon and Royal St George's.
Dawson said: "In our view they don't do anyone any harm and we think the right of freedom of association is important. And we've explained our view that we think they have no material adverse effect on participation.
Enthusiasm
"On the other hand, the media are, with seemingly boundless energy, I think, and enthusiasm, giving out the message that this is an issue and that such clubs should be condemned to extinction, and we shouldn't be using one to stage The Open Championship. And we understand that view, too.
"We've got politicians posturing, we've got interest groups attacking the R&A, attacking The Open and attacking Muirfield. To be honest, our natural reaction is to resist these pressures, because we actually don't think they have very much substance.
"But I'd like to stress we're not so insular as to fail to recognise the potential damage that campaigns like this can do to The Open Championship.
"And it is our Championship Committee's responsibility to do what is best for The Open and to maximise the benefits which The Open brings, not just to golf, but also to the local area. And, by the way, in huge funding for women's golf."
Tiger Woods refused to be drawn into the debate on Tuesday, while McIlroy said players had not been advised to avoid the subject this week.
"I haven't been advised either way," the world No 2 said. "I just think it's something that a lot of guys don't want to get themselves into because it's quite a controversial issue. It's something that shouldn't happen these days. It's something that we shouldn't even be talking about.
"Obviously it's an issue in some golf clubs. But in terms of life in general, I think men and women are treated equally for the most part these days. And that's the way it should be."
Sky Sports golf expert Denis Pugh was another to voice his concerns and said: "It's a fantastic golf course and it's good for the Open but it's inconceivable to come to somewhere where there's a ban on anyone.
"This is called the Open not the 'closed' and I'm not sure I'll be able to explain to my wife she's not allowed in certain areas! It's very strange. It's indefensible and it won't continue for many years. Golf doesn't need this because we've got a great tournament ahead."
Not everybody is against the single gender policy with support, perhaps surprisingly, coming from the chief of the Ladies' Golf Union.
"I don't think it has any affect," Shona Malcolm, CEO of the union, told Sky Sports News.
"We can see both sides of the story but we have affiliated ladies only golf clubs and they are very keen to maintain the status quo."
With around 3,000 golf clubs in the UK, Malcolm said that 1% of these had single gender membership policies.