The Open: Sergio Garcia cards six birdies in third-round 68
Sergio Garcia reckons he may have given himself a "slight chance" of victory at the Open after his third-round 68.
Last Updated: 20/07/13 7:48pm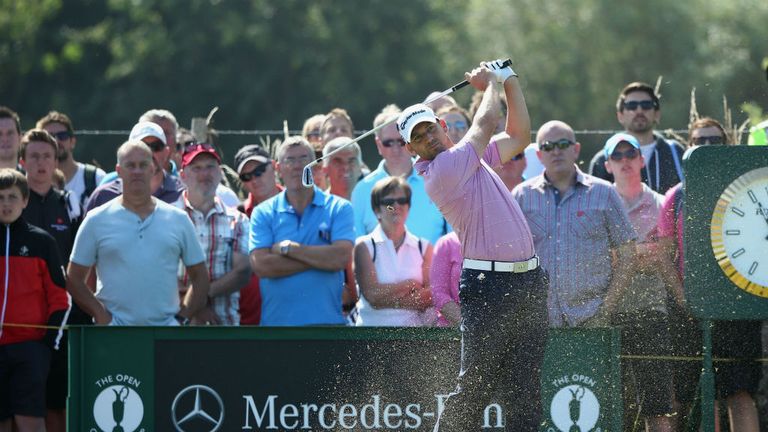 The Spaniard was in a tie for 49th at six over par at the halfway stage at Muirfield after two difficult opening rounds.
But his three-under third round featured six birdies, and he was left to hope conditions proved tougher for later starters.
Garcia said: "Obviously I needed to do something like that today to have a slight chance.
"But if someone at two under or three under shoots three or four under par, it's going to be too far back."
Former world No 2 Garcia has happy memories of Muirfield after winning the Amateur Championship at the Scottish links in 1998 and finishing tied eighth in the 2002 Open.
He also went close to Open victory in 2007, when he was beaten by Padraig Harrington in a play-off at Carnoustie, and it is a title he craves more than any other.
The 33-year-old added: "I've always said, as an individual tournament, this is definitely my favorite. And it would be nice (to win) - but hopefully it won't be the only one."
Garcia played alongside two-time former champion Harrington, with whom he has not always enjoyed a harmonious relationship.
He insisted their differences, which surfaced after the 2007 Open as the pair battled at the top end of the world rankings, had now been consigned to the past.
Yet he did make an observation on Harrington's current form as he discussed how the pair, wary of incurring officials' wrath for slow play, sped up on the back nine.
The Irishman has struggled this week and slumped to 12 over after his worst round of the week, a 77.
On the clock
Garcia said: "I think it's difficult when you're on the clock. It's difficult with anybody that is struggling because it's always going to take a little bit more time.
"It feels like you have to make up for that time a little bit.
"I even played out of position probably when it wasn't my turn, probably two or three times to try to catch up.
"I think we tried as hard as we could, both of us, and we managed to get back on time."
Harrington, who double bogeyed the par-three third and dropped another four shots, commented: "I got off to a bad start, obviously. I haven't been making a lot of birdies, so it's a long way back.
"I didn't get too many bad bounces. You've just got to play well.
"Obviously it's frustrating at the moment with my game, no doubt about it.
"It always is when you're not having a good round. That's the nature of this game.
"So I've just got to keep going with it and wait for it to turn - and that will happen."