The Open: Tiger Woods in confident mood heading into Sunday showdown
Tiger Woods is hoping the experience he has gained from winning 14 majors will help him end a long wait for number 15.
Last Updated: 20/07/13 10:02pm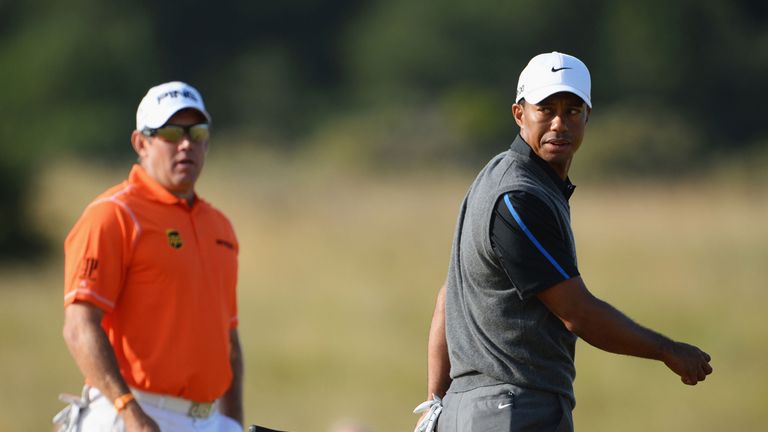 The 37-year-old American has not added to his major haul since the 2008 US Open - famously won on 'one leg'.
Injury and personal issues have contributed to his long drought, but he will tee off in the final round of the 142nd Open Championship in the penultimate group just two shots behind leader Lee Westwood.
"I've got 14 of these things and I know what it takes to win it," said the world No 1. "I really do want to win and I'm looking forward to the challenge of it.
"I've been in this position before in the past five years and I've been in that hunt and I'm in it again. Hopefully tomorrow I can play well and win the tournament.
"I'm pleased where I'm at; I'm only two back. There's only one guy ahead of me."
Westwood is that man ahead of him and it could be argued he has a greater desire than Woods to lift the Claret Jug, as a major is the only triumph missing from the 40-year-old's trophy cabinet.
Woods played alongside his Ryder Cup opponent in the third round and shot 72 to the Englishman's 70 - although at one stage Westwood had a three-stroke lead over his rival and appeared to be set to surge ahead with the momentum.
Grind along
In contrast to Woods' major successes, Westwood has never managed to get over the line despite numerous near misses. Nevertheless, Woods refuses to underestimate the home favourite.
"He's won tournaments all over the world. He knows how to win golf tournaments," he added. "For me I was trying to grind along and play my own game, regardless of what Lee was doing or what anyone else was doing.
"This golf course is a tough test and I was just trying to execute my own game plan and wherever that ended up, it ended up.
"I ended up one-over par, which wasn't too bad, and he's two shots ahead and we're going to go out there and both compete and play.
"But it's not just us two. There's a bunch of guys who have a chance to win this tournament and all of us need to really play well tomorrow to win it.
"There's a lot of guys in there with a chance to win and anything can happen."