The Open: Martin Laird endures a torrid Saturday on his way to an 81
Scotland's Martin Laird slumped out of contention after a nightmare third round that included a nine at the third.
Last Updated: 20/07/13 9:30pm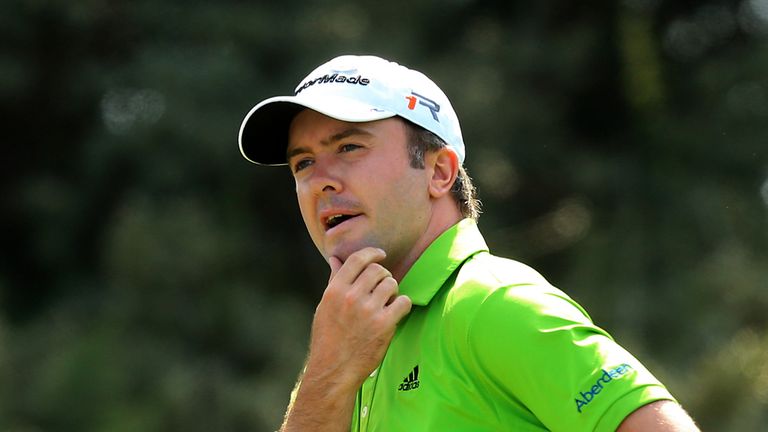 After starting the day on on one under par, Laird got to within a shot of the lead after a birdie at two, but his round disintegrated on the next hole as he had to take two drops in thick rough on his way to a nine.
The 30-year-old's head was already spinning after his quintuple-bogey when he became embroiled in controversy at the 10th.
His ball ended up in deep rough and he went to identify it but did not follow the correct procedure of informing playing partner Dustin Johnson.
The error was seen by a ball-spotter, who notified a rules official, but the penalty - which resulted in a double-bogey six - was not confirmed to Laird until the 16th.
Asked why he received the penalty, he said: "Because I identified my ball and didn't shout over to Dustin and let him know I was going to do that.
"I put the tee in the ground and didn't even lift my ball, just moved it a quarter roll to see the number.
"Someone told the rules official that I hadn't alerted my playing competitor that I was going to do that.
"I said 'I'm going to identify my ball' but I didn't shout it across the fairway loud enough so he could hear, so that was deemed to be a one-shot penalty.
"It's the fact that none of them heard it, even though I said it.
Deflated
"It's one of those lovely rules of golf. To say that deflated me I think would be an understatement."
The R&A's director of rules and equipment standards David Rickman, who had earlier had to explain why Japan's Hideki Matsuyama had received a one-shot penalty for slow play, said Laird's mistake had been not to make clear his intentions to the right people.
"This is a situation covered by rule 12-2, which requires the player to announce to his fellow competitor, before getting his hand on the ball, either to move it slightly or to lift it," he said.
"Obviously this week we've also got a walking referee and an observer and those two individuals would also have qualified as somebody to make that announcement.
"But I'm afraid by not doing that it's a breach of rule 12-2 and it's a one-stroke penalty.
"I believe he maybe said it to the ball-spotter, who was in closest vicinity, but the rule is very specific: it needs to be the fellow competitor, who is there to protect the interests of the rest of the field.
"We are specific about who that needs to be because you need to give that fellow competitor, or as I say this week, the referee, the opportunity to come over and observe the player's actions. That's the protection that the rule gives."