The Open: Shiv Kapur reflects on a week of highs and lows at Muirfield
India's Shiv Kapur will take home bitter-sweet memories of his second appearance in the Open after a 71 on Sunday.
Last Updated: 21/07/13 12:53pm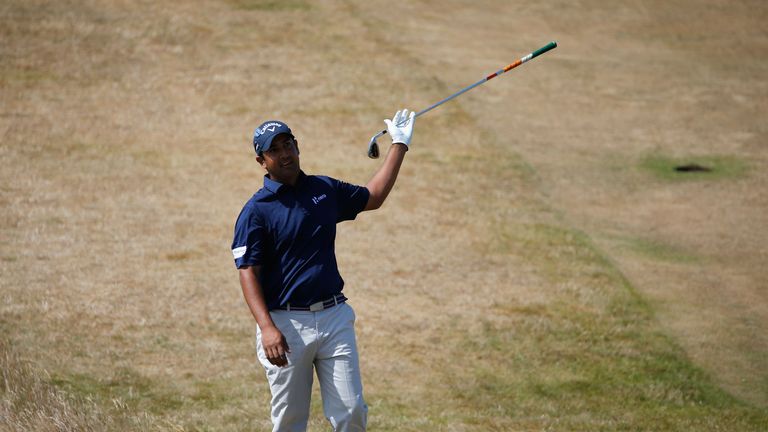 Kapur led briefly in the first round on his way to a 68 and was still in the mix after a second day 77, but he struggled on Saturday when he returned a 12-over 83.
His opening day heroics, where he had six birdies in his opening seven holes, earned plaudits from the elite field including two-time US PGA Tour winner Jason Dufner, who tweeted, "-6 on the front nine last group off, u got to be shivving me!!?!"
"It gave me a lot of confidence knowing that I can be up there on the leaderboard because it shows that I can compete with the best players. I just need to be more consistent and sharpen each area of my game a little bit so that I can be right there in the mix," said Kapur.
The Indian restored some pride when he made a stunning a 15-foot birdie putt on the last to end his week at Muirfield on 15-over-par 299.
Adrenaline
He added: "I started on such a high with the adrenaline rush. Yesterday was a bit of a disappointment when I got off to a rough start but I finished with a little bit of pride and my head held high today.
"You don't want to walk off the 18 green with drooping shoulders and not being happy with what you've done. I'm glad the bad round was yesterday and not today so I can walk away with a smile," he said.
Seeing his name at the top of the Open Championship leaderboard on Thursday evening will stay with Kapur forever as one of the best experiences in his career.
"It is easy to pick out the best moment. It had to be when I saw Kapur leading in the best tournament in the world. For years and years I've watched the Open and I thought it would be nice to have my name on that yellow leaderboard. That dream came true, though momentarily.
"I learnt a lot, it has been a great experience and I won't trade it with anything. It was great to be on top the leaderboard and great to learn from yesterday. I just have to move on, box on, take the positives and brush away the negatives."