The Open: Matthew Fitzpatrick shoots 72 to claim Silver Medal
Sheffield's Matthew Fitzpatrick won the Silver Medal as top amateur at the Open Championship after a final round 72.
Last Updated: 21/07/13 4:07pm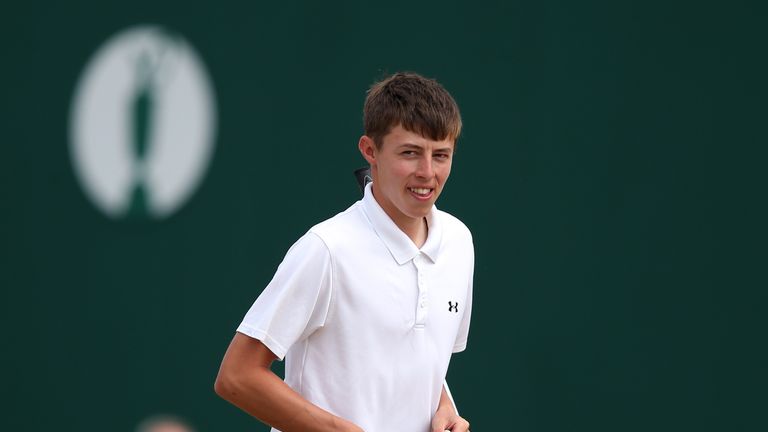 The 18-year-old from Sheffield finished on 10-over-par 294, five strokes better than the only other amateur to make the cut, fellow teenager Jimmy Mullen.
It was an impressive performance by last year's Boys Amateur champion, who sat his A-Levels earlier this summer, but he has no immediate thoughts of joining the professional ranks.
His future plans revolve around starting university in the United States this autumn - he has secured a place at Luke Donald's alma mater Northwestern in Chicago - and he admits the odd jobs may have to continue for now.
Fitzpatrick revealed earlier this week that he baby-sat regularly for some of his Hallamshire clubmates and when asked if that would now end, he said: "I'm not sure about that!
"Hopefully it might but I could do with the money, because I don't really have a job other than this.
"Going to university is the big thing, and mum and dad make sure education comes first, rather than the golf.
"So I'll make sure I do my four years at Northwestern and get a good degree, hopefully, something to fall back on if the golf doesn't work out. You never know what could happen.
"So that's really how I'm thinking. I'm definitely not going to turn pro anytime soon."
He added that he did not yet know what he wanted to study and would take several classes before majoring in his final two years.
Applause
Fitzpatrick was mistaken for Tiger Woods' practice range ball-carrier earlier in the week but he was more recognisable as he came down the 18th to generous applause.
Having hit the green, from where he would make a par four, he knew by then the Silver Medal was his.
"Going around, there was no one sort of telling me where I was at until 17," said Fitzpatrick, who was not even born when final round playing partner Fred Couples won the US Masters in 1992.
"My dad was at the side of the fairway going like that (holding up four fingers). I didn't quite know what he meant, and I then I put two and two together, and got four. That was when I had in mind of where he was."
Devon amateur Mullen, 19, began his final round at 11 over but slipped further back despite birdies at the third and seventh.
Nevertheless, he reflected on a good week's work and felt he knew where he could have done better.
Mullen said: "It has been a great week and an experience meeting with some of the players.
"Walking down the 18th was great - it's a shame I wasn't walking down there to a full crowd - and the first tee experience is great as well.
"I'd been playing really well leading up to this week and that is why I felt I had a chance of doing well.
"If I hit it off the tee well this week it would've been a completely different story. It was all down to me, nothing else."