The Open: Tiger Woods refuses to be downhearted after another major near-miss
Tiger Woods is convinced he will win a 15th major championship despite seeing another chance pass him by at Muirfield.
Last Updated: 21/07/13 10:16pm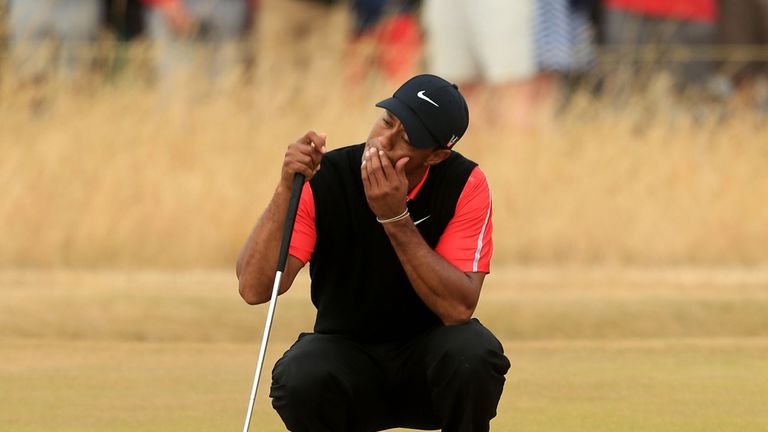 The American began the final day of the 142nd Open Championship two strokes off the lead and well-placed to win a fourth Claret Jug, but his expected challenge failed to materialise.
The 37-year-old world No 1 could only manage a three-over-par 74 and finished in a tie for sixth, five shots behind winner Phil Mickelson.
It has been five years since Woods tasted victory in a major but he is convinced his game is in the right shape to end that barren run, perhaps at next month's USPGA Championship.
He said: "I've won 14 and in that spell where I haven't won since Torrey Pines (2008 US Open), I've been in there.
"It's not like I've lost my card and am not playing out here.
"So I've won some tournaments in that stretch and I've been in probably about half the majors on the back nine on Sunday with a chance to win during that stretch.
"I just haven't done it yet - and hopefully it will be (different) in a few weeks."
Consolation
Woods carded six bogeys in his round but admitted the frustration was eased by the fact Mickelson put himself into such a formidable position.
The left-hander won by three strokes and was the only player to finish under par after four birdies on the last six holes.
Woods said: "Well, I think if it does feel any better, it is that Phil got to three (under).
"If he would have posted one it would have been a different story. I think a lot of us would be a little more ticked than we are now, but he posted three - that's a hell of a number."
Woods put his disappointment down to his failure to read the greens correctly.
Over the first two days of the championship the greens played fast late in the day but they were slower at the weekend.
He added: "I had a hard time adjusting to the speeds. They were much slower today, much softer. I don't think I got too many putts to the hole.
"I really had a hard time and left myself a couple of long lag putts early on when it was really blowing, and left them way short and didn't make those putts.
"I didn't really play that poorly. I hit a couple of bad shots at 10, 11, that was about it, and at three.
"But other than that I really hit the ball well today. I just couldn't ever get the pace of these things."