Sergio Garcia pleased with week despite finishing as Open runner-up for second time
Last Updated: 20/07/14 10:16pm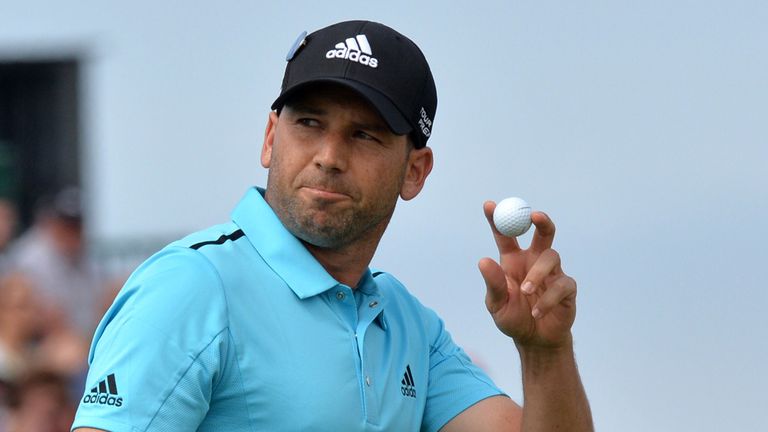 Spain's Sergio Garcia finished as the Open Championship's runner-up for the second time in his career but insisted this near miss was a positive experience.
Seven years ago the Ryder Cup star was centimetres from winning the Claret Jug at Carnoustie only for his putt at the last to brush the edge of the hole and drop him into a play-off, which he eventually lost to Ireland's Padraig Harrington.
On that occasion he began the final round three shots clear of the field but, in the 143rd Open Championship at Royal Liverpool, where in 2006 he played in the last group with Tiger Woods but fell out of contention after four bogeys in his first nine holes, he began seven shots back.
Garcia carded a six-under 66 but, despite his valiant effort, it was not enough to reel in a significant advantage held by Rory McIlroy, who went on to win his third major by two strokes.
"Everybody looks at you as second and they want to make it a negative. Not at all," said the 34-year-old, who finished joint second with American Rickie Fowler on 15-under-par.
"I felt like I played well. I felt like I did almost everything I could and there was a better player. It's as simple as that.
"You don't have to look at other things. It's just that simple. All these weeks help in majors - even if you don't win, they still help.
"Obviously there's some negative things and obviously my bogey on 15 is not nice, but I try to look at the positives.
"There's always a lot more positives than negatives and that to me is where I want to take it."
Twice Garcia whittled McIlroy's advantage down to two but the key moment came at the shortest hole on the course when the Spaniard dumped his approach shot into a greenside bunker and failed to get out with his first attempt, costing him a bogey.
Costly bogey at 15
That gave McIlroy, stood watching back on the tee, a three-shot advantage again and when Garcia did not hole his 30-foot eagle attempt at the par-five 16th the game was up.
"Obviously 15 was a mistake but I was trying as hard as I could and I just tried to get too cute," he added.
"I could see it was a little bit of a downslope and I thought if I just get it a couple yards over the bunker it's going to just hit the downslope and maybe I can hole it."
"Two shots was the closest I got but it is difficult when you're in a situation where you know you can't make a mistake.
"It just puts that little extra pressure but so many good things happened throughout this week and even today I got a couple of really good breaks (one when his ball careered into grandstand on the 12th and bounced back towards the green).
"It was close. It was close. At least I'm proud of the way I played.
"I wanted to at least make him (McIlroy) feel a little bit (of pressure) and see how he would respond and he obviously responded well.
"Every time I got closer, he kept making one birdie and not letting me get any closer than that.
"I think both Rickie and I tried to push him as hard as we could but there's so many things that have to go right for you to be able to get close.
"I needed to shoot at least eight or nine under. I think that we gave it a good effort and there was someone a little bit better."