Another tough lesson
It was a case of so near and yet so far for Chris last week in Mallorca as he came close to a first European Tour victory.
By Chris Wood
Last Updated: 18/05/11 1:13pm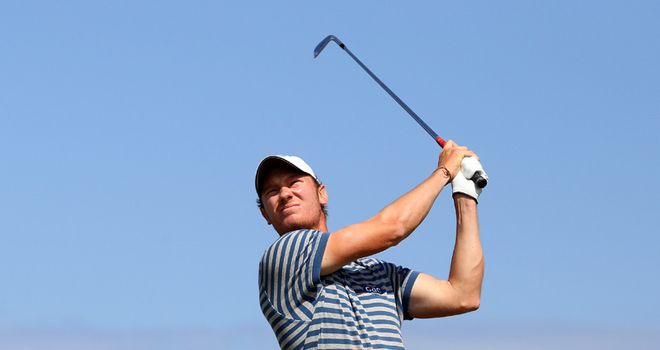 Hi everyone, I'm back in Bristol after a big week in Mallorca that was ultimately very disappointing. As so often happens with a tournament in which you play well, it actually started in downbeat fashion.
As we walked down the first fairway on Thursday my caddie Dave McNeilly turned to me and asked, "How's the swing feel?" The answer was: "Not great." Dave said it was a good time to knock it round and graft a score and it worked. A 67 left me in a tie for sixth.
I followed that with a second round 65 which put me in the lead and I played well on Saturday to enter the final round with a four shot advantage over the field.
Those three rounds were testament to some work I have been doing with my coach Paul Mitchell. I sometimes concentrate on technique too much so we've been concentrating on getting me to think only about the shot. One drill has involved Paul asking me to hit a certain shot (draw or fade, for example) and then he'll try and put me off, playing music, talking or moving around behind me (anything really).
I think that work paid off; I was much more focused on the shot rather than the swing and I got the ball from tee to green in good fashion all week (ranking first in the field for Greens in Regulation).
Three-putt
Then came Sunday. Up until the 11th hole I felt like I was under control. My lead had been going up and down, but I was comfortable in the situation. On the 12th hole, however, things changed. I'd found a fairway bunker from the tee and hit a nice 5-iron that was no more than a yard from being a great shot - but it didn't catch a slope and left me with a tough two-putt which I didn't make.
I then three-putted the next green to compound matters. What really stood out - as it had all week - is that the course is tricky. You could make birdies but you could also rack up the bogeys very quickly as well because the margins are so small.
A good example was a situation on Saturday. My ball was in the rough on the back nine (not that far from the fairway) and I had wedge distance for the approach. There was a pond short of the green and out of bounds behind the green. I might have had wedge in my hands but I couldn't go for the green because I had no idea if the ball would pop out, fly out or be soft! With penalties short and beyond the green I had to play out to the fairway.
What added to the difficulty on Sunday was the high wind and the fact that the course had hardened up - both the fairways and greens were bone hard. It was all a little reminiscent of Wentworth last year, when I also had a lead going into the final round. Stuart Cage, who works for my management company ISM, said afterwards that I'd had it tough to be presented with my two opportunities to win on courses that were playing so tough.
I recognise the truth of those words - and others have told me that those conditions on Sunday were tough ones to protect a lead - but there are also no excuses: I'm not going to pretend I'm not very disappointed.
Letting off steam
After that tough experience I returned home to spend two days letting off steam. I climbed in my car for a long drive and then got on my mountain bike. We've got some great tracks nearby and I love the adrenalin rush of shooting down the hills. I went with my sister's boyfriend who is a little bit better than me so I was a bit outside my comfort zone, but I survived!
Today (Wednesday) I'm off to Burnham and Berrow GC, a lovely links course near Weston-Super-Mare. After two days off I'm raring to go again and prepare for the BMW PGA Championship which takes place next week. I can't wait to get back there and have another crack at the title.