A toast to Rory!
Chris reflects on a great victory for his ISM stablemate Rory McIlroy and his own up-and-down form.
By Chris Wood
Last Updated: 24/06/11 2:27pm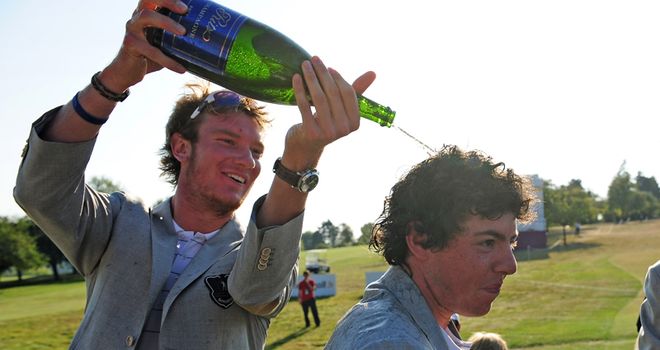 There's really only one story this week, isn't there? Rory McIlroy's brilliant US Open victory.
I've got to be honest, I'm really not one for sitting down to watch five hours of golf but I loved watching Rory play - everything about his win was superb, just a wonderful exhibition of golf on a course that looked fantastic.
Lots of people have asked me about Rory in the past and I suspect he answered most of the questions last week; I honestly think that was the very best I have ever seen him swing the club.
What are his strengths? Well first of all that beautiful swing which enables him to strike the ball so well. There was lots of discussion last week about his improved putting and yet, to be honest, he's always been a good putter but there is one thing many people forget - if you hit a lot of greens, you get a lot of chances and you can't make all of them. It can skew the figures and perceptions when a player gives himself lots of birdie putts as Rory does.
People have also asked if the fact that I share a management group with Rory has proved motivational. Well it was quite simple really - it was inspirational to watch, end of! Plenty of players have been saying the same thing this week - we're totally inspired by watching that performance.
Legendary
The other big story at the US Open was Robert Rock's late dash to the course. He ended up taking a taxi from New York to Washington! Totally legendary and that's Rocky for you - he's a great guy and that's just a typically brilliant story. I think the Americans loved him!
The week before Rocky's US Open experience he won the Italian Open. It was a frustrating week for me because I played really well from tee to green and actually managed to score well in the early rounds.
After a 64 on day one I was tied with Rocky for the lead and a second round 69 left me just one shot back. But in truth I never had the pace of the greens all week - I left so many putts short despite having picked the right line. I was giving myself loads of chances but just couldn't sink them at the weekend.
Unlike me, Rocky drained loads and completed the win. I eventually finished 23rd. It's been a funny few weeks - second in Mallorca, missed the cut with a bad back at Wentworth, then leading in Italy. There is something there though - when I'm holing the putts, I'm contending.
Birdie-fest
This week we are at Eichenried for the BMW International and the general feeling is that it will be a bit of a birdie-fest and will come down to who can putt well.
In truth the next couple of weeks will probably suit my game more - we've got the Open de France in Paris and then the Scottish Open at a new links course in Inverness called Castle Stuart.
Both of them will be fast running courses (unless it gets wet) and with a couple of spots left up for grabs to make the Open I need to put my foot down. Returning from the back injury, I didn't make it through International Final Qualifying two weeks ago at Sunningdale so I need something good to happen.
I loved watching Rory but I don't want to be missing out on the majors any more. My game is there, I'm just not getting the results. I just need to stay patient and it will come!