Remembering Seve
Chris Wood on his mixed form and, in Seve Trophy week, the legacy the great man left the European Tour.
By Chris Wood
Last Updated: 16/09/11 8:15am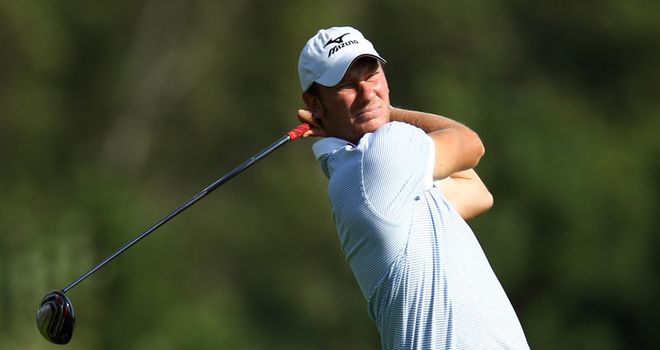 Hi everyone - it's been a while since I last wrote and in that time I've played three events and endured some curious form.
After two missed cuts in the Irish and Czech Opens, my coach Paul Mitchell travelled up to Gleneagles to help me get my game in shape. All that time on the range worked and we made some great progress in the early part of the week.
That promise was transferred to the course itself as well with two unfortunate exceptions: one double- and one triple-bogey.
In fact that triple bogey came early in the first round and yet I played really well to shoot a three-under-par 69. The good form continued all week as I finished in a tie for 15th, only five shots outside that five-man play-off which was a decent effort considering those two bad holes (and greens that tend to be quite soft and vulnerable to footprints).
So I left Scotland feeling confident, ready to compete and heading to one of my favourite spots on tour - Crans-sur-Sierre for the European Masters.
It's just a really great location for a golf tournament. I think most of us accept that the course is not the greatest we play all year, but that's not the point. The real thrill of playing in Crans is the atmosphere and the views.
That even starts with the journey via Geneva because you need to take a two hour train ride from there. That's not something you'd usually look forward to but when the passing scenery is beautiful lakes and towering mountains, you just sit there with a big smile on your face.
The town of Crans is just superb and a little reminiscent of St Andrews. Fifty yards beyond the 18th green are tight-knit little streets full of bars and restaurants packed out with golfers, tour staff and fans. It's a great atmosphere and wonderful place to be.
Unfortunately my week wasn't so enjoyable on the course - yet again it was a case of what if.
This time I had difficulty with my second shots - six times in my first round I had to chip the ball out sideways from the trees and I don't think I've ever done that before!
I really wasn't hitting the ball that badly, I just managed to make life difficult for myself and it continued on Friday but in a different manner.
This time I couldn't get the putter going. I actually managed to miss putts of less than eight feet on each of my last five holes. If I had holed one I would have made the cut, if I had holed three or four I'd have been in contention because it was a bunched leaderboard - the margins are that small out on tour.
But I didn't hole any of them and the frustration got to me in Holland for the KLM Open. My inability to transfer some decent golf into good scores became irritating and I didn't really fire mentally.
Normally staying patient and grinding out a score is something I am good at. Even going back to one of my very first starts as a professional at the Belfry in 2008 when I had a ten on my third hole, completed a round of 80 and yet had a putt on the 36th green to make the cut.
I normally relish that sort of challenge and I'm looking forward to getting back on track next time. I'm becoming an experienced golfer now and I'm proud to say that even if I'm not playing very well and miss a cut, it is always marginal - that's testimony to my attitude I think.
Seve
This week most of the European Tour gets a week off whilst the Great Britain and Ireland team take on the Continental Europe side in the Seve Trophy.
It will be a week of tough competition, as I know from my appearance in the event two years ago, but also a week of remembering Seve Ballesteros and all he did for the tour.
I'm a bit too young to remember him at his best but I went to Hoylake with my dad in 2006 and made a special effort to watch Seve play for a few holes in his final Open.
I've also watched the Open DVD from his win in 1988 (I used it to research the course for the Lytham Trophy when I was an amateur!) and I also found the recent BBC documentary very affecting.
In fact, having watched that, and seen his famous shot at Crans, I made a special effort to go and look for the plaque which commemorates it on the 18th hole.
It's hard to explain just what a brilliant effort it must have been. He was in the trees, right in front of the swimming pool wall and his caddie Billy Foster insisted the only shot was a sideways chip.
Seve ignored Billy, hit the ball vertically over the wall, through the trees and left the ball just short of the green. Trust me - it was almost impossible, you can't believe how high and how far he must have hit that shot!
Let's hope the boys put on a great show for Seve this week.