Resting up
Chris talks to us about his injury - and the golf he's watching whilst trying to recuperate.
By Chris Wood
Last Updated: 28/10/11 11:59am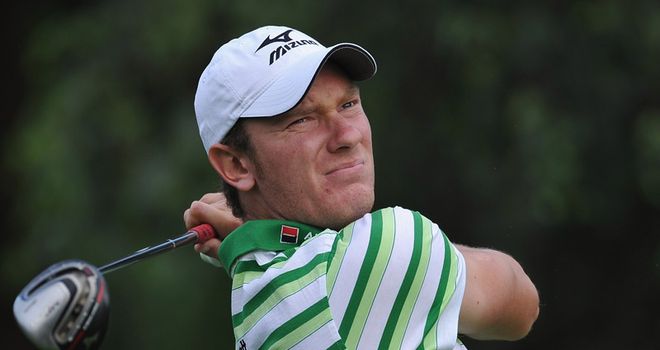 Hi everyone, I'm afraid I'm talking to you from the comfort of my flat this week, sat in front of the television watching the first round of the Andalucia Masters from Valderrama.
All year I have chatted to you about my bad back and in the last two months or so the problem flared up worse than ever. After three missed cuts I was preparing to play again but the pain was too great.
I was sent home for a scan and the results have left me resting ever since. The full extent of the problem is a bulging disc, which became enflamed, but I'm really feeling it through referred pain to the leg - I get a sort of stitch in my leg.
One option is to have an injection but I would rather steer clear of that if possible and the only alternative is to rest the back and that, to be honest, is easier said than done!
Some days I wake up and think that I'm on the mend, other days that early hope ends with a twinge, and then other days I wake up knowing all too well that it is still very sore.
In the last week I have finally manage to walk a few holes hitting a few wedges, but I'm getting no more than 25 or 30 relaxed shots in before I know it is time to stop.
Playing 18 holes a day for six days a week - a tournament schedule - seems an awfully long way off at the moment and I'm not enjoying being a TV spectator!
Valderrama
In fact watching the tough test at Valderrama reminds me of my first visit there 12 months ago when I finishes tied 41st. Let's just say it is one hell of a tough golf course.
Obviously on TV it looks a pretty narrow challenge a lot of the time but it also looks wide on occasions. Well guess what? Those wider fairways can be deceptive!
As I write I'm watching Sergio Garcia play the 16th hole and that is a classic example of the Valderrama test - you can hit the right half of the fairway and be left with an exceptionally difficult approach. Basically you'd need to hit a 6-iron with about 20 yards of fade despite being on the short grass! It's almost true to say that hitting the rough on the left-hand side makes more sense there.
The final hole is tough too - you can easily be blocked if you find the fairway out to the right. Oh, and the greens are pretty small - easy, eh?
Basically the course is a genuine test of patience and strategy. You also have to accept that it is easy to hit the bogey train so you need to cope with that, both taking the punishment and then having the mindset to recover from it.
Watching Valderrama has not been the only golf I have watched. Last Sunday I tuned in to see Sergio rip it up on his home course (great stuff), then I saw United get stuffed by City (not so much fun!) and finally I lay in bed watching Luke Donald win the CMN Disney Classic and claim the PGA Tour money list.
Well, I say I watched it from bed ... in truth I found it so inspiring to see him shoot six consecutive birdies on the back nine that I had to get up and roll a few putts on my putting green in my flat!
You've got to take your hat off to Luke. He's obviously got a decent long game but his short game is just sensational - he must be the best putter in the world right now and his chipping isn't too bad.
I saw him tweet recently about his Trackman stats with his wedges - I think that indicates that he appreciates how important that aspect of his game is and he's not going to get complacent.
You all know that I'm part of Chubby Chandler's ISM stable so the other big news of the last few days has been Rory's move away which came as a big shock to me.
Since the start of my pro career I've always valued the family feel of the ISM team and Rory was a part of that so I'm sad to see him go, but, as Chubby said, we all wish him well and I don't think there is much question that he'll continue to be one of the game's great stars!